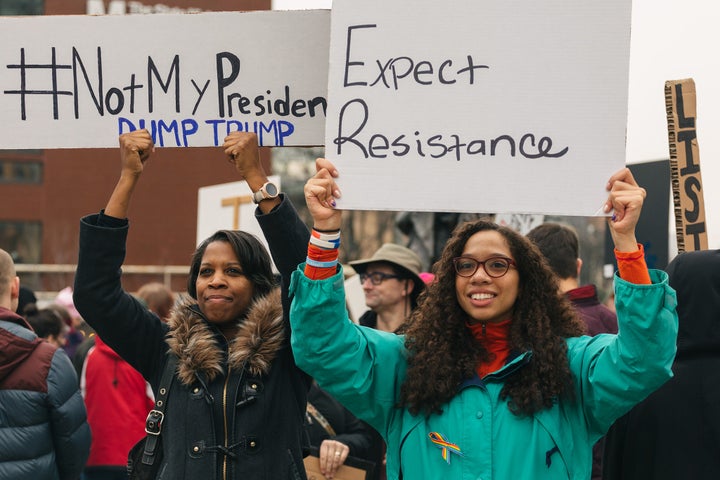 "Ultimately a great nation is a compassionate nation. No individual or nation can be great if it does not have a concern for 'the least of these.'" —Martin Luther King Jr.
Some readers thought I went too far by calling policies pushed by the Trump administration and Congress a war on Americans of color. But the president's new budget proposal shows it's even worse than I thought.
Even some Republicans have been rightly horrified at how the administration's proposed budget cuts so much of what's good, decent and useful that the federal government does, from food assistance (cut by a staggering $193 billion over 10 years) to Medicaid. But we can't forget that this budget targets some groups more than others, and the attack on Americans of color has never been more overt.
Those massive Medicaid cuts, for example, will hurt millions who depend on the program for basic health care. Because people of color are less likely to have employer-provided health insurance and, thanks to America's ongoing racial wealth gap, have less money with which to buy insurance, 58 percent of the Medicaid population is non-white.
But Trump's proposed health cuts go far beyond Medicaid. They target disease prevention efforts at the CDC as well as vital programs that help train young people from diverse backgrounds to work in health professions. This not only cuts off a pathway out of poverty, it also means that blacks, Latinos and Asian Americans will be less likely to see a health provider who understands their community and culture, leading to worse care.
Massive cuts to affordable housing and other programs run by the Department of Housing and Urban Development would also disproportionately hurt low-income communities of color. When these cuts were first floated back in March, housing advocates called them "unconscionable," and nothing has changed that situation. For example, Community Development Block Grants, which help struggling neighborhoods with needs ranging from infrastructure improvements to housing assistance, would be wiped out completely.
On the financial front, the Trump budget would gradually defund the Consumer Financial Protection Bureau, which was created largely because of predatory lending that targeted black, Latino and Asian communities in the run-up to the 2008 crash. The budget plan also attacks a number of programs that have been crucial to small, minority-owned businesses.
For example, the budget proposal caps the Community Development Financial Institution Fund, a vital lifeline for community development banks, credit unions, and mission-based lenders – institutions that are often the only feasible source of capital for minority-owned small businesses. It would also wipe out the Minority Business Development Agency, which runs programs and services to better equip minority-owned firms to expand and create jobs in their communities. Because these firms tend to be smaller in size than white-owned firms and have less access to conventional sources of credit and capital, CDFIs and the MBDA have played a crucial role in strengthening this sector of our economy. Cutting them will cost jobs, and most of those jobs will be in communities of color.
Environmental cuts will also disproportionately hurt communities of color, as these communities – too often used as toxic dumping grounds ― consistently suffer from the worst pollution problems. The Environmental Protection Agency's Environmental Justice program would disappear completely, Native American pollution control programs would be slashed by nearly a quarter, Superfund toxic waste site cleanup would be cut by $330 million and grants to state and local air pollution control districts would be cut by 30 percent.
Also facing complete elimination is the Low Income Home Energy Assistance Program, which helps low-income families keep the lights and heat on. Until Americans of color catch up with their white counterparts in levels of employment, income and wealth, cuts to programs that alleviate poverty will always hit them the worst.
And, in one final bit of pointless cruelty, Trump's proposed budget contains a provision that would make it far easier for the administration to withhold funds from sanctuary cities. Trump administration officials justify this as a crackdown on crime, but research shows that sanctuary cities – in which officials follow the law but don't go beyond it in assisting with deportations – have lower crime rates than cities without sanctuary policies.
While the Trump administration budget literally contains something to hurt every American, it's our communities who will be hurt first and worst if this atrocity passes.
Calling all HuffPost superfans!
Sign up for membership to become a founding member and help shape HuffPost's next chapter
BEFORE YOU GO