Aol's BeOn group creates custom editorial content that is sponsored by marketing partners. The sponsoring partners do not exert editorial influence over the content, but may be organically integrated within content in an authentic manner that does not impact editorial integrity.
Lane' and Jeff Bigsby are an environmentally-conscious couple living in the green city of Portland -- so when it came time to plan their nuptials, they hosted a dream wedding of epically eco-friendly proportions.
When Lane' was young, she had elaborate visions of her big day. "Of course my wedding was completely opposite of that," she said.
The couple focused on a sustainable wedding, composed of reused, recycled and re-purposed materials. They sourced textiles, mason jars and more from local thrift stores, and made all of their gift-worthy centerpieces and wedding favors by hand.
Even the bride's wedding gown was made from recycled materials. She used her own vintage slip as the foundation for the dress and then had it custom tailored with layers of ruffles from old curtains. "Nothing new had to be purchased," she said of her gown.
Another way the couple saved was by catering the event potluck style. Lane' added, "My husband loves buffets, so that was the perfect way to tie in the food and solve our problem -- but also to help us stay very budget conscious."
In total, the Bigsbys spent $3,000 on their budget-friendly, 100-person wedding, succeeding in throwing a memorable, eco-conscious event at an affordable price. "I wanted to show that you can have a beautiful wedding, but you don't have to break the bank," Lane' added. "It can be sustainable and eco-friendly."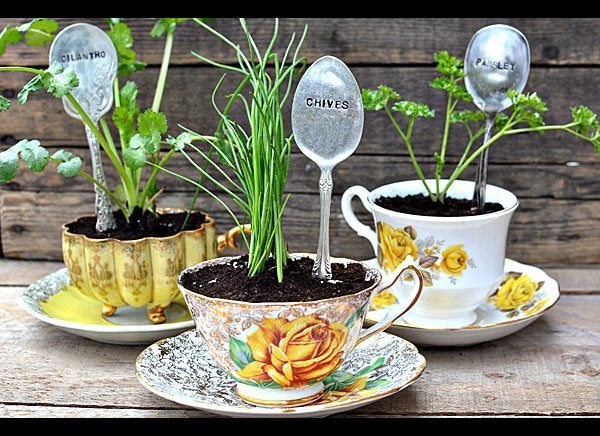 Eco-Friendly DIY Wedding Favors