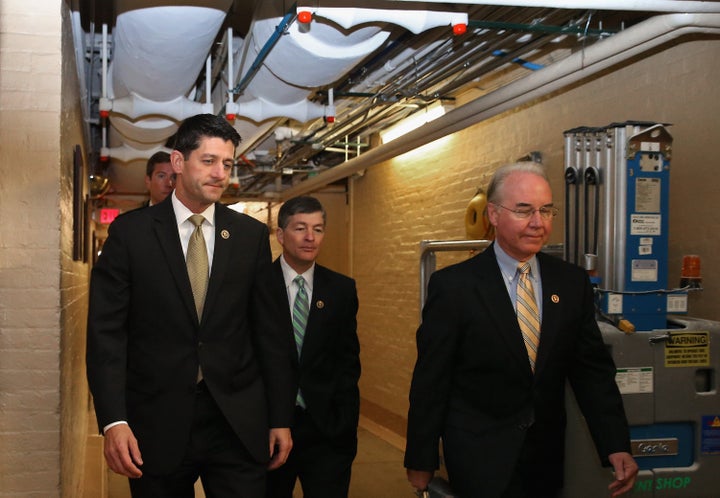 WASHINGTON -- House Budget Committee Chairman Tom Price (R-Ga.) has his optimism. He just might not have the votes. At least, not yet. 
Price is preparing a plan for his GOP colleagues that would keep the current 2017 spending costs at $1.07 trillion in the upcoming budget blueprint and simultaneously arranging for show-votes to cut money from other programs.
He told The Huffington Post on Tuesday that nothing is finalized because "it's a constellation of things we're talking about, it's not just the number." However, he expressed confidence that Republicans would find agreement on the budget.
But that plan, which Price and Republican leaders are supposed to lay out to members in a closed-door meeting on Wednesday, doesn't seem to be doing it for conservatives, particularly the ones in the House Freedom Caucus.
"Words for offset versus action for offset is probably the fundamental question," said HFC board member Mark Meadows late Tuesday night after the Freedom Caucus held their weekly meeting in a Capitol Hill restaurant. "If it's just words only, with a hope and a promise of something happening during reconciliation, then it's a non-starter."
GOP leaders argue that adopting a budget at the agreed upon level would allow Republicans to move forward with the appropriations process, where they could pass spending bills with conservative policies and get back to a more regular legislative process, rather than the slapdash lawmaking done at last-minute deadlines.
But conservatives just don't seem willing to swallow a $30 billion budget plus-up in exchange for doing appropriations bills -- or, more specifically, having to vote for a $30 billion plus-up in exchange for the hope that Congress does appropriations bills.
"Trust is a series of promises kept, " said HFC member Paul Gosar (R-Ariz.). "There's not much trust."
They can have votes until the cows come home. I'm not going to vote for those numbers.

HFC member Matt Salmon (R-Ariz.)
Gosar continued that Republicans have heard these assurances of doing spending bills. "And then we see a whitewash at the end of the year with no riders and all the appropriations amendments go by the wayside," he said. "So tell me why I need to trust that?"
And if Republicans don't intend to actually produce legislation that can pass, even get enacted into law, there seems to be a critical mass of conservatives unwilling to go along with the plan. 
"They can have votes until the cows come home," HFC member Matt Salmon (R-Ariz.) said. "I'm not going to vote for those numbers," he  added. "Not unless something earth-shattering happens, if we did some big entitlement reform that we passed and the president signed into law. There are what-ifs, they're just not real likely."
And that's a real problem for GOP leadership. 
Either way, conservatives have shown they hold considerable sway over the House and Senate. And the budget, which appears to be in serious danger of never getting a vote, is becoming just the latest example of their influence.
PHOTO GALLERY
Scenes From 114th Congress And Capitol Hill
Calling all HuffPost superfans!
Sign up for membership to become a founding member and help shape HuffPost's next chapter