WASHINGTON -- Negotiations over a budget framework to fund the government through the next two fiscal years are progressing better than initially expected, Democratic and Republican sources on the Hill told The Huffington Post on Thursday.
But even though both parties "feel they are on a path" -- as one congressional aide involved in negotiations put it -- a final agreement will require political dexterity to pull off.
As aides involved in the talks waxed optimistically about the prospects of a deal early on Thursday, signs emerged later in the day that leaders from both parties were wary of the final product.
As things currently stand, Budget Committee Chairs Sen. Patty Murray (D-Wash.) and Rep. Paul Ryan (R-Wis.) are putting together a package that would fund the government during the next year at roughly $1 trillion, according to multiple aides.
But with that number have come potentially tough concessions. Murray and Ryan's proposal won't actually alleviate the full tally of sequester cuts, which will total roughly $109 billion this coming fiscal year. Finding the funds to pay for partial relief -- which negotiators have determined will be split evenly between defense and non-defense accounts -- has proven difficult.
Negotiations over pay-fors have centered on broadband spectrum auctions, increasing TSA fees, reforming the postal service (including counting the savings from going from 6-day-a-week delivery to 5-day-a-week delivery), and reforming pensions for federal workers.
According to multiple Senate sources, Murray has pushed Ryan to drop consideration of pension cuts or, at the very least, reduce the overall amount (Ryan's House budget counted $120 billion in those cuts over a ten-year period). But cuts of some significance (no one would offer a number) remain in the mix.
Both Republican and Democratic sources on the Hill were quick to insist that pensions were a sticking point, but not a deal-breaker. But anger over the prospects of the cuts' inclusion burst into public view on Thursday afternoon when House Minority Whip Steny Hoyer (D-Md.) said he would "vehemently oppose" efforts to target federal pensions as part of a deal. Both Hoyer and House Budget Committee Ranking Member Chris Van Hollen (D-Md.) have many federal workers in their districts.
Complicating matters further is what, if anything, negotiators will do about expiring unemployment insurance. Renewing these benefits has not been a major part of the budget committee's focus, and those close to negotiations said early on Thursday that they would be surprised if it was included. But by the afternoon, House Democratic leadership was demanding that the issue be addressed.
House Minority Leader Nancy Pelosi (D-Calif.) said her party would not support a deal that didn't address unemployment benefits, which expire on Dec. 28th for approximately 1.3 million people. Republicans, in return, scoffed at the price tag, which would be an estimated $24 billion for one year.
Rep. Tom Cole (R-Okla.), a key negotiator in budget talks, tamped down on the idea that an unemployment insurance extension will be part of any final deal.
"If the president sends a proposal up here, it will be looked at. But there's not much time, and I don't think it's really part of this discussion," Cole told reporters. "It's a pretty big item. So, I don't think it's likely to move between now and when the House adjourns."
One possible alternative would be to consider the extension of unemployment insurance as a separate piece of legislation, an idea for which Pelosi expressed support later in the day. But that would make it less likely to be passed since it wouldn't be attached to the year's last major bill.
Another possible solution could be to push for a partial extension of benefits. But that too would be difficult to pull off. Finding offsets has been a painstaking process for negotiators so far. And increasing the overall price tag of the budget bill would likely drive away Republican support. Ryan had been pushing for a $990 billion topline budget, even with Senate Minority Leader Mitch McConnell (R-Ky.) urging House caucus members to maintain the sequestration-related spending caps of $967 billion for the next fiscal year.
Nevertheless, House Republican leadership seems, at this juncture, to be comfortable with the figure Ryan is negotiating. Because the party's own appropriators have complained publicly about sequestration, they have little leverage to insist on a $967 billion topline.
"I am hopeful that Paul Ryan and Patty Murray will come to a budget agreement that can pass both the House and the Senate," said Speaker John Boehner (R-Ohio) on Thursday. "Paul Ryan came in today and gave us an update on where they were. I am hopeful that they will be able to work this out. But there is clearly no agreement."
"Clearly," is right. One top Senate Democratic aide said on Thursday that a deal "is unlikely to be announced until sometime next week," By then, it will be clear whether Thursday's airing of concerns from party leadership was genuine, or a bit of political ass-covering. The deadline to announce a deal is December 13.
"There are a lot of reasons to think that this will happen," insisted the aide.
Jen Bendery contributed reporting.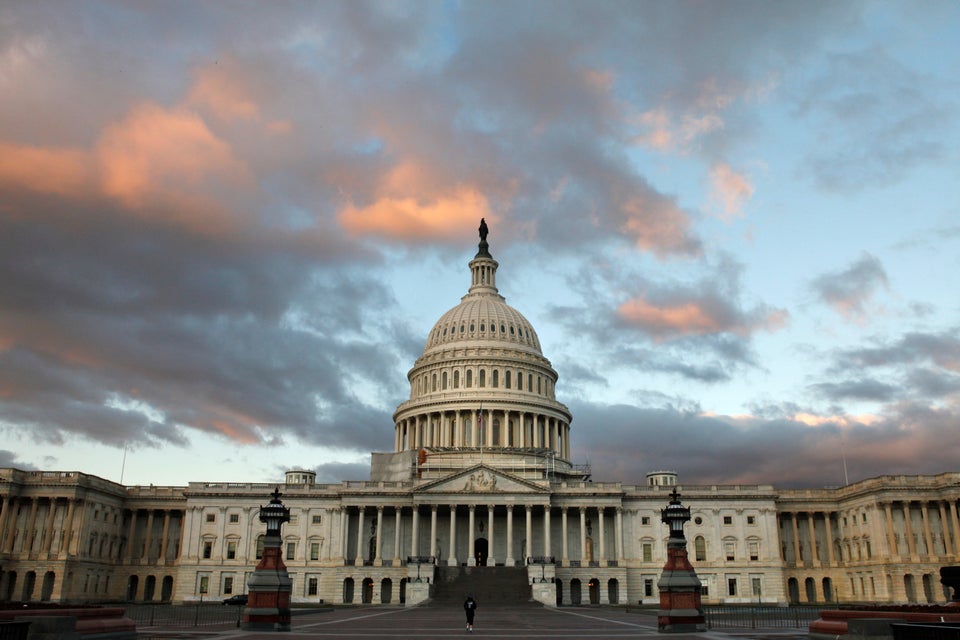 Do These Things, Don't Cut Entitlements
Popular in the Community