It was business as usual with the President's annual end of year Press Briefing at the White House, or was it? The President gave his press conference citing the things his administration has achieved in 2015, and offered a glimpse into what 2016 may bring in terms of his final years as Presidency. Eager not to be labeled a, "Lame duck, " which is the American nickname for all Presidents in the final year of Presidency, Mr. Obama - looking rather tired and a tad skinny - stressed that in 2015 he was able to achieve unprecedented progress in marriage equality in the United States, and to concluding a historic trade agreement. The President mentioned progress in the Iran deal, economic growth, normalization of United States relations with Cuba, and a newly opened U.S. Embassy in Havana.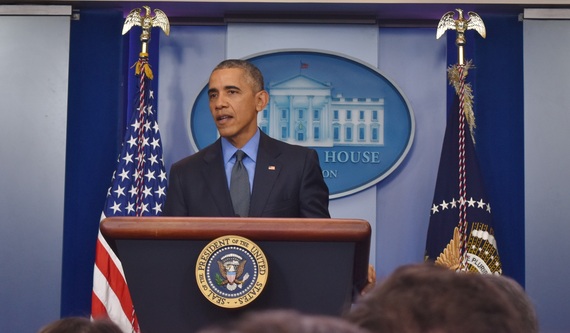 ©2015 Anna Wilding, Carpe Diem Films. LLC., and Herald de Paris.
In terms of the controversial Iran deal, the aim of which is to stop the spread of nuclear weapons, the President said, "We succeeded in forging a strong deal to stop Iran from obtaining a nuclear weapon. In fact, Iran has already dismantled thousands of centrifuges that enrich uranium."
The President noted, in response to questions by American Urban Radio Correspondent April D. Ryan, that he also did much work on criminal justice reform. Mr. Obama reminded the nation that he signed a bipartisan education bill into law a few weeks ago, "To help our students graduate prepared for college and their future careers."
CONGRESS AGREES TO BUDGET
The biggest new news though, which the President seemingly rattled off in passing much to the surprise of the White House Correspondents, was that Congress had passed and agreed to a budget.
"Congress passed a bipartisan budget that invests in middle-class priorities, keeps our military the strongest in the world, and takes the threat of shutdowns and manufactured crises off the table for 2016."
The President stated, "I'm not wild about everything in it -- I'm sure that's true for everybody -- but it is a budget that, as I insisted, invests in our military and our middle class, without ideological provisions that would have weakened Wall Street reform or rules on big polluters."
©2015 Anna Wilding, Carpe Diem Films. LLC., and Herald de Paris.
Directly after the Press Conference, Mr. Obama signed the legislation, Appropriations bill H.R. 2029 - the, "Consolidated Appropriations Act, 2016," which provides fiscal year 2016 full-year appropriations through September 30, 2016 for all agencies." The vote had gone to to Congress earlier in the morning. The House passed a spending bill of $1.1 trillion dollars and passed $622 billion tax measure the day before.
One of the organizations benefiting from the spending bill was NASA, who surprisingly scored approximately 1 billion dollar more than they were expecting.
Perhaps one of the President's proudest moments other than marriage equality was an historic agreement in Paris to take real action on climate change. The year 2015 also bought unemployment rate dropping to five percent.
©2015 Anna Wilding, Carpe Diem Films. LLC., and Herald de Paris.
- See more at: http://www.heralddeparis.com/budget-signed-as-r2d2-and-storm-troopers-arrive-at-the-white-house/#sthash.eh0xpivc.dpuf
Calling all HuffPost superfans!
Sign up for membership to become a founding member and help shape HuffPost's next chapter