The signs said it all: "25, 50 and 75% off," "Closing Out Sale" and "Going Out of Business Sale."
At any other time, such signs would have me rubbing my credit cards together in glee, but this was not just any other time. These signs dominated the interior landscape of Waikiki's iconic International Market Place, just weeks before its permanent closure Dec. 31. And knowing this would be the last time I'd walk those hallowed grounds, I nostalgically regretted past decisions to never purchase a shell from the long-standing kiosk at the entrance, where I would be guaranteed a pearl with every purchase.
As a regular visitor to Waikiki, I had witnessed the popular landmark suffer from neglect in recent years, deteriorating from shabby chic to simply shabby. But it was still my go-to location to purchase souvenir t-shirts (five for $20) for the family back home or incredibly colorful aloha wear for my toddler grandson, whom I'm convinced will never wear another Hawaiian shirt after age five. But sadly the market closed with a heartfelt ceremony New Year's Eve I witnessed online, which included the sounds of the ukulele and hypnotic sway of hula dancers paying final tribute. The market was one of the last affordable places to shop along Kalakaua Avenue, now dubbed "Luxury Row," by savvy marketers and tour guides pitching the area to wealthy tourists, and by scornful locals who no longer recognize the strip they once frequented.
The market was going to be the centerpiece for a story dedicated to visiting Waikiki on a budget, after all, there's likely not a budget-minded traveller across the globe who hasn't darkened the doors of Fatty's Chinese Kitchen for inexpensive, but delicious eats. Sadly Fatty's closed along with the market.
The idea for a budget-minded vacation started with an invitation from Allegiant Air to check out its Bellingham to Honolulu flight, celebrating its one-year anniversary. Considering flights at the time were $108 each way, I decided to make budget travel a key component of at least one of the travel stories I planned to write about this trip. By the time we got around to booking my partner's flight, the cost had risen, but we still only paid $148 one way and $178 return for a grand total of $334, less than half what the best flights we could find out of YVR were at the time. Allegiant offers a basic cost for a flight, but then charges for luggage. In our case one pre-booked checked bag cost an extra $70.
The budget trick is to pre-book carry-on and checked baggage because if you don't, the cost doubles at the airport. The cost to pre-book a carry-on bag is between $10 and $35 per segment. Passengers are allowed to carry on one personal item, such as a purse or computer case, for free.
I also researched inexpensive hotels and found an absolute gem in VIVE Hotel Waikiki, described as a new "lifestyle boutique hotel" on Kuhio Avenue. When we stayed the last week of October, rooms started at $150 a night, a steal for a hotel less than a five-minute walk from the beach, which also includes a surprisingly great continental breakfast offering up fresh island fruit, cereal, a wide selection of pastries and preserves, juice, steaming hot coffee and an array of newspapers to choose from. Breakfast can be very pricey in Waikiki so this inclusion definitely adds to the value. Adjacent to the dining area is a small lending library from which guests can borrow at their leisure. VIVE Waikiki has a very urban, upscale feel to it created by the modern, Asian-inspired decor of the lobby and other common areas. While VIVE has no pool and guest rooms have no lanais, but the hotel does offer the free use of chairs, towels and boogie boards for use at the beach, of which we had a view from our room. The hotel also happens to be directly kitty-corner to one of our favorite locations for cheap eats, Me's BBQ, where you can get some of the best Korean food in Waikiki -- and rent a moped from the adjoining kiosk. We've been a fan of Me's for some time, but while the food might be cheap, there is a strict protocol for ordering -- think the Soup Nazi of Seinfeld fame. Waikiki is also famous for its inexpensive happy hours and one of the best we've found is at Sarento's, a revolving restaurant at the top of the Ilikai Hotel, where fresh oysters are $3 each, ice cold beer from the Maui Brewing Company is $5 a glass and, if you ask the bartender, he'll fill you in on the Speakeasy Special of the day. There's also Moose's Waikiki, which offers $1, $2 and $3 drinks on Tuesdays, as well as the Seaside Bar and Grill famous for its cheap breakfasts. Tip: Lunch is not cheap at the Seaside.
It's not easy, but with cheap flights out of Bellingham and a little research, budget-minded Canadians can still enjoy a tropical vacation to Waikiki Beach. And remember, the beach is a great equalizer where the rich and not-so rich can rub shoulders and where no one knows you paid $8 for lunch instead of $80.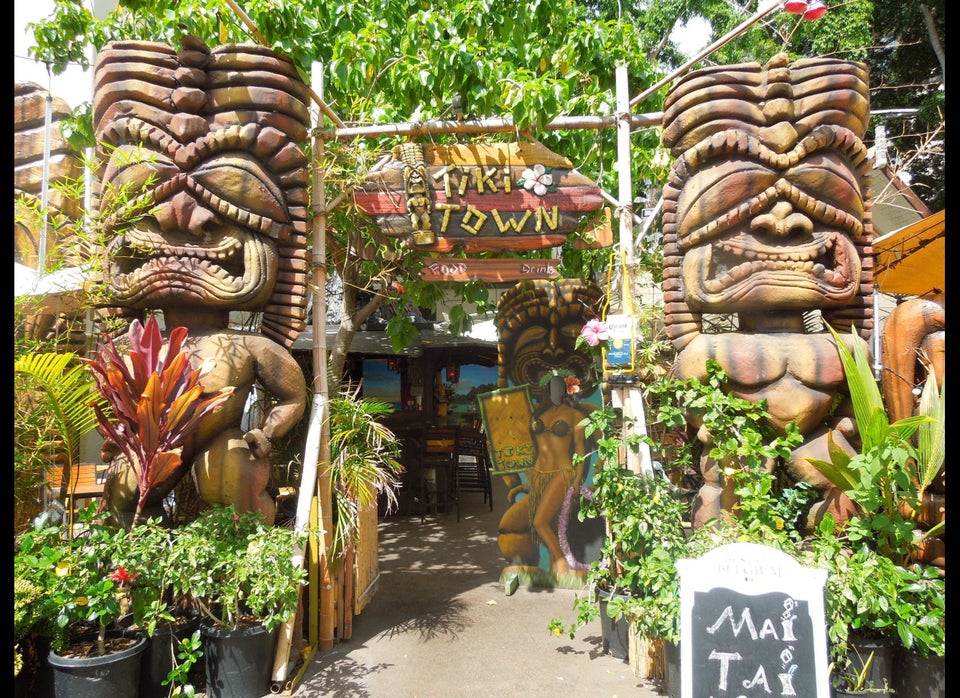 Bargain Waikiki includes VIVE Hotel and Mes BBQ