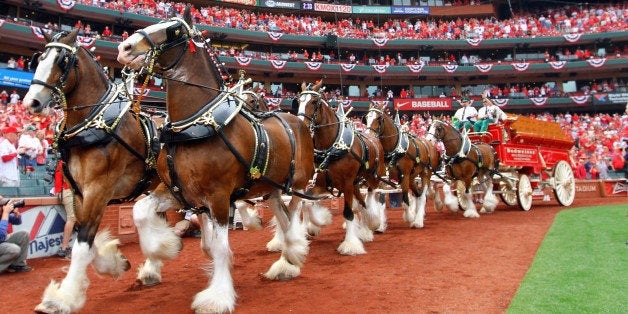 The move comes as part of Budweiser's broader efforts to convince 21-to-27-year-olds that its beer is still relevant. The brand plans to tap into millennials' vampire obsession (red "Bloodweiser" has appeared at selected bars), make YouTube-friendly commercials and sponsor music festivals and shows, such as the Made In America Festival with Jay-Z.

A Budweiser advertisement from 1987
The horses won't appear in the seasonal ads during the winter holiday. They will, however, be present in other Budweiser marketing activities.
"Budweiser Clydesdales will, in fact, be featured in next year's Super Bowl advertising and are also a part of upcoming holiday responsible drinking advertising," Jeffrey Grass, an Anheuser-Busch spokesman, told The Huffington Post in an email Monday.
"From their first appearance in 1933 to their enduring presence on the American landscape, the Clydesdales are more than the symbol of Budweiser beer; they are the living embodiment of America's great industrial spirit," the beer's website reads.
The Clydesdales may be a nostalgic symbol for older beer drinkers, but Budweiser has faced massive problems reaching the younger generation. Forty-four percent of 21-to-27-year-old drinkers have never even tried Budweiser, Anheuser-Busch InBev NV, the company that owns Budweiser, told WSJ.
Budweiser hit its peak in 1988, when it sold some 50 million barrels of beer. Last year, the brand only sold 16 million barrels, according to the WSJ report. The beer's sales have declined as more Americans reach for light beers (Bud Light is the #1 selling beer in the U.S.), flavored alcoholic drinks like Lime-a-Rita, which is another AB InBev product, and craft beers.
This story has been updated to include comment from Budweiser.
Related
Popular in the Community