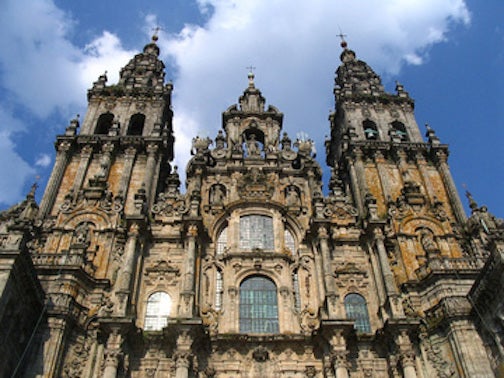 I am a historian, teacher, and an avid hiker; definitely not a religious or even a spiritual person. But I was drawn to the Camino de Santiago (the Way of St. James) in the Galicia region of Spain by stories told me by friends who walked part of the pilgrimage trail. After presenting at an education conference in Lisbon at the end of June, Felicia Hirata and I traveled north and walked a small part, about 70 kilometers (roughly 45 miles) of the Camino Francés which stretches almost 500 miles from St. Jean-Pied-du-Port near Biarritz in France to Santiago.
The history of the Camino de Santiago starts in the 9th century when Catholic and Islamic forces were battling to control the Iberian peninsula and the area became a pilgrimage destination for Catholics who believed the Apostle St. James was buried there. Most of the pilgrims traveled on foot or in donkey carts on a network of roads dating back to the Roman Empire. During the 14th century the Camino was virtually forgotten as a result of plague, famine, and war, but in the 19th and early 20th centuries it once again became an important religious obligation.
We arrived in Santiago de Compostela on Friday June 30 after a four-hour-plus bus ride from Porto, Portugal. At the bus terminal in Santiago we went to check on our return trip booked for Tuesday July 4, only to discover there was a transit workers strike planned for Tuesday through Thursday and no busses would be running. After temporary panic we were able to reschedule our bus and hotels so we could leave Monday evening on the last bus heading south.
In Santiago we got our Camino "passport" and walking sticks at a visitor's station. You can get your passport stamped at hostels, bars, restaurants, and churches along the way. We also visited the Cathedral where according to legend the remains of St. James the Apostle are buried and people were waiting patiently in line for hours to view his crypt.
We met Hofstra colleagues, Simon Doubleday and Benita Sampedro, historians who summer in Santiago where they do research and write about Spanish history. They took us to dinner and on a tour of the old city. Despite the crowds and the shops, it was a walk back in time to the European Middle Ages; a world as it once was.
The next morning Simon picked us up at our hotel and drove us to our starting point at the town of Palas de Rei. Our plan was to walk about 16 km (10 miles) to Melide where we had reserved a room in a small hotel. We started a little after 11 in the morning. The temperature was about 70 degrees, which was perfect, and clouds protected us from the direct heat of the sun. We got our first passport stamps at a bar when we were dropped off and at a small church about a kilometer out of town.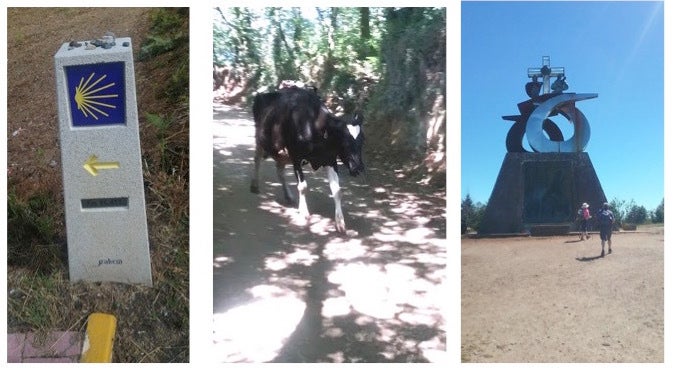 As you walk you say "Buen Camino" to everyone you see. "Buen Camino" literally means good road in Spanish, but it can also mean good path, path being both physical and spiritual. It is the greeting shared by pilgrims, hikers, and bicyclers on the Camino and also with local people who wish you well.
The trail to Melide passed through small farms and woodlands. Markers were well-spaced and always seemed to appear just when we needed one. We occasionally met other walkers but mostly we traveled by ourselves until we were very close to the end of the trail. The owner of a restaurant told us that the weekend was lightly traveled where we were because most pilgrims hoped to arrive at the Cathedral in Santiago by Sunday morning in time for Mass.
In most places the path of the Camino was gravel, but sometimes it became muddy. You also had to be careful of rocks and cow and horse droppings. By the afternoon of the first day the sky had cleared so we walked under a light blue sky with drifting white clouds. Melide was a small town on the local highway and was not very historic. To our surprise it was hosting a motorcycle rally so thousands of bikers on colorful Suzuki bikes were riding up and down the streets. At night they had a rock and roll concert. Definitely a mood shift from the Camino.
A majority of the people walking the Camino seemed to be from Spain but we met groups from Ireland and Germany, a smattering of people from across Europe, a few Americans, and people from as far away as Australia. Many travelers, especially the younger ones, stayed in hostels, but we booked rooms in simple roadside hotels in advance using the Internet. My Spanish is poor but communication was never a problem. The biggest issue was taping my feet and putting braces on aging knees. The weather got hotter on the second and third days of our trek but bottled water, soda, and beer were always available at trail rest stops.
Many of the walkers we met along the route were primarily there because they shared our passion for hiking and history, but some were clearly on a religious quest. We met a young woman from Cedar Rapids, Iowa who graduated from Notre Dame and was teaching theology at a Catholic high school. For her the Camino was both a hike and a religious pilgrimage.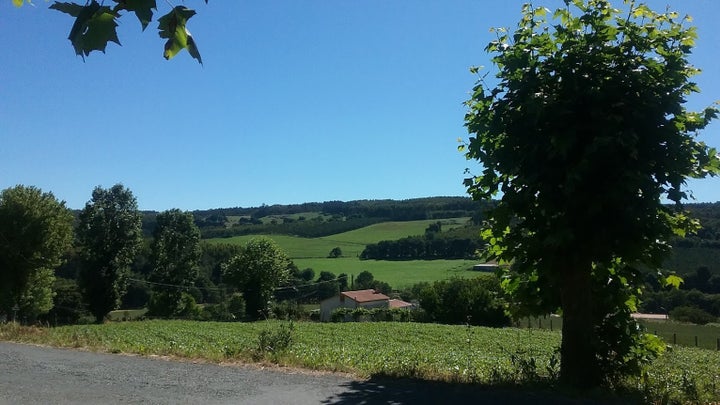 On Days 2 and 3 we started walking at dawn which was at 7 AM. Spain is in the western most part of the European time zone and in the evenings it was not completely dark until almost 11 o'clock. In the early mornings the sky was hazy and there was a slight chill, but the sky cleared by mid-morning and temperatures soon climbed into the high 8os. As we drew closer to Santiago the farms grew larger and more commercial. We also passed managed forestry sites. On Day 3 we walked for a while with a group from Spain who sang folk songs as they walked.
The last stretch of the Camino as we approached Santiago had some steep hills so we more or less limped into the city and then had to walk about five kilometers through city streets to get to the Cathedral. Arrival at the Cathedral was really my only complaint. The pilgrim's office had a two-hour long line to get you passport stamped and we decided not to wait.
A good preparation for a Camino trek is the movie "The Way" starring Martin Sheen. It tells the story of a father who goes to southern France to recover the body of his son who died as he was beginning the Camino. The father, Sheen, decides to complete his son's journey to Santiago de Compostela. Felicia and I strongly recommend this experience to young and old, religious and secular. Buen Camino.