Wine is a passion! For the producers, for the consumers, for Argentina, and for me, wine is most certainly a passion. Viticulture is the 7,000 year old hobby we continually love to celebrate.
But what happens when you travel to a spectacular, world famous wine producing country, but end up over 600 miles from the nearest winery?
When you visit Buenos Aires, you'll be tucked up in the Argentine Northeast Coast, along the Rio Plata. The luscious, powerful wines from the valleys of Mendoza are along the Andes all the way on the western side of the nation. The crisp, refreshing wines of the Rio Negro are a twelve hour drive to the south.
Enter: Wine Tour Urbano -- where the wineries of Argentina make their way to the streets of Buenos Aires for a monthly tasting extravaganza.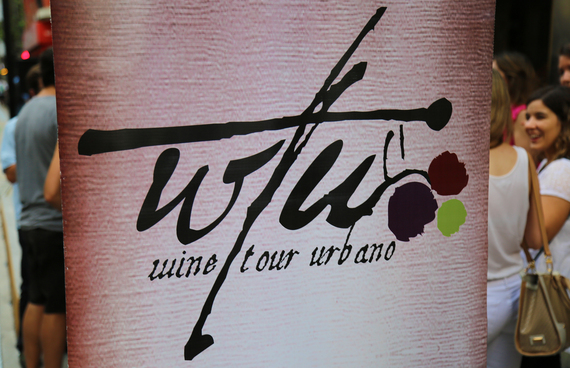 This is how it works: Each year the Wine Tour Urbano dates and the meeting point are listed on the website, along with the map for that month's festivities. No need to sign-up, you just show up! As you make your way to the meeting point, listen for the music guiding you to the WTU banner (pictured above). If you find the banner, the hard part is over, it's all reds and whites from there!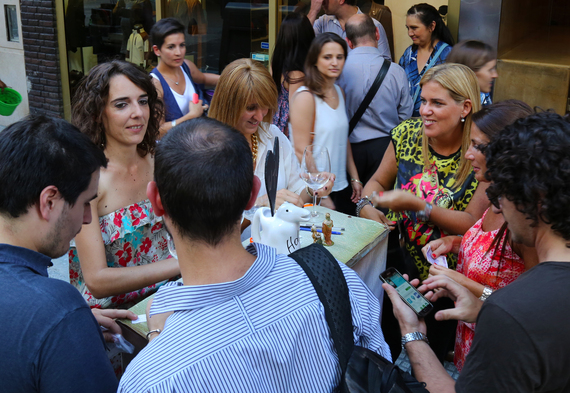 Each Wine Tour adventurer purchases a wine glass, which acts as your ticket to evening's tastings. You can enter your name into the nightly raffle (held at the tour's conclusion three hours later), and an electronic map on your cell phone becomes your guide to that night's tasting locales.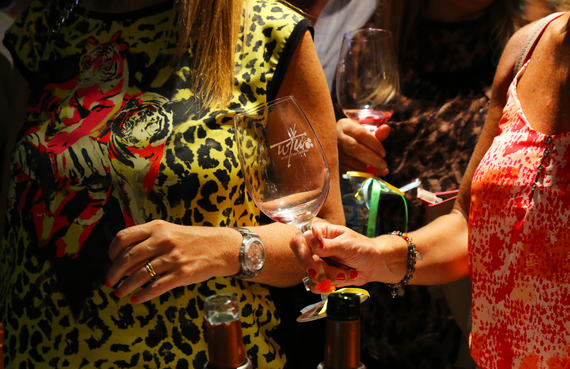 With your WTU glass in hand you travel to each of the hosting locations (they could be hotel lobbies, sometimes jewelry stores, sometimes cafes, ect.), where you find a different winery from Argentina and a sommelier ready to serve you wine and knowledge. Ask as many questions as you want, this is an opportunity for Argentina to introduce you to her offerings.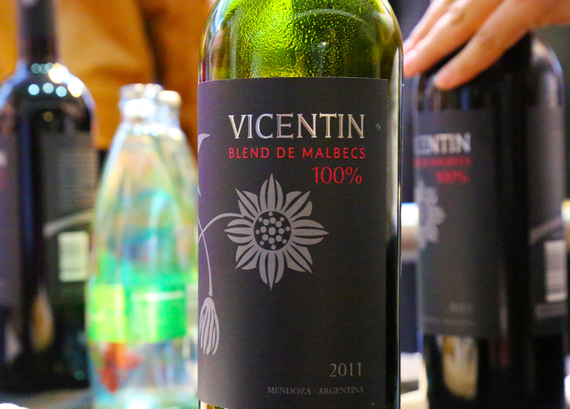 My first tasting led me to Argentina's signature grape varietal, the Malbec. This inky-dark grape is planted across over 50,000 acres of Argentine valleys and accounts for a majority of its sizable wine exports. The worldwide demand for dark robust Argentine Malbecs has propelled the nation to 5th on the list of wine producing countries (following Italy, France, Spain, and the United States).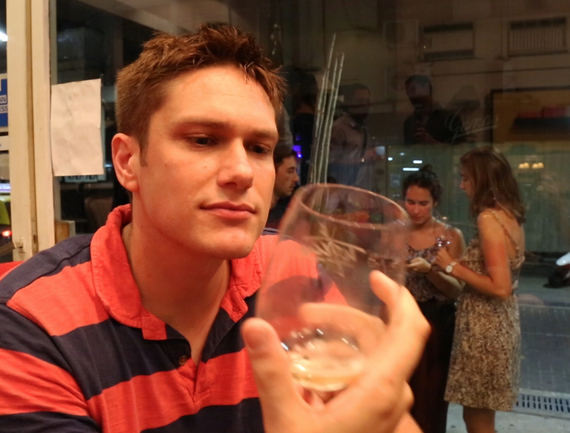 Argentina also produces stellar whites, still and sparkling. On my own personal quest to try new wines, I discovered the Argentine white powerhouse -- the Torrontés. Considered to be Argentina's creation, the Torrontés comprises the largest percentage of white grape acreage in the nation, and is steadily increasing due to growing overseas popularity.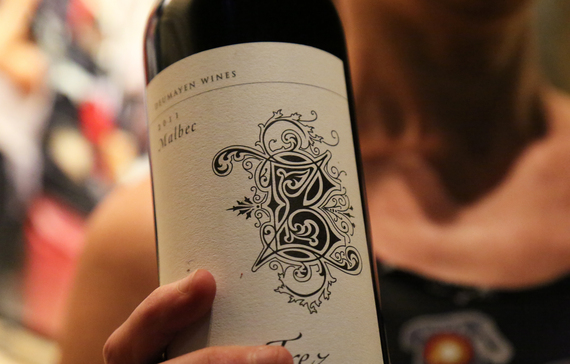 Wine Tour Urbano isn't about choosing specific wines to hawk with a captive audience (I wouldn't have written this piece had it been simply a dressed up sales pitch). Different wineries participate each and every time, making the experience a true showcase of oenology and old fashioned taste testing. Winemakers choose to present the results of their craft out of a sense of pride, and a confidence that word of mouth from discerning palates will boost their commercial successes.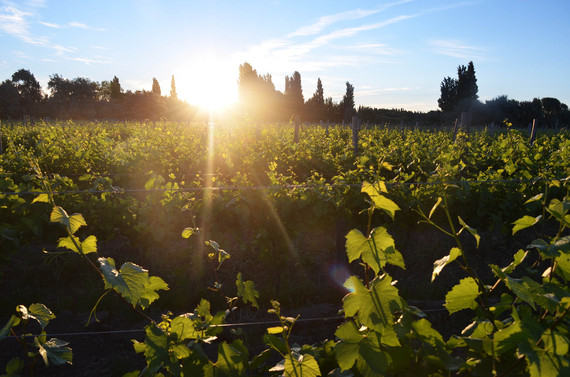 The wines transport you to places throughout Argentina, far beyond the setting of Buenos Aires. This image comes from the Valle Medio de Rio Negro (almost 600 miles from Buenos Aires), home of the newly restored Establecimiento La Esmeralda, a winery from the early 20th Century forced to shutter its doors in the late 50s, only to find new 21st Century life in the hands of Ignacio Videla Dorna, who I was able to personally meet during Wine Tour Urbano. His vines had only been in the ground since 2008, and their signature 2013 wines were making their debut appearances at Wine Tour.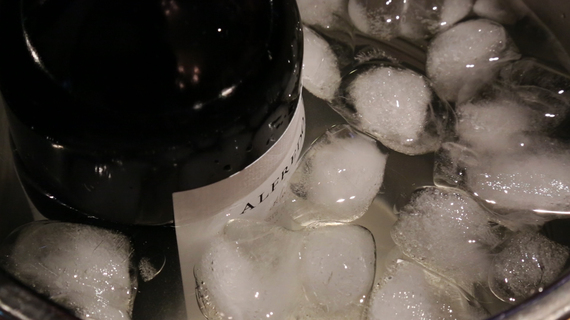 Personally, I love traveling across hemispheres to flip the seasons. There's nothing like beating the January blues in North America by sipping chilled wines in the heat of an 85 degree summer in South America.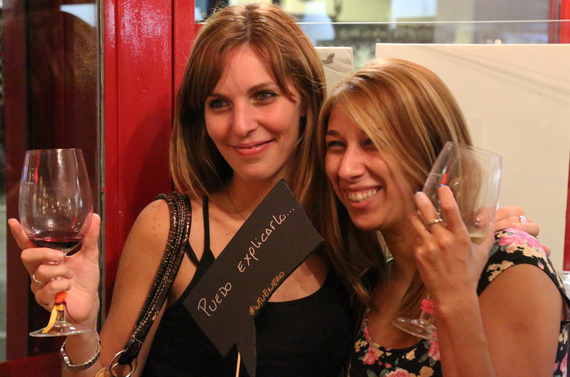 Wine Tour Urbano lasts around three hours, and of course you can start and stop whenever you like. The "three hours" gives the wineries an idea of how much product to provide, and to give the wine explorers a time frame to visit all the different participating venues (the goal, of course, is not to get so blotto you forget where you are -- in Buenos Aires -- it's to give you enough time to leisurely sip and taste, while making mental notes of your favorites).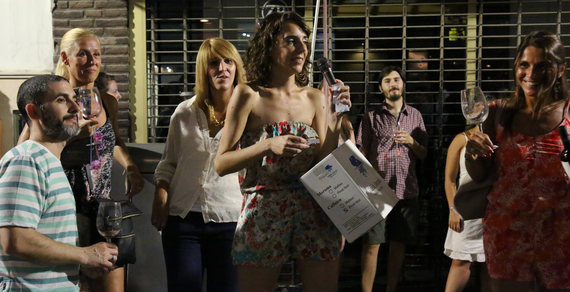 At its conclusion, the participants gather back at the starting point where Sol, the creator of Wine Tour Urbano, finishes the evening with a wine bottle raffle.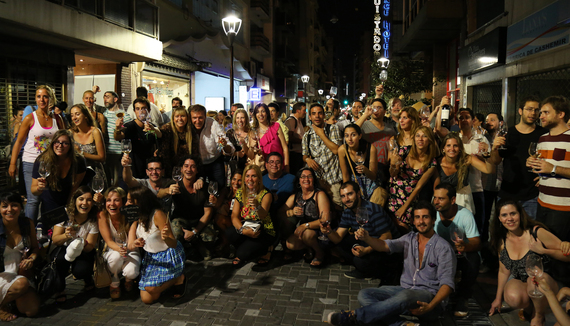 We took a group photo to give everyone a sense of the interest this monthly tour receives. I have to admit, I entered the evening expecting a couple dozen folks to give it a go, and was pretty amazed that the actual turnout is more like dozens of dozens.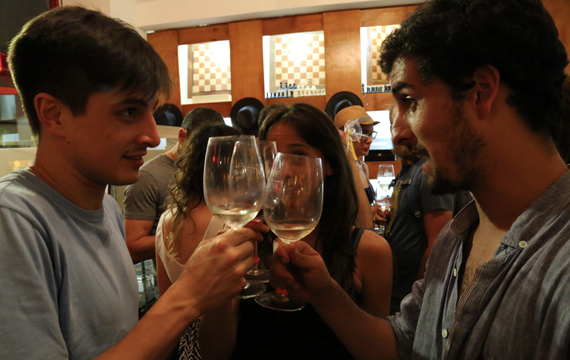 So Cheers!
Cheers to Sol and the city of Buenos Aires for putting on such a fantastic and educational event. Cheers to Argentina for making some of the World's most impressive wines. Cheers to the idea of "Educational Tourism," stepping out for an incredibly evening and returning more knowledgeably than when you started!
Photos of Wine Tour Urbano were taken on January 9th, 2015 by Kevin Richberg; Photo of La Esmeralda provided by Ignacio Videla Dorna.
Support HuffPost
A No-B.S. Guide To Life
Related
Popular in the Community