parrilla (Argentine Spanish, [par-ee-sha] ) -- a frame of iron bars to hold a fire ; charcoal grill ; a restaurant where food is cooked on a charcoal grill
Everybody has to eat, so why not eat really well! It's become cliché for food blogs to say something like 'I travel the world so I can sample all the different types of food.' I'm going to throw a little twist into that:
Let's travel the world to learn all the different ways we can do food better!
As an American, my clan isn't known for eating the best of foods (I wasn't quite sure how to phrase that to not sound insulting, while simultaneous scolding a culture of corn derivatives, food labeling nightmares, and livestock consuming unspeakable things), and the only way to change that is to learn how to eat smarter and better. Since one of my personal favorite meals can be found at a steakhouse, I made it a priority during my 'Educational Tourism' filming in Buenos Aires to find a class on Argentine Cuisine, a tour named after the Argentine steakhouse, the Parrilla.
Beef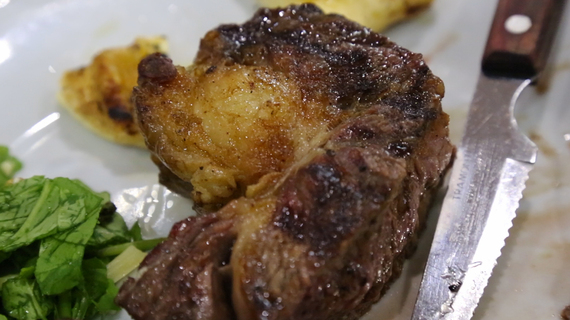 In Argentina the word parrilla [par-ee-sha] can mean a couple of different things, but the essence of the result is what you see here: mouth watering meats prepared over a grill. And there's one thing I want to get out there in this piece right off the bat, and that's cows (vacas). There's a secret to Argentine beef that you can't "see" in this image, but you can taste in every bite; cows are grass fed on the plains of Argentina.
That's a Secret?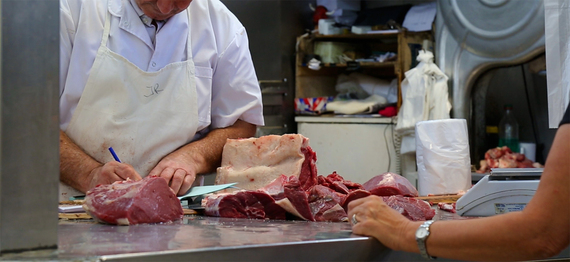 It sure is! My guide, María, and I had lengthy discussions about the difference between a natural diet (cows: grass) for the animals which become part of our cuisine, and non-natural diets (cows: anything that isn't grass). There's a reason that a prime cut of Argentine beef makes the best steak you'll ever taste (personal opinion, and has no bearing on steaks in Brazil), and it's literally as simple as how the cows spend their natural lives.
Where are the Locals?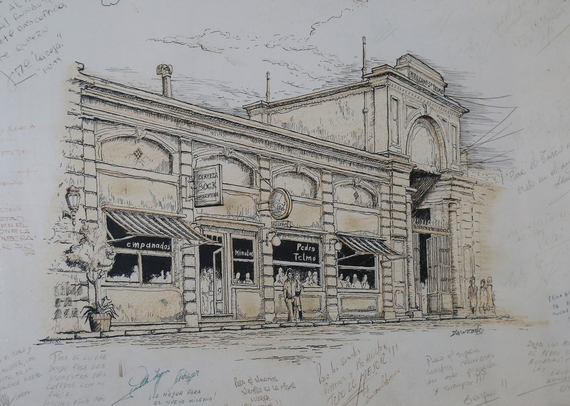 Have you ever heard someone say that the key to a good quality meal when traveling overseas is to watch where the locals are going to eat? That is entirely true! María didn't just pull a set of restaurants on our tour out of a gaucho hat. They'd been carefully selected through a decades-long process of many successful years serving the Porteño community. So we began at Pedro Telmo for an Argentine signature...
¡¿¡Empanadas!?!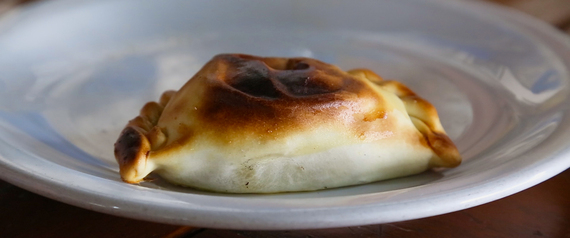 You could blindfold yourself, spin around, begin walking through the streets of Buenos Aires, and likely run into an empanada in less than 30 seconds. But who wants to go through all that trouble, when you can pinpoint the best of the best in fresh homemade delights. Every local has their choice "special" family owned restaurante where they go for the most heavenly empanadas. Pedro Telmo's were divine. Technically an "empanada" is a form of pastry stuffed with meat, cheese, vegetables, fruits, etc., and then fried or baked. That's their definition, however their reality is the essence of their preparation (both ingredients and culinary magic), passed down through the generations, which makes you come back again and again.
But I'm Picky About My Stuffings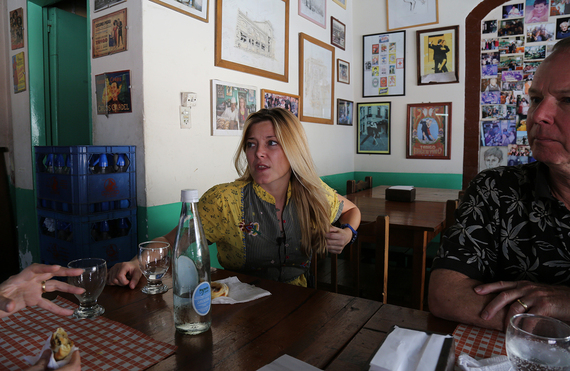 María explained to us that empanadas come in about as many styles (types) as ice creams do (and that we'd be enjoying ice cream, yum!, later in the day): with meat, without meat, all different types of meat, meat that is cut small, meat that is sliced larger, total vegetarian no-meat-in-sight, with and without every vegetable grown in Argentina (and some that aren't), spicy, mild, medium, with egg, without egg, with cheese, with more cheese, with too much cheese, filled with nothing but onions, filled with nothing but mushrooms, overfilled to the point of total explosion, and even desert empanadas as sweet as dulce de leche. Have 'em your way!
The Magician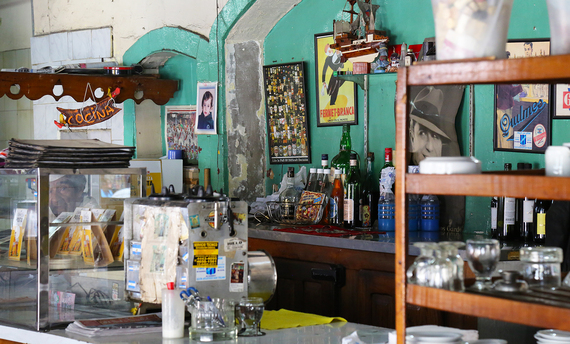 Sometimes I like to think of food preparation as magic, because it's the slight of unseen hands which ensure the finest tastes on your plate. Ask the guide on your Parrilla Tour if you can meet the magicians who make your food possible.
Next Stop 'Hot Dog'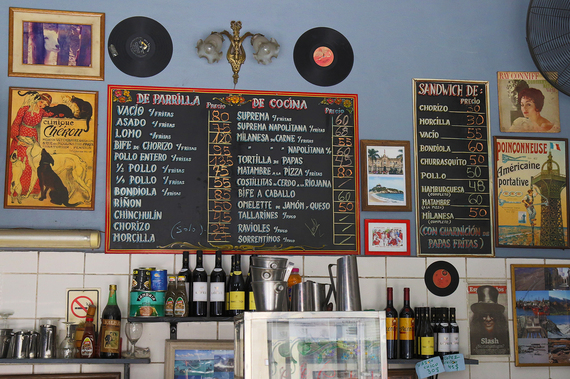 At a quality Parrilla (the name of the restaurant type and the cuisine itself), you can't go wrong with the menu (if you're a meat-eater). If Spanish isn't the language you studied in school, don't stress. Trust your gut, and remember that you read this article. It's all very good! Especially the Argentine version (much improved) of what we call a "hot dog."
Choripán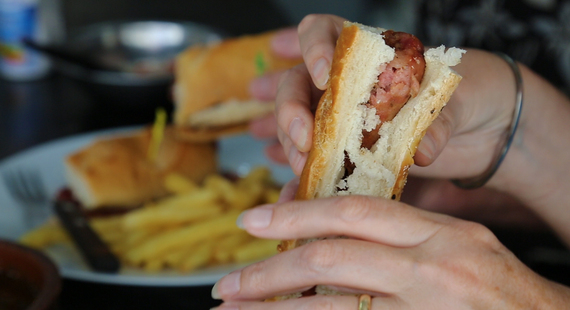 Chorizo means sausage, and pan means bread, and voilà (which is French) you have Choripán: the Argentine hot dog. They are one of the most common concessions at a football stadium, and are usually covered with a variety of condiments.
NOTE: One of those condiments is not necessarily ketchup, football is actually soccer, and choripán tastes far superior to your average hot dog.
The Main Event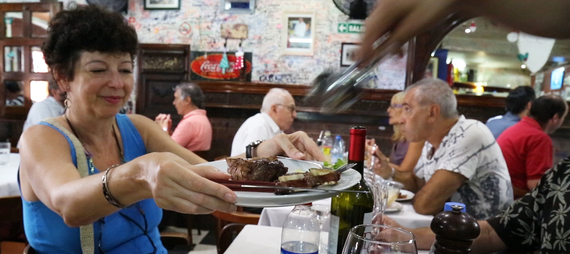 With an appetizer and a first course under our belts (literally), it was time for the main course and all the gorgeous cuts of charcoal grilled meat which came with it. Is it possible to eat too much meat in one sitting? "Mmmmm," "Yum," "So Good," "Oooooh," (the sound of chewing instead of talking) -- personally I've never heard of such a thing.
Red or Red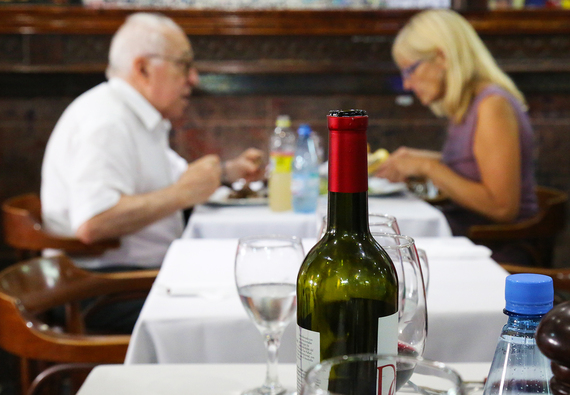 Some of the world's best meat pairing red wines come out of Argentina, and it's not an exaggeration to say that wine and parrilla travel hand in glove (hand in hand or glove to glove). Basically, it's uncommon not to have a glass of wine paired with your juicy meats, which is why the Parrilla Tour uses the main course as a time to stop and reflect on the power of Argentine viticulture.
Ice Cream Selfie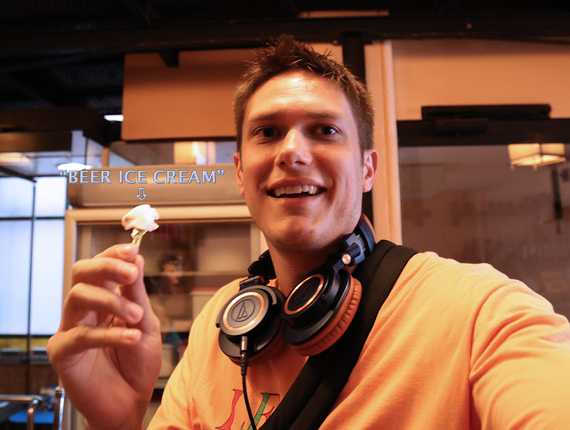 Beer ice cream, what can I say about it, other than I was thrilled that they had it? You need to taste it to believe it, and you'll definitely want to (everyone in our tour had a tiny spoonful). The number of homemade ice cream flavors at our tour's last stop (a magnificent heladeria) was beyond impressive. You could never taste them all in one sitting, and they're constantly changing. This is your treat at the end of a very educational and gastronomically satisfying adventure.
All the photos in this piece were taken by Kevin Richberg in the San Telmo area of Buenos Aires on a Parrilla Tour.
Related