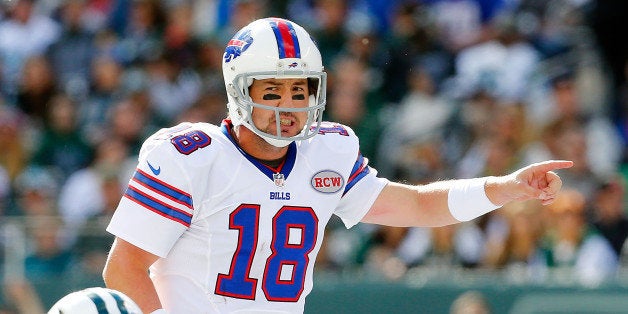 The Buffalo Bills have officially reached the halfway point and are not only still in contention, but if the season ended today they would make the playoffs. Unfortunately or fortunately (however you look at it), the season is not, pending another Roger Goodell slip-up, ending today and the team has another eight games. Through the first eight games, we have seen Buffalo's supposed franchise quarterback and 2013 first round draft pick EJ Manuel get benched for journeyman Kyle Orton. Each quarterback has now played four games so a comparison is not only in order, but fair. Here is how the two break down:
Kyle Orton has only completed 10 more passes than EJ Manuel and has 10 extra pass attempts. However, in only 10 more completions Orton has thrown for 290 extra yards over Manuel. Each quarterback has thrown three interceptions, certainly including some costly ones. Orton has thrown for nine touchdowns (and probably should be ten if Sammy Watkins celebrates 20 more yards down the field) while Manuel threw for only five while starting. Orton's ability to move the ball further down the field and actually get in the endzone gives him the upper hand over Manuel in the general passing category. Edge Kyle Orton.
In EJ Manuel's four games under center, the Bills surrendered just five sacks for 44 yards. Under Kyle Orton, the Bills have given up 17 sacks for 98 yards. Obviously, the line has seemed to struggle more through the second quarter of the season, but much blame for the increase in sacks and yards lost has to go to Orton. Often, the Bills have a deer in the headlights under center when pressure is present rather than a...well...quarterback. Manuel also ran for 52 yards (more than he has given up while being sacked) and a touchdown in his four games. Orton has rushed for just five yards. This is not to say that what Orton lacks in his legs he doesn't up for in his arm, just an individual breakdown of skill sets-- rushing being one Orton does not have. Edge EJ Manuel-- and it's not even close.
Sammy Watkins was recently awarded Rookie of the Month honors and it is no coincidence that Kyle Orton has been the quarterback for that time. You may be asking why Watkins gets his own category, but as the Bills best offensive weapon and first round draft pick, his utilization and success is imperative to the team's success. With Kyle Orton as his quarterback, Watkins has caught 21 passes in 35 targets or 393 yards. Moreover, he has three touchdowns (again, probably should be four without an early celebration.). Under EJ Manuel, Watkins caught 17 balls on 32 targets for just 197 yards and two touchdowns. Not only do the numbers say so, but Watkins also seems to prefer Orton. "He's more of a veteran guy. The way he talked, the way he handles business, the way he looks at plays and breaks down defenses, it's kind of different than EJ. He reads it quicker, the ball is coming out faster," said Watkins via ESPN.com. Edge Kyle Orton.
Kyle Orton and EJ Manuel have both faced a similar schedule in their games started. The teams Manuel faced are a combined 16-15 while Orton's opponents are 16-16 thus far. Orton likely got the benefit of the easiest two games of the season so far, facing the Vikings and Jets just last week. However, Orton's games against the Lions and Patriots were likely the hardest in the schedule in the first half. Manuel had to face off against the Texans defense, a game I'm not sure Orton would have made it out of considering the pressure of the Texans defensive front. Moreover, the Chargers, who Manuel faced, may be the most complete team on the schedule. Both quarterbacks have seemingly faced an equal schedule; we'll call this one a tie. Push.
At the end of the day, the team's record is the only thing that actually matters in the NFL (ask Matt Stafford if he was happy about the Lions game against the Bills), so let's keep it simple. EJ Manuel went 2-2 as the Buffalo Bills' starter. Kyle Orton has gone 3-1 as the Buffalo Bills' starter. Edge Kyle Orton.
When EJ Manuel makes a mistake, I feel confident chalking it up as inexperience and a learning experience. When Kyle Orton makes a mistake I find it difficult to find a silver lining. I like Manuel's ability to be mobile and make plays outside of the pocket. It seems that Nathaniel Hackett also prefers calling plays with Manuel under center, as he can get more creative and use the speed of the team. However, Orton seems to command the offense better than Manuel and gets more out of the weapons around him. Orton certainly is a more experienced and therefore better passer than Manuel. This one is a push, less because of my inner conflict and more because my opinion does not actually matter at all. Push.
That's the tale of the tape. The information is there, now you decide. Kyle Orton? EJ Manuel? Or my favorite wild card, Geno Smith (who impressively completed three passes to the Buffalo Bills in just eight attempts)?
REAL LIFE. REAL NEWS. REAL VOICES.
Help us tell more of the stories that matter from voices that too often remain unheard.