The world is full of incredible foods. We know this. But some dishes stop us in our tracks with our jaws dropped, and involuntarily make us whisper, "ohmygawd." That's the kind of recipe we have for you today. It's a recipe that makes you throw caution to the wind, toss diets out the window and cancel any plans you might have to eat out with friends. This recipe we have for you right here is THE great Saturday night date you've been looking for -- and you don't even have to get out of your pajamas to enjoy it. Let us introduce you to Crispy Buffalo Cheddar Potato Nachos by Half Baked Harvest.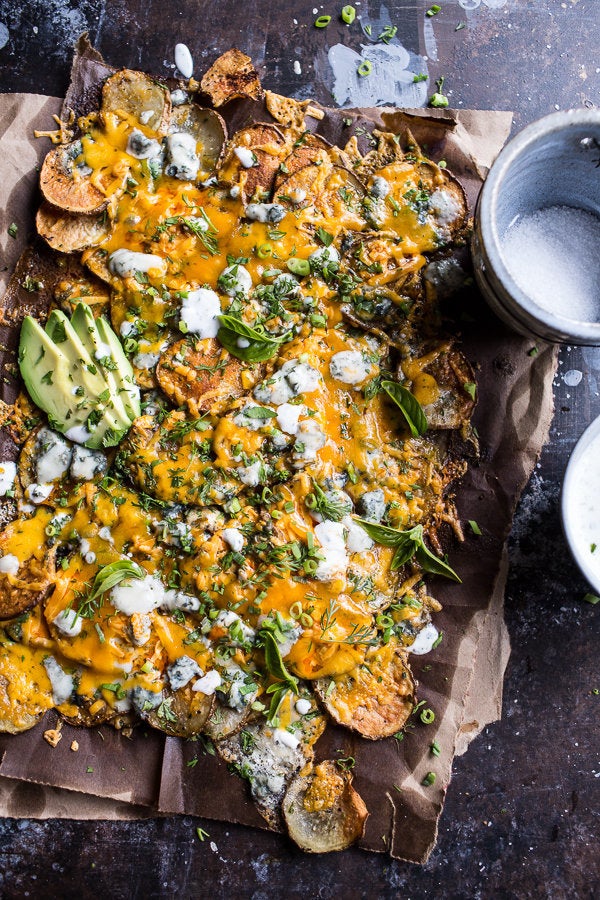 That glorious mess of a dish is a huge improvement on the classic nacho -- which isn't all that easy to do considering how awesome they already are. This version uses fresh, thinly-sliced potato (yes, this takes time but it takes effort to achieve greatness). There's also homemade buffalo sauce, which is basically butter and Frank's hot sauce. Yum. And of course there's cheddar cheese AND blue cheese. Plus, avocado and buttermilk ranch dressing for serving. This is the ultimate in weekend comfort food, the best option for football-watching snacks, and probably one of the greatest dishes your oven will ever churn out.
Here's one more look at this thing in case you need a little encouragement.