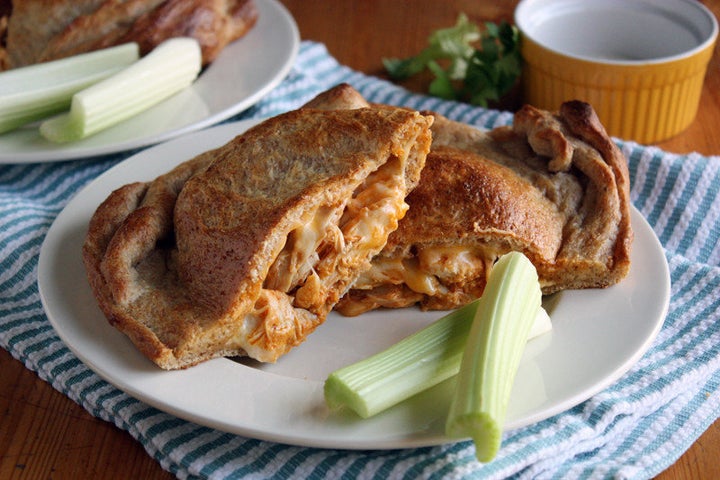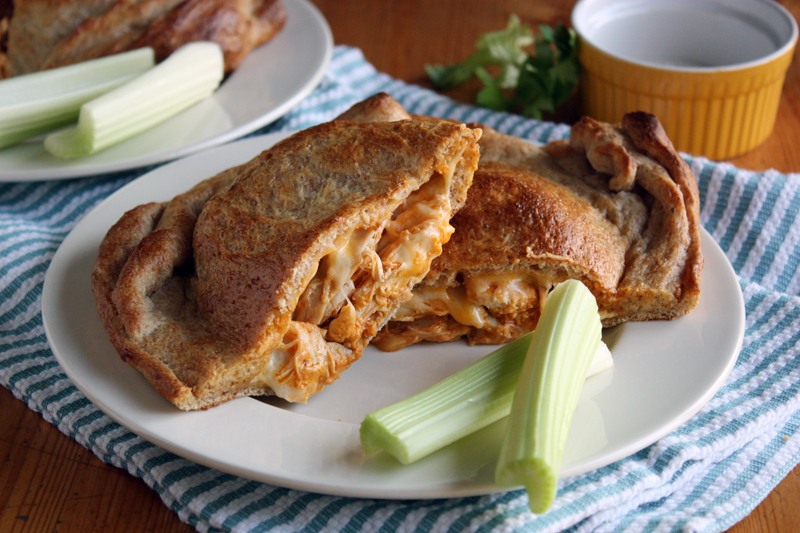 Maybe the rest of the world is over the buffalo chicken craze, but in this house, it's still two of my husband's favorite words. Nothing gets him as pumped up as he does before a Vikings football game (we're a Vikings-Bears family... it gets interesting) as the anticipation of a buffalo chicken-based meal. Buffalo chicken would be quite confident in our household with all the praise it gets.
We've done the buffalo chicken sandwiches. We're over the quesadillas. We haven't forayed into buffalo chicken egg rolls just yet, but they're coming. Yet nothing seems quite as perfect a recipe as the buffalo chicken calzone. The warm, crusty bread envelops a pocket of melty, gooey mozzarella cheese and tender shredded chicken that's got just enough of a kick to make you aware of it but not enough to render your taste buds useless. It's versatile, simple comfort food at its finest -- a hearty lunch, an easy appetizer, a cozy dinner -- and yet it transcends the seasonality of many other dishes. I could eat this in the dead of winter or on the hottest day of the summer and enjoy it in equal amounts.
This recipe is so simple, it hardly warrants itself as one. But it's enough to make its recipients -- children, friends, husbands who will undoubtedly brood this upcoming season over their team's losses (don't tell him I said that) -- happy. In other words, this house isn't over buffalo chicken just yet.
Servings: 2 as a hearty meal, 4-6 as an appetizer or side dish
1 store-bought or homemade pizza crust
2 cups shredded mozzarella and/or cheddar cheese
1 1/2 cups grilled, poached or baked and shredded chicken breast
buffalo wing sauce to taste
egg wash (1 egg + 1 tablespoon water, beaten)
Preheat oven to 400 degrees F. Unroll pizza crust and divide in half. Shape each piece into a circle and place on a pizza stone or lightly greased baking sheet.
Top each circle with 1/2 cup shredded cheese, leaving a 1-inch rim around the crust. In a large bowl, toss shredded chicken with buffalo sauce to taste (I use about 1/4 cup so the chicken is coated but not drowning in sauce) and divide between two circles (keep that 1-inch rim cheese and chicken-free). Top chicken with remaining shredded cheese.
Fold each circle over itself into a half-moon shape. Use your fingers to pull the edges of the crust up and over itself, pinching down to seal the crust completely. Brush tops of each calzone with egg wash and place in oven.
Bake calzones 10-15 minutes or until crust is a golden brown. Remove from oven and let cool 5 minutes before slicing. Serve with celery sticks and ranch or blue cheese dressing, if desired.