 Two women are saying that cars they rented from a Thrifty car rental franchise at the Buffalo, N.Y., airport had birther movement bumper stickers placed on them.
The two women, Barbara Wingate of San Diego and Stephanie DiBiase of Chicago, said bumper stickers that read "Vote for the American" were placed on the bumpers of cars they rented from the franchise. Wingate and DiBiase -- both of whom provided photos of the bumper stickers -- said they were told by employees that the stickers were placed there by the franchise owner.
The franchise is owned by Westover Car Rental, a subsidiary of Ellicott Development, a Buffalo holding company controlled by Carl Paladino, the Tea Party-affiliated businessman who lost the 2010 gubernatorial race to New York Gov. Andrew Cuomo (D).
"We noticed a bumper sticker on the car and in the dark lot we thought it was a promotion to "buy American" -- but didn't think about it until the next morning when we went to the car for additional luggage," Wingate, who rented the car the weekend of Oct. 13-14 to attend her daughter's wedding, told The Huffington Post in an email. "After reading it, we realized what it said/meant and were horrified."
Wingate said she was "embarrassed" to drive the car and that she complained to an employee when she returned the car. She said the employee said the franchise owner wanted the stickers kept in place and that he had asked the staff to vote for Romney. Wingate also said she noticed other cars with the stickers at the Thrifty franchise.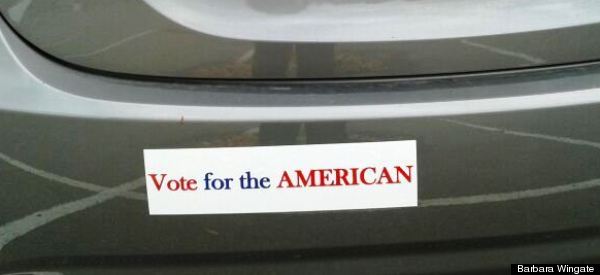 DiBiase, who was attending a family wedding with her brother and boyfriend, said she noticed the sticker when picking up the car on Oct. 12. She said she told staff then and they said they had not had any other complaints. DiBiase then took a photo of the sticker, which she started sharing on Twitter, before removing it from the car.
"We all thought it was offensive," DiBiase said. "If it was a general Mitt Romney sticker, it would be upsetting, but it would not be offensive."
DiBiase said she again raised her complaint when returning the Toyota Prius and said a staffer told her that the stickers were placed there by the owner and that the one she took off would likely be replaced. She said Thrifty's corporate office replied to her various tweets saying they would look into the matter, but she has not heard back.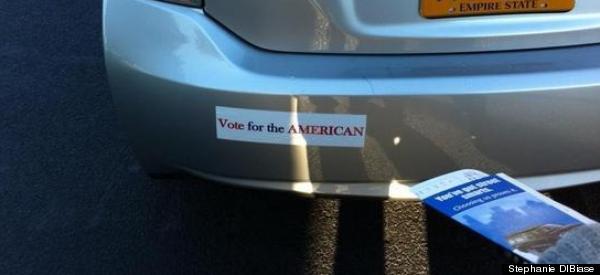 Phil Mooar was identified as the franchise owner by Thrifty staff, with Ellicott Development listing him as general manager. He was not in the office and did not respond to a voicemail seeking comment.
Ellicott Development owns Thrifty and Dollar car rental offices at the Buffalo airport, along with a Thrifty at the Rochester airport and an airport parking area in Buffalo. A spokesman for Ellicott Development, Michael Smith, did not return several calls seeking comment.
Paladino did answer the phone but refused to take questions, saying he "made it clear during my gubernatorial campaign" that he did not want to talk with The Huffington Post and asked not to be contacted again.
Eric Dabate, the fleet manager at the Buffalo airport Thrifty, told HuffPost that he did not know the origin of the bumper stickers.
"I doubt that it would have come from any of us," Dabate said. "I figure one of the guys in the back put it on. I thought it said 'vote for America.' It should not be on there."
Dabate said he did not know how many of the 400 cars had the stickers. He said he planned to talk to Mooar about the issue and provide more information to HuffPost. He has been unavailable since, with staff saying he had left for a meeting.
A spokesperson for Thrifty's corporate office in Tulsa could not be reached for comment.
Wingate and DiBiase both said they have no intention of renting a car from any Thrifty franchise again, with Wingate noting that she is "still embarrassed and angry."
UPDATE: 7:20 p.m. -- Anna Bottenhoff, a spokeswoman for Dollar Thrifty Automotive Group, told The Huffington Post that the company does not support the bumper stickers and stressed the decision was made in Buffalo by Westover. She said managers in Buffalo said the stickers would be removed.
"The company does not condone the placement of political materials on our corporate rental cars nor is it associated with any particular political position," Bottenhoff said in an emailed statement. "The alleged incident involves a licensee of Dollar Thrifty Automotive Group, acting as an independent business operation. We have been assured that the situation has been rectified."
This post started with a tip from one of our HuffPost readers. Do you have something to share? Email openreporting@huffingtonpost.com
Calling all HuffPost superfans!
Sign up for membership to become a founding member and help shape HuffPost's next chapter
BEFORE YOU GO
PHOTO GALLERY
2012 Senate Race Polls