Samantha Heaton said there was nothing unusual about her interaction with the family, who visited the Rockford, Illinois, restaurant Saturday ― that is, until she arrived to retrieve the check at the end of their meal.
"Can't tip someone who doesn't love Jesus," read the alleged note, a snapshot of which can be viewed below. "Bad tatoo [sic]."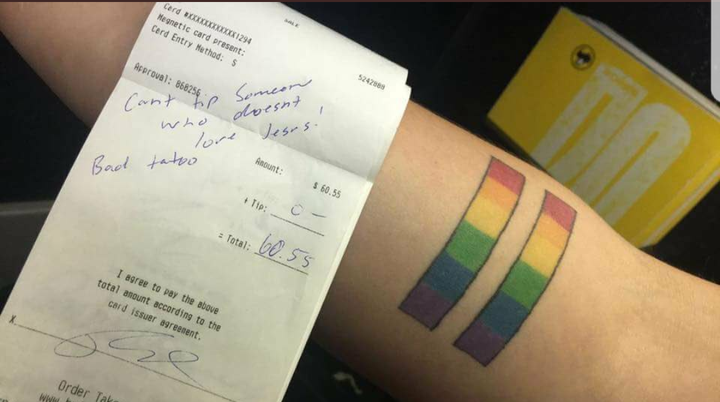 Heaton, who identifies as a lesbian and has been with her girlfriend for over three years, said neither her sexuality nor religion were discussed as she was serving the customers. As the note suggested, she believes it was her tattoo ― an equality sign in rainbow stripes ― that prompted the customer to draw those conclusions.
"It sucks not getting a tip, but not to get a tip because I'm gay in 2017 hurt just a little more," Heaton, who said she was "shocked" to receive the note, told HuffPost. "What was written on my receipt wasn't right, and I hope nobody else has to read that."
A manager at Buffalo Wild Wings in Rockford confirmed to HuffPost that Heaton was employed there and that she was aware of the alleged incident, but offered no additional comment.
Many of the comments on the post were supportive of Heaton. "Such a sad little message they left. They are not only cheap financially, but cheap minded," one person wrote. Added another, "If they call themselves 'Christians,' then they should know that there's only one that can judge. They should be ashamed of themselves for doing something that awful."
The waitress said she was proud of the response the post had received on social media. A number of people had reached out via social media and offered her tip money, she told the International Business Times. Though she's appreciative, she said she plans to donate that money to charity.
"We posted it to try to see if we can make a difference," she told HuffPost. "So many people are coming together ― Christians and [the LGBTQ community] are actually standing together on this issue."
Although Heaton said she wished the customer "would have said something if there was a problem," she added, "I feel like no matter what I would have said they still probably would've left the receipt. People are so close-minded and only choose to listen to what they believe to be right."
In an email, a company spokesperson told HuffPost, "Buffalo Wild Wings is about creating a great guest and team member experience, and we strive to create a respectful restaurant environment that our guests and team members expect and deserve."
Popular in the Community