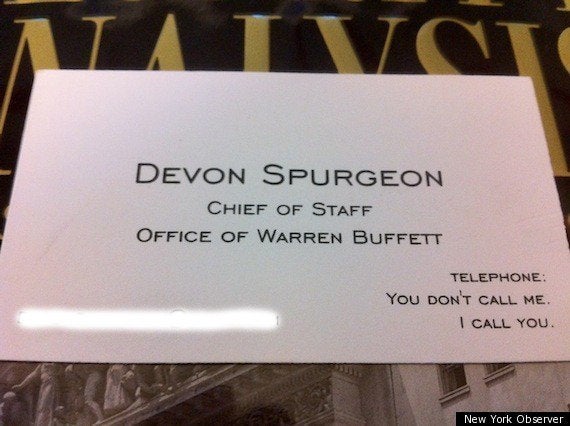 At last May's premiere of HBO's Too Big To Fail, Warren Buffett's Chief of Staff Devon Spurgeon reportedly handed the business card seen below to New York Observer reporter Foster Kamer, after Kamer tried to ask Buffett a question about farming investments.
The card read: "Telephone: You don't call me. I call you."
But Spurgeon's isn't the only business card with attitude. According to CNNMoney, Facebook CEO Mark Zuckerburg carried two business cards in the early days of the company. One simply identified his position in the company, the other doing so with some extra emphasis. "I'm CEO B*itch!" it reportedly read.
Buffett, the third richest man in the world, has lately often found himself in the news, both for light and more serious reasons. Just before Buffett's birthday, The New York Post published an editorial bringing light to the fact that Buffett's Berkshire Hathaway owes taxes going back nearly a decade, which the paper used as reason to attack his position that America's richest taxpayers should pay more taxes. Last week, Buffett admitted he dreamt up a deal to invest $5 billion in Bank of America while bathing.
The New York Observer notes that Spurgeon, a former Wall Street Journal reporter, was admitted to Buffett's inner-ring in 2004. Interestingly, that's despite Buffett criticizing a "glaring error" in a WSJ story she co-wrote in 2001.
Spurgeon also faced controversy while working at the Washington Post. Back in 1998, an article appeared in the Washingtonian concerning claims of sexual harassment made by Spurgeon against co-worker and columnist Richard Cohen. He was consequently moved to a different floor.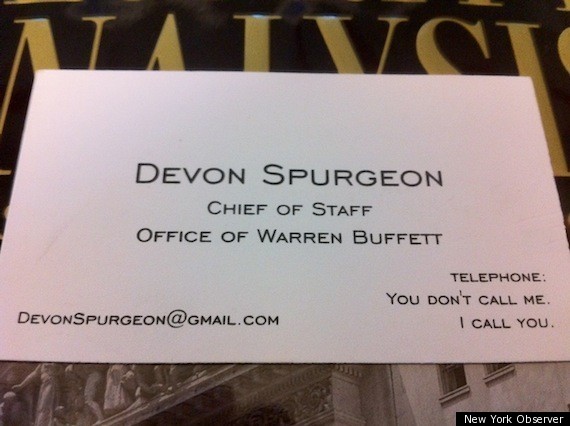 CORRECTION: A previous version of this article stated that Spurgeon worked at the New York Post, when she really worked at the Washington Post. The error has been corrected.
Related
Popular in the Community