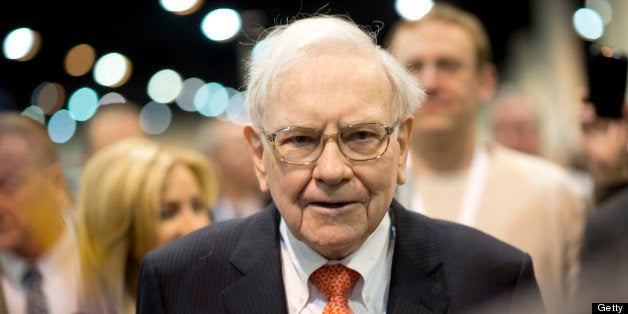 WASHINGTON -- Sen. Sheldon Whitehouse (D-R.I.) announced Monday that he will unveil "Buffett Rule" legislation this week. President Barack Obama highlighted the need for such a measure at the State of the Union this month and will likely continue to call for it throughout his presidential re-election campaign.
Whitehouse is expected to introduce the Paying a Fair Share Act on Wednesday. His proposal would codify the "Buffett Rule," named after billionaire Warren Buffett: It would require people who make more than $1 million to pay a 30 percent effective tax rate. Tax loopholes now allow some of the wealthiest Americans to pay lower tax rates than people in the middle class.
"Our tax system is long-overdue for reform," materials from Whitehouse's office stated. "In his State of the Union address, President Obama proposed adding to the tax code a 'Buffett Rule,' which would ensure that millionaires and billionaires pay at least the tax rate paid by middle-class families. Senator Whitehouse's Paying a Fair Share Act would codify that proposal, bulwarking the system against gimmickry and abuse."
The reality is that Whitehouse's bill stands next to no chance of becoming law. Republicans overwhelmingly oppose it and Senate Democratic aides said privately they don't expect GOP support for it. Democrats could try to roll it into a larger package to pick up some Republican support but that still doesn't guarantee passage. Republicans have instead put forward a proposal that would allow wealthy people to voluntarily donate more in taxes to help pay down the national debt.
Having the Whitehouse bill out there does serve a singular purpose, however: It gives Democrats another tool for selling their election-year message that they are fighting for the middle class as Republicans side with the wealthy.
Between now and November, Obama will be traveling the country pitching the "Buffett Rule" and generally a message of economic fairness. His State of the Union address stressed this theme, which has also run through all his recent presidential and campaign speeches. Buffett's secretary Debbie Bosanek was even a guest of the First Lady at the State of the Union.
Buffett has made the case that people as rich as he is should pay higher taxes and pointed out that Bosanek pays a higher effective tax rate than he does. He even called out Senate Republican Leader Mitch McConnell (R-Ky.) for proposing that rich people only voluntarily pay more in taxes, saying that was "a tax policy only a Republican could come up with."
Popular in the Community