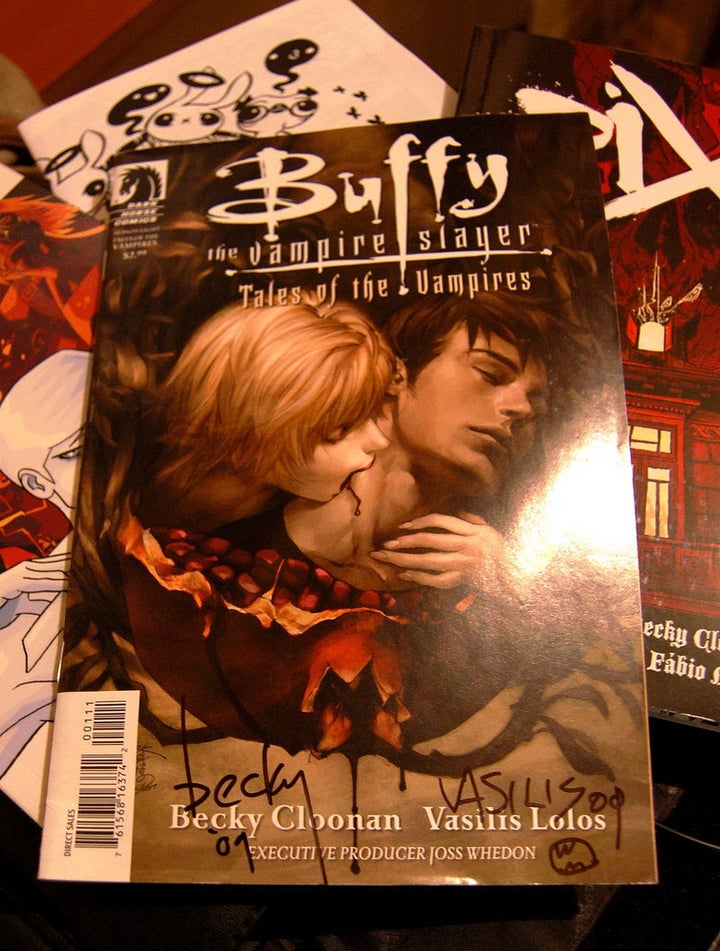 "Buffy the Vampire Slayer" has always cultivated a solid gay fanbase in both its television and print incarnations. Now the "Buffy" comics series, which picked up where the popular series left off, is introducing its first gay male slayer.
Out magazine reports that the new character, Billy, will be introduced in Season 9. Drew Greenberg, who collaborated with "Buffy" writer and producer Jane Espenson on the project, tells Out that Billy "is someone who sees a need in his hometown and steps up to fill the void, even at great personal risk."
For "Buffy" fans who know that only women can be "called" (i.e. chosen by fate) to become slayers, Greenberg adds: "He may not have the actual powers of the Slayers, but he's determined to be his own kind of hero, one who's sort of modeled after those who do have the power, and he sets out to make due with what he has. In the process, I think he hopes to follow the lead of all the strong, powerful Slayers who came before him and live up to the standard they set."
The introduction of Billy comes at a time when lesbian, gay, bisexual and transgender (LGBT) characters have been popping up in a number of popular comics. In April, newspaper comic strip "Funky Winkerbean" announced plans to mark its 40th anniversary by featuring a story arc about a gay couple planning to attend their high school prom together, and the consequences that ensue.
Still, "Buffy" creator Joss Whedon had long expressed a desire to introduce a gay male character. And as Greenberg told Out, he wasn't overly concerned with Billy's storyline somehow rivaling against those of other gay comic characters, saying the character will also "examine traditional gender roles" in addition to being a positive representation of a gay man.
"So much crap gets heaped upon us as gay men -- crap from straight people and, frankly, crap from other gay people -- about how it's important to be masculine in this world, how your value is determined by your ability to fit into masculine norms prescribed by heterosexual society and, sadly, co-opted by gay society as a way to further disenfranchise and bully those who don't meet those norms," Greenberg is quoted by the magazine as saying. "And those attitudes are a reflection of not just our own internalized homophobia, but of our misogyny, too, and that's something I've never understood."
REAL LIFE. REAL NEWS. REAL VOICES.
Help us tell more of the stories that matter from voices that too often remain unheard.
BEFORE YOU GO
PHOTO GALLERY
13 LGBT Comic Book Characters