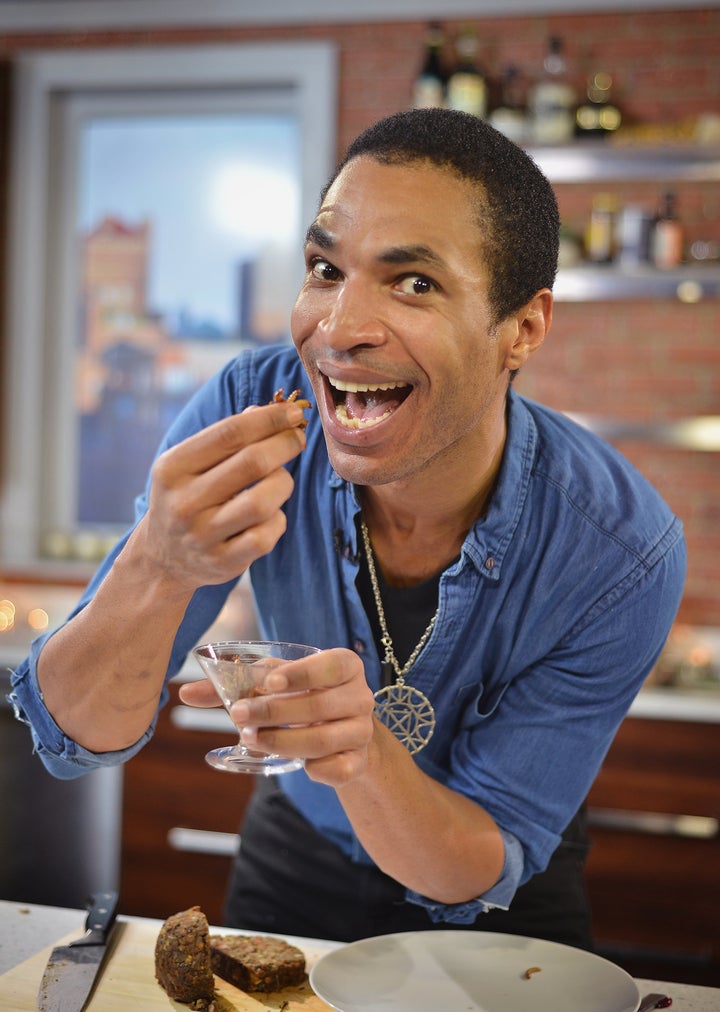 Getting bugged at the thought of another Christmas turkey? How about just eating bugs themselves?
That's the suggestion of New York chef Don Peavy, aka Chef PV, who is a self-proclaimed entomophagist ― a person who eats insects.
Chef PV is so pro-insect that he hosts "Buggin' Out," a YouTube cooking show that teaches the finer points of making wax worms, crickets and scorpions into tasty meals that even the pickiest eater will enjoy.
"Insects are something that I crave, but some people have a mental aversion to eating them," Chef PV told The Huffington Post. 
Those people are in the minority: About 80 percent of the world's population eats insects, he said.
That number should get bigger in the next century, as climate change forces people to look for more sustainable food options.
But getting people to choose bugs requires many to break away from old traditions. That's why Chef PV has chosen to show how crickets, meal worms and wax worms can liven up traditional foods ― or replace them altogether.
Want to cook some of these yourself? See the complete recipes at Chef PV's Facebook page.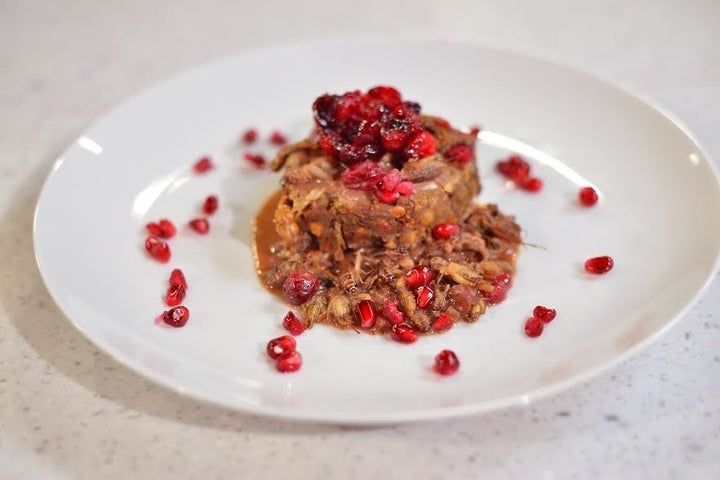 Take this cricket roast, which Chef PV made by mixing a cup of crickets and a cup of cricket flour, along with onions, garlic, mushrooms and green lentils, among other ingredients, before topping with pomegranate seeds.
"Crickets have a nutty, cheesy, buttery flavor," he said, and jokes they may be the "gateway bug" that will get people to take eating insects seriously.
By the way, the leftover loaf is great on sandwiches the next day, especially with horseradish mustard, Chef PV said.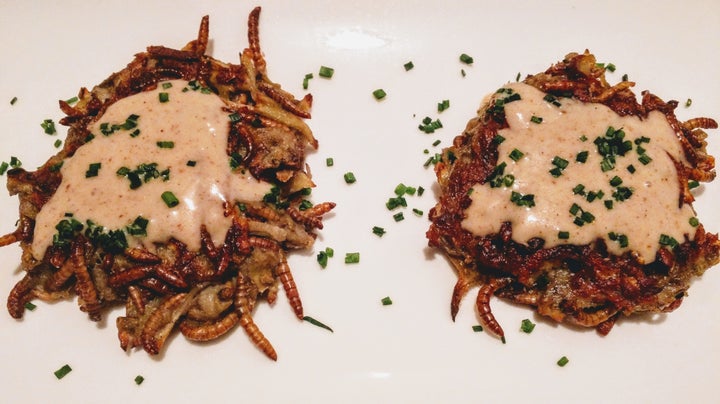 Instead of mashed potatoes, Chef PV decided to make mealworm latkes. Unlike the traditional potato pancake, Chef PV mixes in mealworms with shredded potatoes and sunchokes, a type of sunflower. 
"The mealworms have a smoky, bacony taste and a texture like fried potatoes. They blend well together," he said. "A friend of mine from Poland ate them and didn't realize she was eating worms until afterwards. She thought 'mealworm' was a type of potato."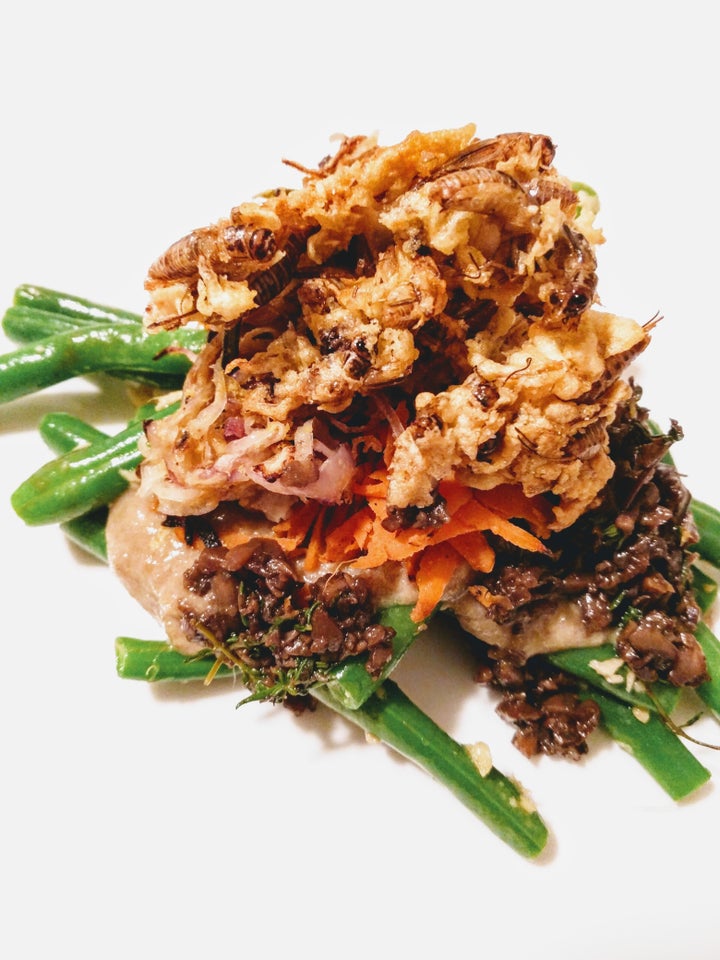 That buttery, cheesy mouthfeel that Chef PV associates with crickets served his version of green bean casserole well.
"I wanted to keep the flavor of onions, but didn't want them to be the crunchy element," Chef PV said.
He said you have to be careful when deep-frying the crickets so their flavor, not that of the batter, comes out.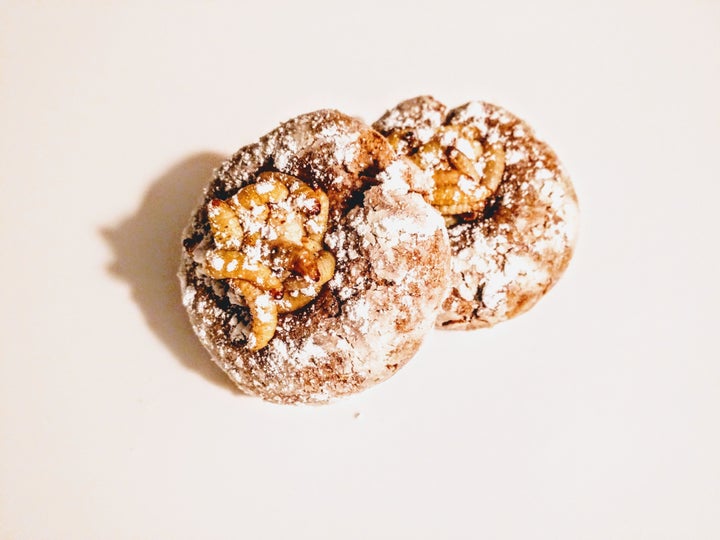 Chef PV also believes insects hit the sweet spot when it comes desserts, as in the "gingersect cookies," which he makes with cricket flour and wax worms, which he is trying to rebrand as "honey worms," because of their sweet flavor.
Cricket flour is becoming a popular substitute for regular flour because it is high in protein and gluten-free. However, baked goods made with it can get mealy.
"It doesn't act like a grain and expand," Chef PV explained. "I like these cookies because they are gooey and extravagant ― they look like a cookie and are soft like a cake."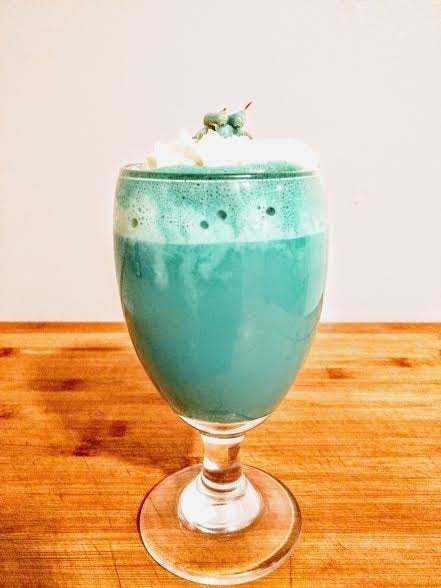 What would a holiday meal be without a festive drink? Chef PV's "bug nog" uses cashew milk and white chocolate baking chips, but adds cricket bitters to "crick" it up a notch.
"Cricket bitters are an aperitif made by brewing crickets," PV said. "They add an herbal quality to the mix."
PV's recipe is non-alcoholic, but he recommends adding bourbon or vodka if you want a buzz.
Although these dishes are made for a tasty "Crick-mas" gathering, PV has his sights on experimenting with more insect edibles in 2017.
"Cockroaches are a hard sell, but I recently made a broth that smelled delicious," he said. "I believe that the reasons cockroaches are ugly is because if they were cute, everyone would be eating them all the time." 
Calling all HuffPost superfans!
Sign up for membership to become a founding member and help shape HuffPost's next chapter
BEFORE YOU GO
PHOTO GALLERY
The Coolest Insects EVER