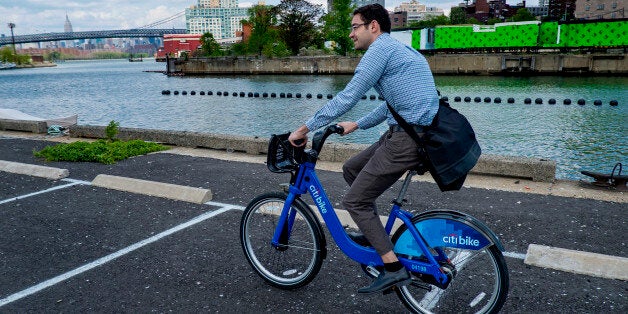 NEW YORK -- Talk to any proud city resident and they'll tell you their town is like no other place on earth. Its food, weather, parks, architecture, place in history, politics and entertainment -- and, of course, its sports teams. What they don't always embrace with the same enthusiasm is the one thing they have in common with every city resident: their streets. Whether you're in New York or Nairobi, Mexico City or Manila, the street is the first and last place we visit each day, and the backdrop for everything in between. But despite this starring role in urban life, too many streets worldwide are treated like bit players -- smothered in traffic, difficult to walk and bike around, bad for business and harmful to public health. Whether loved, ignored or squandered, cities are defined by their streets. While they all remain susceptible to the same malignant strains of city planning (urban renewal, anyone?) there's also great opportunity for change. While the transportation challenges urban centers face today are universal, so are the solutions, which can be readily transmitted across borders and oceans. As metropolises worldwide grow larger and denser, they're feeling the same pressure to heal the wounds inflicted by car-centric street designs. There's a newfound urgency to design streets that expand access to jobs and city services; reduce traffic crashes, pollution and climate change; and contribute to the quality of life and desirability of our communities. So, what do we do first? The first step of any recovery from addiction to automobiles is admitting you have a problem, and after more than a half a century of denial, cities are finally conceding the failure of rule by Fiat (and Ford, Toyota, BMW, etc.). Six decades of road-widening and new construction has done nothing more than perpetuate the very problems highway engineers claimed they would solve, and destroying much of the street life that makes cities into destinations.
Already expensive and inefficient, urban car culture is also contributing to the largest public health crisis you've never heard of. Each year, almost 1.25 million people are killed in traffic crashes. That's 142 people every hour, or 1 person every 30 seconds. Crashes are already the number one cause of death for young people, but you won't see it on the news. Traffic deaths are seen as the cost of doing business, or of trying to cross the street.
"Where do our cities go from here?"
So if this road that the world has been following for the 20th century turned out to be a dead end, where do our cities go from here? We're entering a new era where our urban centers finally recognize that their streets are their greatest asset and are developing new strategies and technologies to make them safer, smarter and more welcoming for people on two feet and two wheels, rather than only those behind the wheel. In New York, this meant building nearly 400 miles of bike lanes, including the first protected lanes on the continent, by moving parked cars away from the curb line and using them as a buffer between bikes and moving traffic. It meant carving out 60 new pedestrian plazas, including the redesign of Times Square, repurposing more than 26 acres of what was once just asphalt for more people-friendly purposes. We rolled out seven select bus service lines to speed travel, completed hundreds of safety redesigns to bring fatalities to the lowest they'd been since 1910, and grafted new technologies onto the streets with everything from real-time congestion controls in Midtown to Citi Bike, the nation's largest bike-share system. Meanwhile, Uber and others in the private sector made it even easier for New Yorkers to ditch their car keys. That is the New York story -- one that is still being written today by the new administration with its "Vision Zero" effort to eliminate traffic fatalities -- but all cities have unique characteristics and geography. There is no one-size-fits-all solution. Cities will decide for themselves what works best on any given street, but there are some key threads that the best efforts have in common.
"The proof of concept will be right there in the real world."
First, they'll be rolled out quickly, so the proof of concept will be right there in the real world, not in a computer model
. In New York, we used paint, plastic bollards and some tables and chairs to redefine the road space, sometimes even overnight. By city bureaucracy standards, things moved at light speed, and if for some reason something didn't work out, we could change it back. For any city residents used to seeing big plans die on the drawing board, this can show them that real change is possible on their streets.
Second, there's no intellectual property when it comes to street safety -- everything is literally in the public domain
. Cities can see what works elsewhere, adapt what does to their own streets and skip what doesn't. No need to keep reinventing the wheel, or the road for that matter.
Third, the work doesn't stop when construction does -- the effective projects will have real, measurable benefits that can be quantified and explained to the press and the public at large
. As Michael Bloomberg
, "In God we trust; everyone else, bring data." When we explained to our small business owners that the pedestrian plaza and bike lane projects in Union Square reduced speeding by 16 percent and injuries by 26 percent, while also cutting commercial vacancies in half, they supported the strategy. This phenomenon repeated from the Bronx to the Battery, and it turned people you would expect to be the strongest enemies of sustainable streets into the most enthusiastic supporters. If a city can get its shop owners to swoon, it can win over anybody.
"If a city can get its shop owners to swoon, it can win over anybody."
We're seeing more city leaders and citizens reconsider what's possible, have the courage to try new things, build on what works and improve what doesn't. And while we need to dramatically increase infrastructure spending on road, bridge and transit projects that require millions of dollars, we also need to focus on short-term, affordable and tactical improvements that can be measured in days and weeks, not years, while still saving lives, reshaping streetscapes and rebuilding our urban economies. In the 18th and 19th centuries, the Industrial Revolution and mass urbanization made urban growth and transportation infrastructure the defining challenge of the time. In the 20th century, the challenge was accommodating the automobile, as cars overwhelmed our city centers. Today, our challenge is different but no less urgent: creating safer, more sustainable neighborhoods for the next generations. A decade from now, it won't be hard to tell which cities have made progress and which have doubled down on past mistakes -- all it will take is a walk down the street. You'll encounter efforts to restore balance and return cities to people -- bikes lanes and bike share programs, plazas and public space -- or you'll slog through streets hollowed out by parking lots and dissected by on-ramps to nowhere.
The decisions we make for our streets today will lay the foundation for either future: we can build those cities that are truly worth bragging about, or we can build places you drive though on your way to someplace else.
PHOTO GALLERY
The 25 Best Cities For Young People
REAL LIFE. REAL NEWS. REAL VOICES.
Help us tell more of the stories that matter from voices that too often remain unheard.