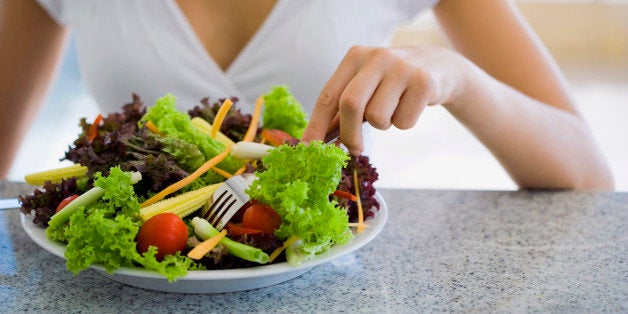 For anyone looking to eat healthier, it's natural to seek out a salad for lunch or dinner. In recent years, salads have become hubs of taste, rather than an unappealing, second-rate option at your local deli or other lunchtime spot. Places like Chop't have turned salads into a kind of art, and the growing presence of fresh and seasonal produce at supermarkets, health food stores, and farmers' markets means that the basic ingredients for delicious salads are available, whether you're a home cook or would prefer to grab something to go.
But there can be hazards to this approach. Eat a salad that isn't hearty enough and you'll find yourself snacking throughout the afternoon -- and likely doing so on foods that aren't anywhere near as good for you as the greens, grains, and nuts that abound in salads. You can tilt that in the opposite direction as well: A terrific and healthy salad can suddenly become unhealthy if you put the wrong dressing atop it, or opt for a lot of cheese in the mix.
Candice Kumai -- "Food Envy" host and author of cookbooks like Clean Green Drinks and Cook Yourself Thin -- knows a thing or two about finding the right balance to insure that your salad is both healthy and satisfying as a meal. To begin with, she's an advocate of using seasonal ingredients. "[Y]ou're going to get the vegetable when it's in its peak season," she said, "which means that it's got the best nutrient content available. Your body will naturally start to crave what is in season if you allow it to."
Kumai is an advocate of letting your body get used to eating more salads -- a process that may take a few weeks of bringing lunches to work. "A lot of green staples can stay the same: kale, brussels sprouts, arugula, mizuna, dandelion greens," she noted. "The accoutrements, the accessories that go into the salad -- you should focus on going seasonal if you can." She pointed out that leftover vegetables or grains from one evening's dinner can often be re-purposed in a salad for lunch the next day.
Using proteins in salads, Kumai noted, can help keep you full throughout the day. She recommended nuts: "unroasted almonds, walnuts, cashews; you can toast up your almonds, too, if you want different flavors in there. By roasting it, you're going to bring out the essence, and you're going to add extra crunch in there. Texture's a big thing on salads, too." Grains can also help make a salad more filling; Kumai cited amaranth and quinoa as two examples.
When making salads, it's important to keep things filling without overeating. Kumai notes that "we're finding that you should pack your biggest meal for your lunch." She notes that this what's filling for one person might be too much (or too little) for another. As an example, she cites an Asian steak salad, where the size of the steak corresponds with the size of the fist of the person eating it. "[A]dd that to a bed of spinach greens, and top it off with carrots and bean sprouts and almonds -- all of a sudden, you have a full meal," she advises. She also noted the Japanese concept of hara hachi bu, or eating until you feel 80 percent full.
As for dressings, Kumai advises a combination of four elements. The first is a fat component: "I love olive oil, I love coconut oil, I love sesame oil," she says. "Even avocado oil or almond oil." Following that, a natural sweetener (i.e. not sugar), used sparingly, and an acidic component: "balsamic vinegar, apple cider vinegar, [or] lemon juice." To complete it, she advises "a touch of salt. That could be soy sauce, it could be sea salt."
If you're committed to bringing a salad in to work as a lunch, you're going to want something that will hold up for several hours after you've made it. Kumai's advice here is to look towards particular greens -- brussels sprouts and kale, she points out, "hold really well for hours." She also recommends using a mason jar to transport dressing separately, noting that it's both re-usable and convenient.
For Kumai, salads are one way among many for people to eat in both a healthier and more satisfying way. Making one's own salads is also beneficial, Kumai argues. "I think it's important for people to take control of their own health by cooking," she says. "Cooking can be your greatest resource to finding a balance and reclaiming your own health and your own happiness."
Candice Kumai's Kale Caesar Salad
Salad
1 bunch curly kale or 4 cups curly kale
1 fennel bulb, trimmed
1/2 cup almonds
1 (3 and 1/2 - 4-ounce) can sardines packed in olive oil, oil reserved
Caesar Dressing
1 egg yolk
1 tablespoon apple cider vinegar
1 tablespoon roasted garlic
1 tablespoon lemon juice
2 tablespoons extra virgin olive oil
1/4 teaspoon fresh black pepper
1/8 teaspoon sea salt
Directions:
For the salad: Thinly slice the kale into ribbons. Cut the fennel bulb in half, then thinly slice it into half-moons, preferably on a mandoline.
To make the dressing: In a large salad bowl, combine the egg yolk, balsamic vinegar, roasted garlic, and lemon juice. Whisk well. Stream in the olive oil, slowly whisking to emulsify the egg and oil. Add pepper and sea salt as needed.
To serve:
Add the kale and fennel to the salad bowl and toss well to coat with the Caesar dressing. Add the almonds, plate up, and top with any cheese if desired.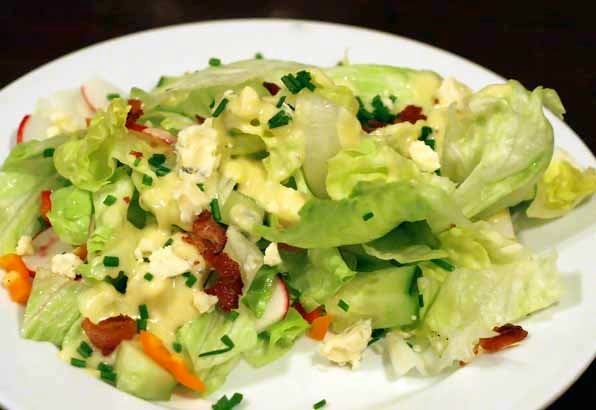 The Best And Worst Salad Greens