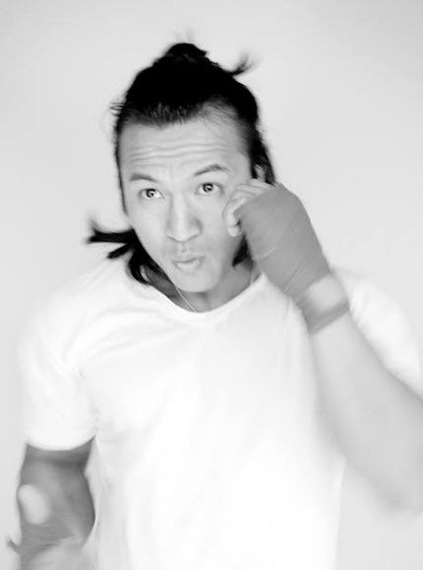 Entrepreneurs come in all shapes and sizes. This one is chiseled as finely as a Michelangelo. As well he should be, his business is bodies. He is the founder and CEO of Chi Bang Bodies, an elite fitness training company from Boston. He is dedicated to teaching people the art of sculpting their own bodies by helping them understand the science behind healthy living.
Chi Bang has built an amazing fitness empire throughout Boston and his business is still growing. His client list is the Who's Who of Boston including real estate tycoons, surgeons, presidents, and CEOs. It turns out that business, real estate, and medical moguls seek out the best of the best when it comes to their own health, they seek out Chi Bang Bodies. At only 40 years old, Chi Bang has built one of the most successful fitness empires in Boston. How'd he do it? Flexing one muscle at a time. Here are four lessons to building a business like Chi Bang.
Clear Goals: Chi Bang says that it is impossible to achieve anything, whether it be a big business or a fitness result, without a very clear goal. Chi says that when he first starts working with clients, he spends time getting to understand what their fitness goals are. He says that surprisingly, most people don't really have a clear goal. For example, Chi says that most clients will say that they want to "get in shape," or they want to "lose weight," or to have a "bathing suit ready body." Chi points out that all of these are very unclear goals, and the problem with unclear goals is that they create poor results. That's why Chi works with each client to dig down deep to figure out what it is they are really after. For example, most people say they want to lose weight, but Chi says that sometimes the body someone wants requires weight gain because creating muscle adds pounds. Chi goes through a series of questions about what the client wants to look like and feel like down the road so that together he and the client can paint a very clear picture of where their fitness journey will go. Chi applies these same principles to growing his business. Where will he be in a decade? Chi Bang Bodies will be a global fitness empire with locations and highly trained professionals across the country and around the world. If his Boston results are any indicator of where he's about to go, I'd say the sky's the limit.
Who Do You Want to Be When You Grow Up?: Chi Bang went to college for pre-med. This is how he ended up in Boston. When he started working in the field at a local hospital he started noticing something about doctors, nurses, and physician assistants. Although they all worked in the medical field, none of them were living healthy lifestyles. They were working long work shifts, living off of cafeteria food, and they were sleep deprived. The paradox of the medical field is that many health professionals know how to make others healthy yet they live very unhealthy lives themselves. Chi soon realized that this wasn't the life he wanted. He was passionate about health and fitness and he wanted to be a role model for others on how to live a life worth living. A medical degree was only going to move him further from that goal and so Chi Bang made a U-Turn in his professional life. He abandoned his plans for medical school and began a new life path to fitness coaching. In 1998 he started taking on clients and Chi Bang Bodies was born.
Passion Matters: I asked Chi if he had any advice that he would give to a younger version of himself and he said that his advice would be to choose a life path that you are passionate about. Chi further explained that when you are passionate about whatever your career is, then the journey will be worthwhile, regardless of the result. If you are not passionate about what you do, the result will always be first and foremost. When you wake up every day and you are excited to get to work, then it's easy to handle the ups and downs of entrepreneurism. There are good days as an entrepreneur. There are bad days too. When you live and work with passion, even the bad days are pretty awesome.
Understand What You Are Selling: Chi says that it is vitally important as an entrepreneur that you understand what you are selling. There are a ton of fitness companies in Boston, but there are only a few that sell what Chi sells. For example, most fitness training companies will send a trainer to the gym with you and they will spend 30-60 minutes watching you run the treadmill and telling you how many reps to do to tighten muscles. Chi says that he will rarely waste his client's time overseeing cardiovascular workouts when he can easily prescribe a cardio regimen they can do on their own. Chi says that his value is not watching you do a workout. Chi's value is in spending time with each client so that they understand the nuances of the muscles and how small tweaks will create drastic differences in the results. Chi's job as he sees it is to help each client paint a picture of a fitness goal and then achieve that goal through his imparting tiny pieces of his 20 years of fitness wisdom so that the client walks away with much more than just a workout session. Chi says that his job is to ensure that the client walks away with an understanding of their body and a fitness lesson which they can hold onto forever. With many fitness trainers, the client leaves the workout with just their burning muscles. Chi's clients leave every workout with fitness knowledge they will use for the rest of their lives.
There are millions of entrepreneurs in every field. Some businesses rise to the top faster than others because they are built by entrepreneurs with the passion, drive, knowledge, and the heart that it takes to thrive. Chi Bang is one such entrepreneur. Chi is building a fitness empire that's redefining what it means to get in shape. For Chi, fitness does not begin with the body, it begins in shaping the mind. He's building his business the Chi Bang way.
Calling all HuffPost superfans!
Sign up for membership to become a founding member and help shape HuffPost's next chapter