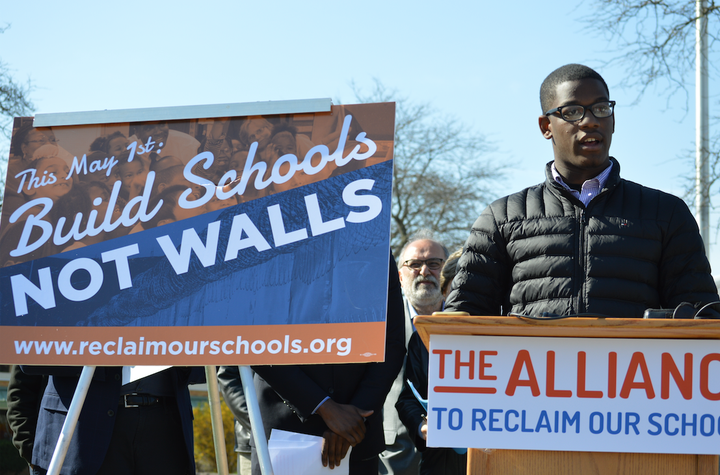 Teachers and parents plan to take to the streets on May 1 to call for investment in public education and to protest President Donald Trump's immigration policies.
The nation's two major teachers unions and a coalition of education groups called the Alliance to Reclaim Our Schools are coordinating protests at schools across the U.S. The protests ― the culmination of a weeks-long national campaign called "Build Schools, Not Walls" ― will call on elected officials to invest money in education, rather than in hurtful immigration policies like a wall between the United States and Mexico.
Labor and immigration advocates also plan to demonstrate around the country on May 1. Leaders of the education protests say they are joining the other groups in solidarity and expect hundreds of thousands of people to participate in events held at more than 2,000 schools nationwide.
AROS represents a coalition of national and grassroots education groups across the country. Since Trump's election and the confirmation of Education Secretary Betsy DeVos, members have been exceptionally mobilized, according to Keron Blair, AROS' executive director. The latest campaign, which launches Tuesday, seeks to capitalize on this momentum and link the movements for education and immigrant justice.
In the upcoming weeks, AROS' campaign plans to call on leaders to end the mass deportation of undocumented immigrants, and to ensure that schools are safe places for all students ― no matter what their immigration status.
"For us, it is really about the vision that instead of investing billions of dollars in a wall that divides our community, what we really should be doing is investing heavily in great public schools for our children," said Blair, whose coalition represents groups like the Advancement Project and the Center for Popular Democracy.
The campaign plans to kick off at a high school in Dearborn, Michigan, with leaders like Randi Weingarten, president of the American Federation of Teachers, and Rep. Debbie Dingell (D-Mich.). The Dearborn school is "fairly well-resourced," Blair said, but it is not representative of the overall state of public education in Michigan.
Michigan, which is DeVos' home state, has low rates of academic achievement. Critics say this is partly because of policies pushed by DeVos herself. DeVos is a proponent of policies that expand access to charter schools and private schools. Critics say such policies hurt traditional public schools.
In response to DeVos' confirmation, Blair said there has been an increase in engagement from people who want to protect public education.
"She's really awakened activists," Blair said. "We see incredible participation from educators, parents and students."
Support HuffPost
The Stakes Have Never Been Higher
Popular in the Community