As we enter fall, the deadline has come and gone for a congressional vote on changes to the Child Nutrition Act (CNA), a law governing six major food and nutrition programs that feed millions of children each year in and outside of school. Reauthorization occurs just once every five years, and it is critical that Congress passes a CNA that is stronger than ever and continues to provide children with healthy foods.
Healthy minds and bodies are critical to placing kids on a path towards success. That path begins with the food we provide in schools. Multiple studies, including one from Tufts University School of Nutrition, highlight the relationship between malnutrition and academic performance. Too many kids go to school hungry, and many more live in communities with poor access to healthy foods.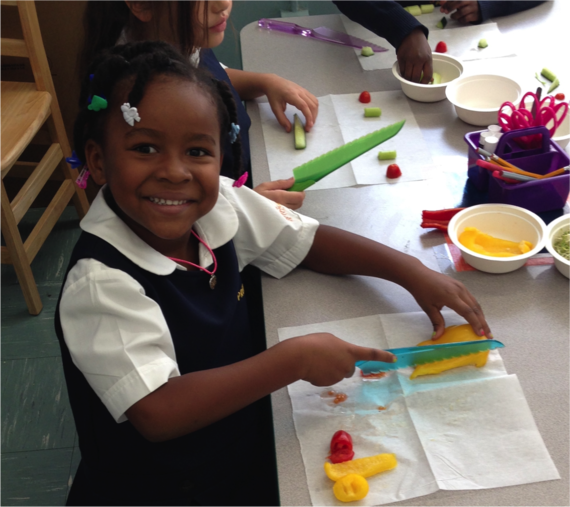 Millions of children benefit from CNA programs -- including school lunch, breakfast, and afterschool meals -- that address hunger and nutrition gaps across communities. The National School Lunch program alone serves more than 31 million children each year, according to the U.S. Department of Agriculture. In 2010, the United States made strides to make school food healthier by raising standards to include more fruits, vegetables, and whole grains. It is critical that a strong Child Nutrition Reauthorization (CNR) uphold these standards, which 95 percent of schools report implementing successfully. A strong CNR must also make it easier for families to access healthy meals outside of school, through programs like the Summer Food Service.
Some lobbyists argue that higher nutrition standards and more extensive food programs are too much work and only lead to food waste. Bubble Foundation's experience serving thousands of kids and families across New York City tells us otherwise. Kids will eat healthy foods, and it is possible to meet higher nutrition standards in schools.
The Bubble Foundation now works with 15 public district and charter schools across New York City to educate kids and families about healthy eating. We see the power that food education has in schools. It's simple: Kids eat more vegetables when involved in hands-on cooking, growing, and tasting. That education, plus a school-wide culture that promotes healthy choices, change what kids will eat. As a science teacher at Bubble's partner school Girls Prep Lower East Side shared: you see the impact at the salad bar where students take more vegetables after participating in Bubble cooking and nutrition classes.
Bubble's first partner school, Mott Haven Academy (Haven), demonstrates it is possible to meet -- and surpass -- higher nutritional standards. Haven was created in 2008 to serve children shuffled around the foster care system. At the time of the school's founding, the food served at lunch included too much chocolate milk and not enough fruits and vegetables. In partnership with Bubble, the lunchroom was dual-purposed to a classroom and transformed the meals provided to students. Today, Haven's wonderful Chef Terrie provides four fresh, whole foods-packed meals and snacks a day to students. The difference is noticeable. Kids are happier and perform better in school, and they are building healthy eating habits that last a lifetime.
Most of us live in a world where processed foods -- full of sugar, salt, and fat -- comprise much of grocery and corner stores. These foods are detrimental to our wellbeing in the short and long-term. School is a place where we can counter that reality by meeting nutritional needs and teaching about healthy choices. Kids, parents, teachers, and administrators are demanding healthier foods in school. We must demand a strong CNR that provides our future generation with the most basic of resources -- food. Let's also make sure that food is real food that builds strong minds and bodies for our youngest generation.
All of us, as parents, educators, and community members, should support strong food and nutrition programs for kids by contacting our congressional representatives to advocate for a strong CNR. The New York City Alliance for CNR has made it easy to do just that with tools to take action.
Related