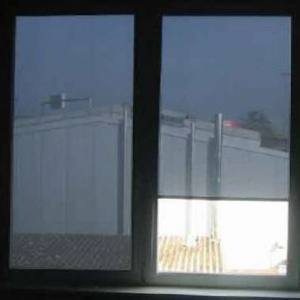 We all know that windows are made in houses to let in light and allow us to get the beautiful outer views. But the sunlight that enters our homes through windows is also the reason behind hot spots and instant fading of your furnishings. This is why window films have been designed in order to prevent solar heat, diminish chances of fading and adding a valuable protective layer on your home.
If you're wondering what these window films are, they are a micro-thin layer of vinyl film or polyester which is applied directly to the glass of your windows to give you a rather economical way of alleviating the glare of the sun, minimize utility bills, improve your privacy and also add a decorative touch to your windows. If you're a motivated do-it-yourselfer, adding a window film is pretty easy as you just need to invest a little bit of patience and care in order to install such window films on your own. Read on the concerns of this article to know more on the various types of window film and the benefits of adding them to your windows.
Various types of window films
If you make a comprehensive market research, you will see that window films are available in a number of types and each of them have different benefits. Here are some you should know about.
They offer you the look of an etched, stained, frosted or textured glass
They are reusable and removable
They can block UV rays at 80-90% and also offer privacy benefits
They can be used on household surfaces and windows
They don't provide you with considerable amount of heat protection
Heat or UV blocking window films
They help you save on cooling and heating costs
They can block up to 99% of the harmful UV rays and 80% of solar heat
They alleviate the level of glare
They're more expensive but offers higher level of protection
They reduce the amount of light that a room may get
They prevent people from seeing outside of the window
They may even feature a reflective or frosted surface
They might even reduce the amount of light received by the room
They may be available in various degrees of darkness
What are the actual benefits of installing window films?
Now that you're familiar with the various types of window films that you may get in the market, you must be wondering about the different reasons behind installing them. Are there any specific benefits that you will reap once you add window films? Well, here's a list of few advantages that you may reap.
Improves aesthetics: Window tinting films can be added to your home, commercial buildings and also to your car and when you add this, it gives a finished and proper look while also helping you cut down the excessive glare of the sun. You can also get the decorative window films which you can add to bring the look of etched glass at a reasonable price.
Creates a comfortable environment: After window films are installed in your home, they create a comfortable environment. Experts suggest that window tinting films can make a car at least 60% cooler during summer and reduce the chances of your car being extremely hot as soon as you enter it. No matter when the sun is shining, window films can make the place a lot cooler.
Protects from UV rays: If you buy those good quality window films, they can block 99% of the ultraviolet rays of the sun that enters your home, vehicle or business. The glare of the sun is reduced which otherwise affects your eyes and skin from being damaged. As it blocks UV rays, it also protects upholstery, furnishings, tapestries, paintings from discoloration and fading.
Enhances security and safety: Window films also help in holding the glass together during an event of breaking of a window whether due to an attempted break-in or an accident. When you install them on your car, people from outside won't be able to see your valuables in your car or even the person who's driving the vehicle.
Saves energy: Window films not only improves the entire look of your car, home or office but it also plays a huge role in saving on energy costs. You can save at least 40% on utility bills during summer and for commercial buildings, it's an 80% saving.
Therefore, if you don't want the sunrays to damage your furniture, upholsteries and your skin, make sure you get the best quality window films and install them in your home, car and office windows.
Related