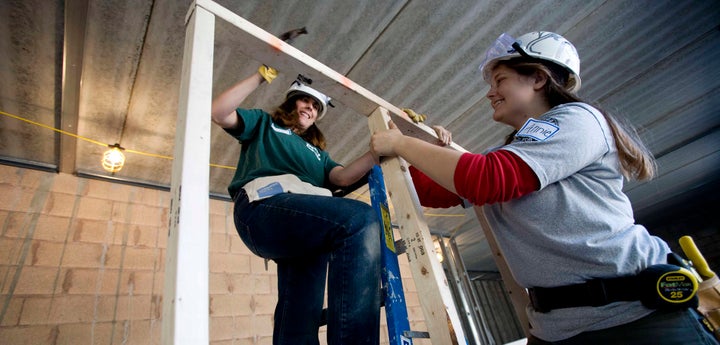 This wave of fired up volunteerism couldn't be more needed in a city as proud and productive as the five boroughs of New York City. While about half of New Yorkers give $25 or more annually to charity, the city's volunteerism rates are ranked 49th out of the 51 largest metropolitan statistical areas, according to the Corporation for National and Community Service. In 2015, only about 17% of residents volunteered compared with the national average of nearly 25%.
At Habitat NYC, we can sometimes find that hard to believe --- I'm sure as you read this, and images of Habitat for Humanity's work come to mind, what see in our mind's eye is a group of volunteers in hardhats hammering and hauling materials to build a home. We are, arguably, the poster child for volunteerism! But, you might wonder, can we really do that in New York City? The answer is a resounding – yes!
At Habitat NYC we pride ourselves on uniting all New Yorkers around the cause of affordable housing, and we engage an average of 5,000 volunteers each year to come out and participate in building up their own communities.
Our volunteers quite literally 'build the change that they want to see' in NYC neighborhoods including Queens, Brooklyn, the Bronx, Manhattan, and Staten Island. While their efforts definitely help to keep construction costs down, volunteerism also brings like-minded New Yorkers together as a powerful group, often working right alongside the families that they are helping – together, we all build a better New York City! It is life-changing for all concerned. In fact, we find that our hands-on approach has such an extraordinary impact on the volunteers themselves that we see them on our build sites again and again.
It's fun and it is meaningful. The dedication and commitment of our volunteers enables us to build more units in more neighborhoods and provide more opportunities for lasting positive change, for more partner families.
But to build the change we want to see in a city as mighty as New York, we always need more hands to help us along. We build four days a week, nearly every week of the year -- not just on Saturdays -- and in fact, on weekdays and particularly in colder months, volunteerism rates can drop.
I know from experience, many of you have 'building a Habitat home on your bucket list.' For every story I have heard relaying stories of building with Habitat in high school, or college or with a church group – I hear more stories of, "I've always wanted to do a Habitat build".
While you may feel that it is difficult to clear a Saturday for volunteering, we need hands-on help throughout the week. We also partner with companies and businesses to set up fun team building days where employees are given the day to volunteer together. Taking a step away from everyday tasks and working together on a positive common goal is great for team bonding and employee morale. In fact, not only do we say that, we practice it. Habitat NYC staff build at least twice a year.
Learning new skills while on-the-job, is fun. Absolutely no previous experience is necessary though we always welcome those that bring their expertise too - and we will teach you everything you need to know from measuring, sawing, drilling, plastering and tapering, and more.
Volunteerism plays a key role in assisting us to move families into their affordable homes as quickly as possible. Each month, week, and even day that we have to push back because our resources are strained due to low volunteerism, our partner families are kept waiting to move in. In many cases, this can mean more time in overcrowded and even unsafe living conditions.
As New Yorkers, we pride ourselves on being the best city dwellers in the country. We make the best bagels, maintain an impressive loyalty to stubborn sports teams, and we jaywalk with calculated precision, so we can surely do more to contribute to what makes New York City the greatest place in the world to call home for every New Yorker.
In our over 30 years in New York City, we have heard a lot of reasons for why people come out and volunteer. It is a great workout and healthy way to relieve stress. It is a fun activity to do with friends or meet new people with similar interests. It is a charitable way to learn new skills and become handier.
But what we hear most often from our volunteers is that the real reward is helping to create decent, affordable homeownership as a choice for fellow New Yorkers.
Related
Popular in the Community