Reading The Age of Dignity will make you feel better. Ai-jen Poo's book about the challenge of elder care in America dispenses some hard truths about what growing older means for us, for those we care for, and those who will care for us. It is a daunting picture of need that outstrips our current capacity to meet it--but this organizer of immigrant women workers, co-founder of Domestic Workers United, and Director of the National Domestic Workers Alliance (NDWA) is purpose-filled and optimistic about building what she calls the "Care Grid." In calling for the creation of nothing less than a national infrastructure of care, Ai-jen Poo sketches out a landscape of elder care and shifting demographics that demonstrate why "a universal baseline of support" is a matter of national security that merits the level of priority the US gives to defense. Over the next decade, three million people will be added to the 12 million currently needing services and support because of age or disability. That translates potentially into more than 800,000 new jobs. But those jobs need to pay fair wages that reflect the critical importance of the often hidden work that makes all our lives possible and enables the caregivers themselves to age with dignity and security for themselves and their families. Building the Care Grid is possible, says Poo, because a "caring majority" already exists. Mobilizing and tapping into that majority will translate the desire and need we all share for care into a system that works for everyone. After all, as she points out, in the words of Rosalynn Carter:
There are only four kinds of people in the world:
those who have been caregivers,
those who are currently caregivers,
those who will be caregivers,
and those who need caregiving.

Faith Action for Community Equity (FACE) Hawai'i under the leadership of outgoing director Drew Astolfi, hosted one of the conversations with Ai-jen Poo at St. Andrew's Cathedral, Honolulu.
The many personal stories she tells of friends and family, care workers she has interviewed and trail-blazers she has worked with, made me think of my own family and friends and the challenges all of us have experienced, firsthand or from afar. It also makes one ask disquieting but necessary questions about the degree to which we may have participated, sometimes unwittingly, in the undervaluing of the vital work of domestic workers and the variety of professionals who provide critically needed home care. Too many of the people we rely on to care for those we love, whether they are children or elders, are largely invisible and under-valued. Saying these workers are "just like family" sounds good but sometimes belittles the work they do and paves the way for exploitation, even if unintended.
The Age of Dignity is an invitation to take an honest look at our assumptions about those who are present but not fully or fairly acknowledged for the great deal they do to make possible our very visible and public professional lives. Organizing, training and winning public acknowledgement, says Poo, are key to giving those who provide home care the professional respect and remuneration they deserve.
Early Public Policy Leadership from Hawai'i
Ai-jen Poo addressed several audiences recently while in Honolulu, last stop on a 16 city Caring Across America tour to spark the conversations families and the broader community need to have to radically remake the way we approach elder care. She spoke to a packed room at the University of Hawai'i, Mānoa, at a forum hosted by the Department of Sociology and co-sponsored by the Hawai'i State Commission on the Status of Women, the Hawai'i Immigrant Justice Center at Legal Aid, the William S. Richardson School of Law, the Women's League of Central Union Church and Departments of Women's Studies and Ethnic Studies.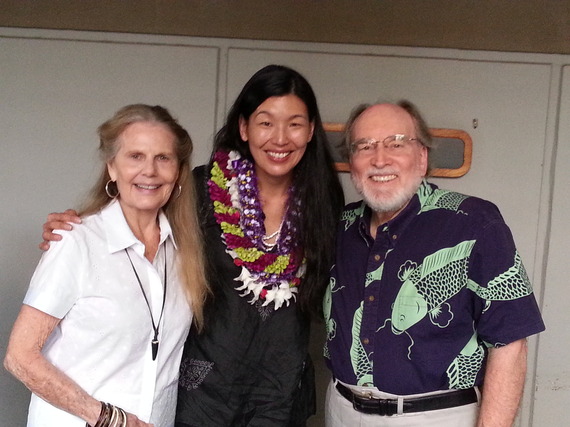 Ai-jen Poo acknowledged the leadership of Dr. Nancie Caraway and Governor Neil Abercrombie, who were present for her talk, in making Hawai'i the first state after New York to adopt the Domestic Workers' Bill of Rights.
"The history of domestic workers is a history that is rife with exclusions," she said. Her book carries an account of the very moving turning point in the struggle to win recognition and justice. She describes the moment when she first heard then New York Governor David Paterson, publicly say "The exclusion of domestic workers and farmworkers from labor rights is the legacy of a long history of racism." He followed through by signing the Bill of Rights into law when it came to his desk.
Creating a Care Grid is Smart Economics--and it's Good for the Soul
The call to create a Care Grid is a call for much needed cultural, behavioral and structural change in how we approach elder care. It is a call to recognize ourselves in each other and to act in ways that allow us to keep building "a winning coalition," one that does not allow race, class, gender or age to divide us; a coalition that builds strength and solidarity with workers who have faced and overcome similar obstacles. Thoughtful public policy must emerge from recognition of the intersection of needs. She notes repeatedly that the widespread use of undocumented immigrants in vitally important home care jobs points to the need for a change in immigration policy. In ensuring the peace, freedom and security of these undocumented immigrants, many of whom provide essential home care services, we would also be investing in the peace, freedom and security of the nation as a whole. If not justice, self-interest should prompt all of us to call on policy-makers to make that investment, and make it soon.
Related
Popular in the Community