This is part of the #CareerAdvice series - featuring successful professionals who share their advice to people who would want to take their career to the next level.
"Community building is a bit like having a baby."
"It really is," Kenan Salihbegovic insists over my surprised laughter during a Skype interview on a Tuesday morning. "It's always more give than take in the beginning, but in the end it pays off. You know, I do all of these things to help a community develop at every step I can and be their voice in the company. Ultimately it pays off, even with only the warm fuzzy feeling of every thank you I get. With time, the community becomes a more independent organism, and once it can stand on its feet without my help - I know I have been successful."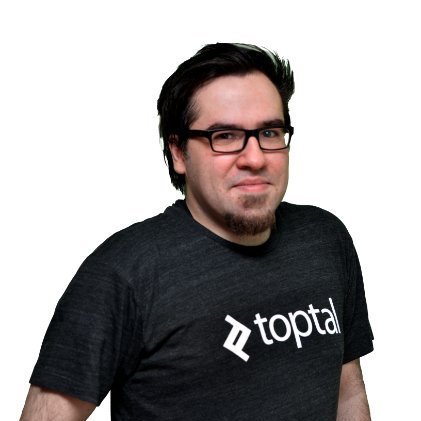 Photo courtesy of Kenan Salihbegovic, Head of Community at Toptal
Kenan is a Head of Community at Toptal and has years of experience with building communities. He revitalized the art and technology communities in his hometown of Sarajevo, Bosnia, by helping to build Kriterion, a popular art house cinema (one of just two in the whole country), and HUB387, a tech accelerator and coworking space. He certainly knows what he is talking about when discussing how to organize large groups of people around a single cause.
During our chat, Kenan is in a coworking space in Sarajevo. He is surrounded by eight other Toptalers living in the area, and the space has a policy encouraging any Toptaler to come through, hang out, and use the space to work as well. It's a fitting place for a Head of Community.
"Toptal is the very rare company that is 100% remote. Other companies claim to be remote, but they still have an office somewhere. Toptal doesn't have any offices. Anywhere. Toptal is the prototype for this completely distributed model."
Despite the remote structure, the company has fostered an extremely tight-knit community, constantly hosting events all over the world that include everything from simple meetups to conferences. Recently, the community has powered the Toptal Global Mentors Program as well, an effort to broaden the impact of their expertise and help aspiring developers from minority and low income backgrounds.
"To build a truly successful community, you have to be honest, vulnerable, and humble. You have to be present and listen. Not many companies do it right because this mentality has to come from the top, but I believe Toptal does. The founders understand that community is about giving back and helping the community members to accomplish whatever they want to do in their lives."
As the Head of Community for Europe, the Middle East, and Africa, Kenan makes sure everything runs smoothly and even hosts his own events from time to time. Kenan and Justin Isaf, the Head of Community in Asia and the Americas, have been developing a variety of new community initiatives such as the Toptal Academy, in which Toptal developers teach classes to other developers on cutting edge, in-demand tech and design skills.
Though Kenan spends most of his time in Sarajevo, he also regularly travels to meet other Toptalers and community leaders and mentors them face-to-face as well. This travel is common among the Toptal community and is a crucial part of its culture. Many Toptalers are digital nomads, and COO, Breanden Beneschott, has written extensively on how to travel and work remotely.
Yet despite Kenan's prominent role and regular hands-on work, he is modest about his role in the community, insisting that he is merely a facilitator.
"I don't see myself as a leader or manager. The actual community members, the people directly involved with the people around them, they are the leaders. I'm just here to get the obstacles out of their way and help them be more awesome. You know, sometimes I'm not needed at all. Other Toptalers step up on their own and volunteer to organize great community events. That's the beauty of the Toptal community. Everyone is mind-blowingly intelligent and amazing, and they want to get involved."
Kenan is proud of the community he has helped build at Toptal and considers it his biggest achievement yet, a culmination of a lifelong passion.
Kenan's interest in technology came at an early age with a love of video games. He quickly became an active participant in online gaming communities and at the age of 18 volunteered as a moderator for Gameforge. He eventually became a community coordinator for the company and ran the communities for games that had up to 10 million daily users.
"I had to think on my feet during that time," Kenan recalls. "I mean, I was basically a kid and had this huge thriving community dumped in my lap. I had to learn a lot, and quickly. It was my first community leadership role, so I had to learn how to communicate with people and get them excited about events. During the process, I discovered my love of being in the middle of a community and fighting the people's fight at a company."
This auspicious beginning sparked an entire career. As Kenan applied to college, he was unsure of what he would study, torn between his two passions, computer science and marketing. Surprising everyone around him, Kenan opted out of studying computer science and chose to study marketing instead. Kenan attended Ekonomski fakultet Sarajevo in 2005, majoring in Marketing Management.
Yet Kenan soon grew frustrated by the college's outdated curriculum and decided to take his time graduating, only attending a few classes a semester. During that time, Kenan focused on implementing his marketing ideas in the real world, first for a few years at Gameforge, and then later at Kriterion, an art house cinema in Sarajevo.
"Kriterion was a weird project and a crazy idea. An art house cinema in Sarajevo? There's never been one in Sarajevo before. I joined as the marketing manager, and within six months it was becoming popular. The theater supported upcoming artists and changed the scene completely by becoming the hotspot for the local arts scene. It's still around today, supporting a vibrant local arts community."
Working at an art house cinema may sound like an odd college job for someone so interested in technology, but Kenan has been passionate about the arts since his youth. Growing up, he trained as a classical flutist and clarinetist. As he grew up, he transitioned into rock music and took up the bass guitar, eventually forming a metal band named Evading Downfall with four friends.
"For six months, we played four hours a day. Then we had our first show in Sarajevo, and all the work paid off. Within 30 seconds of us playing, there was a wall of 150 people jumping up and down, going crazy in the audience. It was amazing seeing people react to our music like that. It's such a primal way to connect with people."
Despite the successful show, the band called it quits within a year because the members were too busy. They still jam together on occasion, and Kenan practices guitar for relaxation. While the dream of being in a successful band may have ended, Kenan's experience on stage only reaffirmed his desire to connect with people and create a community around them.
Perhaps this desire to connect with people and help communities can be attributed to Kenan's youth, and to the mother that raised him. Kenan's family fled Bosnia during the Bosnian War and moved to Germany, but returned to Bosnia when the war ended. His mother was a pediatrician, and as a doctor, she felt she needed to return and help rebuild the community and the country.
Kenan has done a lot for his local community as well. Apart from his work to rejuvenate the arts, Kenan has helped build HUB387, a tech accelerator in Sarajevo that hosts events and serves as a coworking space. The accelerator also provides the classrooms for Academy387, a dynamic platform to educate the local community in different elements of technology development. Kenan was the first employee of HUB387, and helped the founder with business development and marketing.
"HUB387 was the first ever coworking space in Bosnia, which at that point was a very bold idea. People were not used to sharing space. It took 3 months of hardcore evangelizing to convince people that sharing is better. We've gotten a lot of local media attention because everyone thought we were crazy.
"We finally broke through to the local community after five months of 80-hour work weeks by hosting a huge pitch competition. Over 300 people came and were hyped about the event. We saw firsthand the hunger of developers in southeastern Europe for something new. They are intelligent and ambitious, but didn't have the opportunities to use their skills."
From small beginnings, HUB387 achieved great success, receiving a seed fund of around 1 million euros and even being featured in TechCrunch. Today, the tech accelerator has 16 startups working in its space, and IT companies all over Bosnia have been sending their junior developers to the Academy to learn new skills.
"HUB387 changed the local landscape. Older companies became deprived of cheap young talent because the youth now had options. These companies were forced to raise their wages to compete, and, you know, this change is something Toptal helps with too. It's more than just money, though, it's opportunity. Companies like these give developers in southeastern Europe a chance to grow and prevent brain drain.
"There aren't enough opportunities in smaller communities, so talented developers hit a point where they stagnate and can't expand their skill set. When they reach that point, the next logical step for them is to go to one of the hot tech centers like Berlin, London, or San Francisco. This is true for countries all over the world, but companies like Toptal and HUB387 connect these brilliant people to projects that test their skills and push them to improve."
Kenan transitioned smoothly from HUB387 to Toptal this past spring, which he attributes to the similar social consequences of the work but also to plain old timing. Just as HUB387 was taking off and reached a point where Kenan was proud of what he'd accomplished, Toptal approached him with a new job offer.
"At some point, I realized I have so many things I want to do, and Toptal is amazing because it is a remote company. I could do whatever I wanted, travel wherever I wanted. Working at Toptal would also mean I could stay in the country I love. I could keep helping local developers and build that community, so I thought sure, I can dig this.
"I've found that Toptal is everything I've done, but on a higher level, in a much more scalable way. For the very first time in my life I have the resources to go big and support developers and make a difference for them. I see my hard work paying off every day. All these people identify themselves as Toptalers, and I realized that we are creating more than just a community. We are building a culture and big family."
Enjoyed this? Watch out for the next #CareerAdvice series, or let me know who else needs to be featured next! Connect with me on Twitter and LinkedIn.
REAL LIFE. REAL NEWS. REAL VOICES.
Help us tell more of the stories that matter from voices that too often remain unheard.