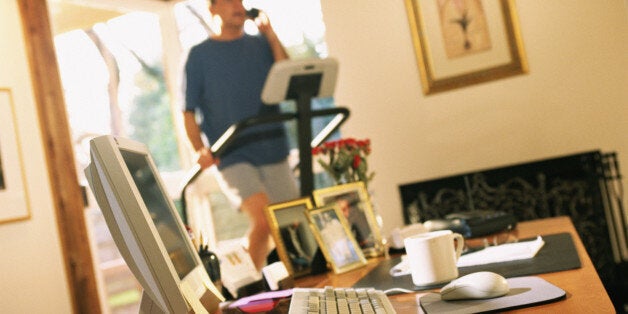 It's not every day that high tech, DIY skills and true love intersect, so when I heard this story I had to share. Sarah and Ben Hilmer are newlyweds living in Indianapolis. Ben noticed Sarah eyeing those $1500 plus treadmill desks -- the ones that let you type and walk at the same time. For her first birthday as a married woman, he decided to make her work/walk dreams come true. As a surprise! He did it for less than $250, and you can too.
Ben's first job was to find a treadmill. It turns out that people often move or just fall off the treadmill wagon, which brings a somewhat steady influx of treadmills for sale onto Craigslist. Hilmer says that you don't really need a fast, spiffy treadmill because the idea behind walking on a treadmill while working means averaging somewhere between 2 to 4 miles an hour, no incline required. He secured a used treadmill that only need a good scrubbing for about a hundred dollars.
Next trick was to build the desk around the treadmill. Hilmer wanted it to be hinged, because as a young couple they knew they'd be carting it around. Two by four pine for the struts and sheets of plywood were the basic building blocks. A few strategic hinges made it a foldable desk. Ben located a secret workshop at a friend's house, bought the materials, and put it together. Of course, says Hilmer, you can go upscale with better quality wood, but he thought Sarah would prefer a few coats of good chalkboard paint on the desk so that she could scribble while she strode. The project came in at under $250 and made one heck of a surprise birthday gift. You can see Ben's parts list below.
Sarah's been using the desk daily and has become a desktop treadmill passionista. Desktop treadmill devotees swear that walking and working is easy and every bit as productive as sitting at their desks. Sarah advises, "Get your walking in first thing in the morning, if you wait you'll never do it." She notes that walking a few miles to start the day really gets your focus and energy up. "And remember to mute your phone on conference calls to muffle the sound of the treadmill in motion," she adds. And it's not just work -- you can watch a movie on the treadmill, too.
Used Treadmill
Hand Saw
Drill and electric screwdriver
Screws and hinges (standard 1.5" wood screws & hinges so the treadmill foot could be folded)
Wood (pictured is particle board, with 1x1 to strengthen the edges)
Straight Edge
Paint (chalkboard & green used)
The most difficult task is making sure the work surface is at the right height while still allowing the treadmill to be collapsible.
The working desk (not the upper shelf) is situated so the user's arms are bent at a 90 degree angle for maximum comfort during use. Measure from the floor to the primary user's bent arms so you know how tall the desk needs to be.
Take measurements of the extreme edges of the treadmill so you know how much surface you need to enclose with the actual desk. I added about half an inch to each of those measurements to allow some fudge room.
The hardware store should be able to cut the large pieces to size using your measurement. Don't forget to get the hardware and finishing materials. Because particleboard doesn't always joint together well, I used 1x1 on the edges so the screws would grip better
The addition of a top shelf adds style and a place for a decorative touch.
Robin Raskin is founder of Living in Digital Times (LIDT), a team of technophiles who bring together top experts and the latest innovations that intersect lifestyle and technology. LIDT produces conferences and expos at CES and throughout the year focusing on how technology enhances every aspect of our lives through the eyes of today's digital consumer.