By Georgina Mortimer, Senior Project Manager at Theirworld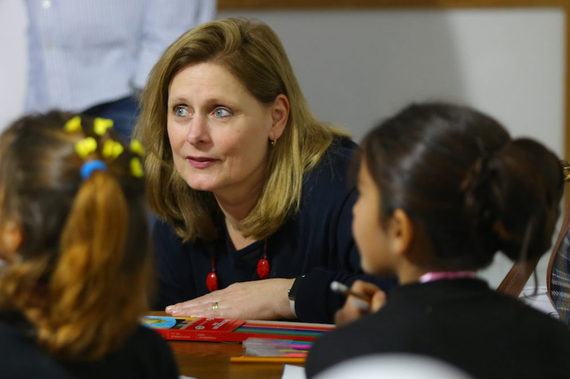 In a hot tent in Lebanon's Beqaa Valley, Sheymaa, a 12-year-old girl from Homs stands and confidently, defiantly, reads aloud her letter to the leaders of the most powerful countries in the world - who have been unable to protect her rights:
"I used to have a beautiful village and a big city. I had a garden, flowers and many friends around me. I was a princess, I had a neighbourhood, a street and an address. Now all I have is a number. They stole my values and gave me the number. A code on the door of the camp and numbers for the tents. Where are my rights without the number? Where is my childhood? Where is my education? Bring me back home and, I promise, I will leave my number as a gift for you."

Last week, I was in Lebanon meeting young Syrians who are fighting for their right to education, as well as many who are now in school for the first time since fleeing their homes in Syria.
Sheymaa is one of a number of youth who form a Press Club run by Lebanese non-governmental organisation BEYOND Association.
Beyond is supporting children living in the informal tented settlements by providing trauma support, teaching children about their rights and offering basic literacy and numeracy classes. Some children attending the centre have been able to enrol in local public schools this year and are finally returning to their studies for the first time since leaving Syria.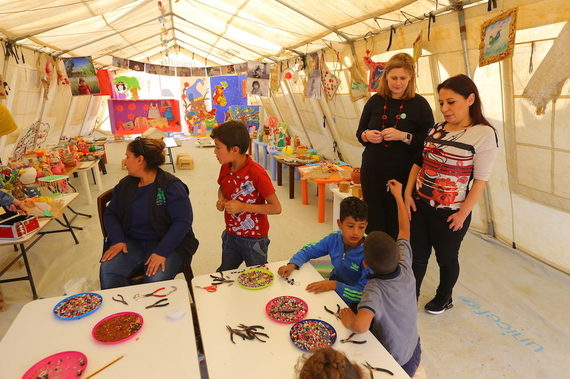 Sarah Brown looks at jewellery made by children in an arts and crafts therapy session at the Beyond Association, Bekaa. Photo: Theirworld/Hussein Baydoun

I was travelling with Sarah Brown, President of children's charity Theirworld and with colleagues from the People's Postcode Lottery who have been closely supporting Theirworld's work in Lebanon and the region for several years.
Theirworld is one of many organisations working to support the Ministry of Education in Lebanon to ensure that no child is denied their right to an education. The Government of Lebanon and partners have successfully rolled out a double shift system of education which allows Lebanese students to attend public schools in the mornings while Syrian children use the same facilities in the afternoons.
Since it was first piloted, this innovative solution to providing refugee education has expanded from supporting just over 50,000 Syrian students to enrolling almost 150,000 last school year. And early reports following school enrolment in October indicate that even more Syrian students will benefit from an education this year thanks to the double shift school system.
Theirworld is piloting initiatives which support these children to learn once their school place becomes available, exploring what how students can be better supported within the public school environment. We visited Mtein School, a double-shift primary school with more than 800 students, where a number of these initiatives are being tested.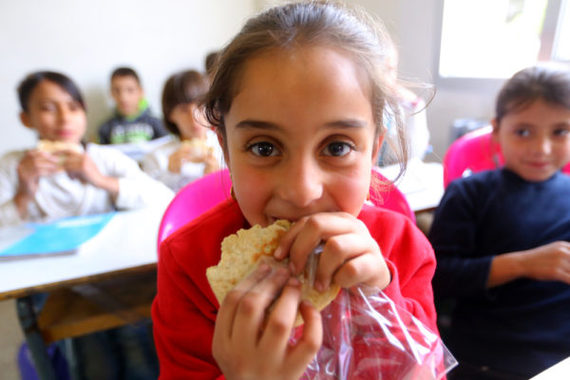 A girl at Mtein School, Mount Lebanon, eats a sandwich provided as part of Theirworld's snack programme. Photo: Theirworld/Hussein Baydoun

One such initiative is a snack programme to ensure students receive a nutritious snack and carton of milk each day. Many students are arriving at school without having eaten for several hours before their classes. The snack tackles this short-term hunger among students, better enabling them to concentrate in class and further motivating them to attend school, while also improving their diet by introducing fresh vegetables and dairy.
Theirworld is also exploring the introduction of technology and digital resources into the classroom at Mtein School. The use of technology within classrooms has multiple benefits on teaching and learning, including enhanced access to content, increased engagement among students, ability to adapt to various learning styles, peer support and collective working.
During the visit Sarah Brown said: "It's really important for us to see Syrian children having a chance to be in school and learning. But more than that to be able to invest in skills that might help them in the future."
The resources being tested complement the delivery of the Lebanese curriculum with interactive learning and training teachers to utilise these new technologies to enhance their lessons.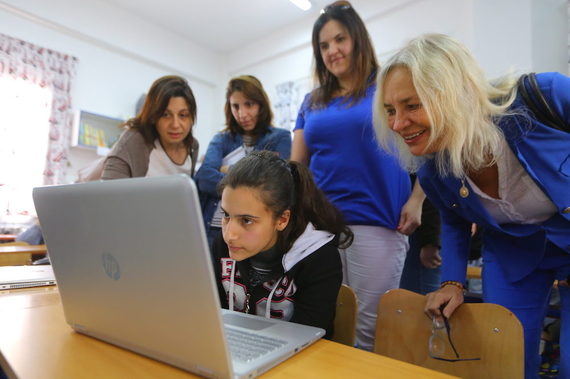 PPL Director Annemiek Hoogenboom and Head of Charities Clara Govier watch a girl learning to code as part of the Tech Hub Theirworld is piloting at Mtein School, Mount Lebanon. Photo: Theirworld/Hussein Baydoun

Annemiek Hoogenboom, Director of the People's Postcode Lottery which funds this work, said: "What we try to do as the main funder of Theirworld's pilot programmes is find out how we can make double shift education more effective and reach more children. We try to find out what works in one school and look at how this can be rolled out."
The challenges facing Syrian students, who are bravely trying to continue their education in the face of displacement and conflict, are great. But the combined efforts of NGOs, alongside the leadership of the Ministry of Education, are starting to identify interventions which have the potential to help these children to achieve their potential and build a brighter future for themselves and their families.
Theirworld has been working in Lebanon to get all Syrian refugee into school since 2013. Through research, advocacy and campaigning, Theirworld is working to ensure the policies, funding and programmes are in place to allow every Syrian refugee child to get an education and achieve their potential. This work is generously supported by the players of the People's Postcode Lottery.

Popular in the Community