Fabian Pfortmüller is the co-founder of Holstee, a product company best-known for its posters, cards, frames -- and world-famous manifesto -- encouraging a mindful lifestyle. Holstee was created by Fabian and brothers Dave, 28, and Mike Radparvar, 31, in 2009. I originally conducted this interview for Truth Atlas' "Driving Innovation" series which celebrates successful entrepreneurs. This interview appeared earlier this year on truthatlas.com and is here reprinted with their permission.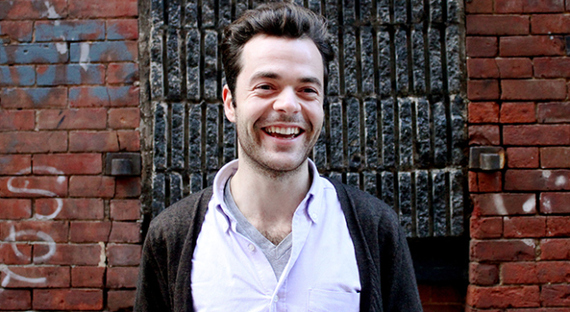 What is your biggest goal today as a change-maker and what is the issue you are trying to change?
My main occupation today is building the Holstee brand and growing it into a movement around mindful living.

With Holstee, my two cofounders and I stumbled into a theme, which is to encourage people to live more mindful lives. We stumbled into it because when we started our company, one of the first things we did was to write down the Holstee manifesto. At the time we just wrote it for ourselves, but then a lot of people reacted to it. To date it's been read by hundreds of millions of people and shared over 120 million times online.
What motivates you to encourage people to live more mindful lives?

To see the incredible impact that art can have. It started with the impact of our manifesto; we founded a company based on it. Then it went viral - and it didn't stop there. A part of our website is called "My Life," where people can tell us how the manifesto influenced them. Every single one of those stories is amazing. We love if people can live their dreams and live more mindful lives, and I think we are trying to do it for ourselves, too. Essentially, Holstee is the overlap of those two things.
How did Holstee come to be, and what were these early days like?
We started literally at zero, or maybe even in minus. Because at the beginning we didn't even have an idea. There were four of us, all good friends who loved ideas, loved playing around with them. and we all hoped one of them would turn into a start-up. Most of these ideas were technology-based, usually websites and mobile apps. But then one day Dave Radparvar comes in and says: "I want to make a tee shirt with a pocket on it."

We didn't know where this idea would take us. But Dave went ahead and made a tee shirt with a pocket on it. It looked kind of funny, especially when I look at it now from today's perspective. But somehow we said, okay, let's give it a try. And so the grandmother of Dave and Mike -- they're brothers -- made the first real prototypes. Personally I wasn't sure about the idea. But people liked it. And so we built this really simple website on WordPress and started taking online payments. The first few weeks we didn't even realize we were getting orders because the email wasn't set up right and the messages were going into nirvana. We fixed it and Holstee was born.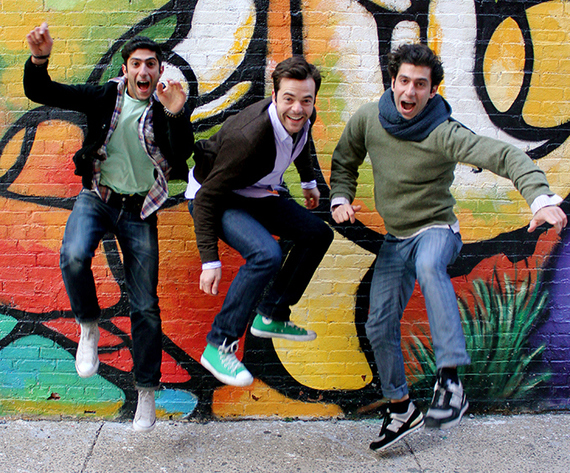 In these early days, we were super boot-strapped and didn't have any money to invest in Holstee. At the time we did two things to keep us afloat. One, we rented out our apartment in East Village through Airbnb all the time which helped us pay our rent for quite a while. That income was start-up capital right there.

Another thing we noticed early on was that we needed an office. I was still a student and we would work from coffee shops and an Italian pizza chain called Cosi in New York City. I still remember how we would sit there all day long. Cosi has these free pizza samples, so we would line up every hour to get some free pizza. But it wasn't a good solution; we needed to find a more productive environment and also wanted to take on more people, so we asked everyone in our network if anyone had extra office space. In the end, we found an advertising agency, Arnold, that gave us some desk space in their amazing office on Fifth Avenue. We felt like kings. We felt like we were on the top of the world. Their generosity really helped us to get started.
What do you think is the secret to innovation?

I haven't unlocked the secret yet, but personally I really believe in persistence. I think one of the most important things a start-up can live by is to keep on doing something. Because if you do something and you do it wholeheartedly for two or three years, you get really good at it and you start figuring out the bigger problems.

Other big thing I'd say is: Remind yourself why you are doing it. Otherwise you might end up solving problems you don't want to solve. It has happened to us in the past and I think it's a challenge a lot of start-ups struggle with. You spend time doing projects just for the sake of it, because it sounds great or because you think it drives revenue or what not. At the end of the day you should ask yourself what you are doing it for. And when a project does not live up to your mission, it's the wrong project and energy not spent well.
How much importance do you give to networking and relationship-building versus developing the idea itself?
I don't have a rule of thumb. It really has to be a balance and I think it also has to do with the life cycle where you are with your company. At the beginning of a start-up, I think you should do a lot of relationship-building. Do a lot of favors for other people. As your company becomes more real, you can decrease that and actually focus on execution.
Which relationships have had the greatest impact on your life?
One way of answering the question is that I value relationships so much that I have built an organization around it called Sandbox, which identifies the most active young doers in their twenties and allows them to build deep relationships to each other on a global level, with over 1,000 members in over 30 cities worldwide by now. The value of relationships is big in the short term but really enormous in the long term. And I really believe in long-term relationships. I have the patience and the willingness and the pleasure of building friendships for the long term.

In terms of picking a specific relationship that had the biggest impact, I find it very hard to say. Sometimes random people who just add a little something can have a big impact. For example, Tina Roth Eisenberg, widely known in the blogosphere as Swiss Miss, had an enormous impact on the Holstee team. By now we know her quite well, but in the beginning we did not know her very well at all. Similarly, there is Maria Popova, who runs brainpickings.org. We met her when she was still living in Bulgaria and wasn't that well-known. Today she has millions of visitors on her website. These two ladies probably were some of the biggest contributors to making the Holstee Manifesto go viral. We had no idea this would happen.
What is your earliest memory of a moment when you first took action to make a positive difference in the world?
I don't have any memories of what I wanted to grow up to be, but that click came during my high school years in Zurich when I got involved with my school's student association. I became a member because I had a desire to contribute. Through the national umbrella organization, USO, I realized there were similar people all over the country who also were excited about making a difference. I ended up serving on the USO board for several years.

Speaking of relationships, some of the people I work with today, such as Nico Luchsinger, with whom I started Sandbox, I met through my involvement at USO. Funnily enough, USO was founded by Swiss Miss while she was living in Switzerland. It's crazy if you think about it: She had such a huge impact later on with Holstee, but she also indirectly had a huge impact in the early part of my life as well.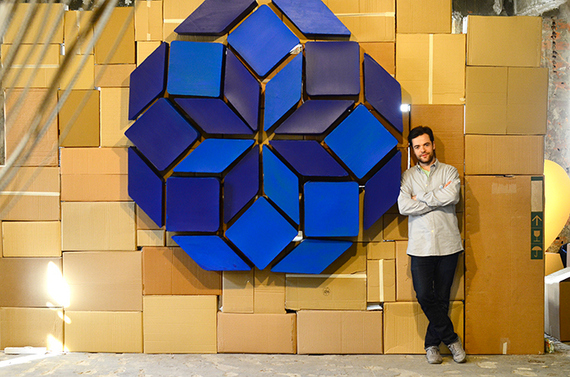 What is the single best piece of advice you would give to a young change-maker?
First, focus on one thing and commit to that for five years. I believe in long-term commitment, and in things that you don't just start and do for a couple of months and then move on. I used to be like that and I think it just doesn't work. Sandbox was started. And then while Sandbox was going, I started Holstee and it was a terrible idea.

Secondly, boot-strap the hell out of anything you do. Only take money once you know what you are doing-once you really know what you are doing.

Last but not least, treat both who you are starting with and who you are taking money from as extremely long-term relationships that you can compare with getting married. And take those decisions really seriously. Assess each other, talk to references, talk to people who took their money in the past. See if you are on the same wavelength as your co-founder. Because just like with marriage, it's usually not a nice thing when you have to get a divorce. Divorce is ugly, there will be fights and the kids-in this case your start-up-will always be at loss.
What talent would you love to have?
More focus. I'd love to spend every single minute of work really focused and productive versus procrastinating or trying to do five things at the same time. And then be off when I'm off.
From where do you draw your energy?
From people, from relationships, from hosting people, from meditation, from doing something that has a lot of meaning. From being my own boss. From living in an amazing place and meeting a lot of people. By shaping my own life and through that helping others. And from sleep.
What do you want to achieve in the next year?
It's going to be a very focused year at Holstee. We have a lot of ambitious plans on the product development side. For me personally, I want to keep meditating. And I want to play music again. I want to start playing ukulele.
What are your goals in the next ten years?

I want to build a large movement around mindful living through Holstee. I think we're just getting started by selling physical products. But there is so much more we could be doing, like creating content and doing more storytelling, maybe digital tools, public campaigns such as having inspiring art for public spaces in schools. I want to grow Holstee to a great place, where it is strong, independent, and it has a major impact on the world.
Do you have a favorite quote?

My favorite quote is by Howard Thurman: "Don't ask what the world needs. Ask what makes you come alive, and go do it. Because what the world needs is people who have come alive."

Also, have you read Nelson Mandela's poem "Invictus"? I love that poem so much. It's my favorite poem in the world. I knew it before he passed away, and it's so powerful, especially if you keep in mind that he spent more than 20 years in prison and stayed that positive.
Related
Popular in the Community