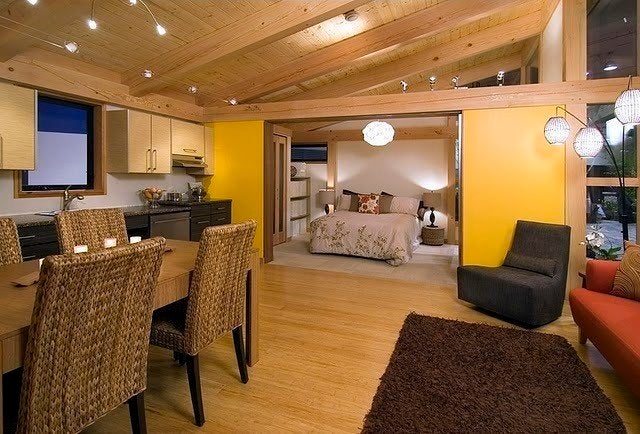 "I think this is something [becoming more common], as more and more people choose not to move into a nursing home," architect and accessible design expert Deborah Pierce told Huff/Post50. "The number of people aged 85 and up in nursing homes was 26 percent in 1970 -- there are half as many now. They've decreased and that's because more people are choosing to live at home."
But before you start planning the perfect "in-law" apartment for your home or install an elevator to help your aging parents get from floor to floor with ease, there are a few things you need to consider, Pierce said.
Determine what additions you really need.
The first thing to do is a real assessment of your house and to identify the areas that are easily used by the people who need to be there. That's the people who live there as well as the people who visit -- you really want to make sure you have a comfortable guest space as well as a place that gives them a little privacy.
Look carefully at your resources and your budget.
You should figure out how much you would like to spend, both your ideal and the max you're willing to spend. Pierce said it's important to begin speaking to designers, architects and builders before you get started. "You want to understand what your options are," she advised.
Meet with planning experts in your town.
Every town -- even every neighborhood -- has different rules when it comes to adding on to a property, Pierce explained. "Find out what's possible through a meeting with the building inspector or planning department in your town," she said. "They'll be able to say what is allowed when building a second unit."
These experts can help you answer questions like: "Do you have space on your unit to expand? What are the requirements in your neighborhood? If you can't build, what's involved with getting a variance -- a permit to build what you want even though you don't comply? What's required if you can't do what you want to do?" Pierce said. "Just because they say your home is close to the property line doesn't mean you can't build another unit. It just means there's another hoop you have to jump through."
Get a realtor's opinion.
Sure, these additions are made for your family to enjoy -- but you should always keep in mind the resale value of your home.
"We really can detract from or add to the property's resale value as well as to its appeal for future buyers by how we design modifications for accessibility," Pierce said. "You want to make the kinds of improvement that will increase the [home's] property value. It needs to be universally designed, which means it's flexible space that can be used for a variety of purposes."
Stay away from additions that may "decrease your pool of possible buyers in the future," Pierce warned. An ugly chairlift or ramp may get the job done now, but may make potential buyers shy away from your home. It can also be an additional expense for you, if you have to have the addition removed to attract buyers.
Beware of "an addition that doesn't compliment the house or an addition that chops up the floor plan," Pierce said. "If you put an elevator on the outside wall like a silo and [it doesn't match your homes' style], that would look really silly. I would say, before putting an elevator any place, have an architect help make sure it's well designed and integrated into the design of your house.
"If you have a colonial house, have a colonial ramp," she continued. "Match the materials of the ramp to the rest of the property. Take your cues from the building and the landscaping so that what you're doing is seamlessly integrated from an aesthetic point of view.
Don't do a rush job.
"It's wise to allow probably three to five months for this planning process, because there are decisions that need to be made carefully and you don't want to do it twice -- you'll spend more," Pierce told Huff/Post50. "You want to make decisions that will serve you over the long run."
Calling all HuffPost superfans!
Sign up for membership to become a founding member and help shape HuffPost's next chapter
BEFORE YOU GO
PHOTO GALLERY
Multigenerational Homes: From The Accessible To The Extravagant