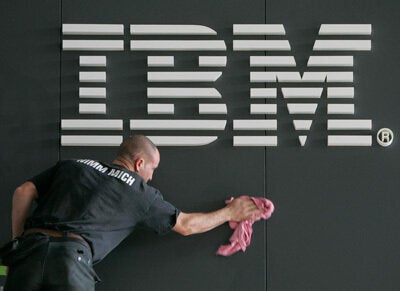 In the next decade, will the United States remain an economic leader?
In a new national survey from Zogby International, commissioned by the Consumer Electronics Association (CEA), just 13 percent of Americans say that the United States would remain the most innovative leader in ten years, while 36 percent say that the country will lose its innovative advantage and take a backseat to China. The remainder, 45 percent, thinks the United States will remain the leader but lose significant ground.
Today, innovation fuels our economy. Our technology companies, especially those having to do with the Internet, dominate the world. But can we maintain our competitive edge -- especially in the face of an inadequate educational system, new barriers to trade, and the rising national debt?
Other countries are focusing major resources on math, science and IT education. Other countries are retaliating against our new barriers to trade. And our crushing debt is already spiking interest rates and is certain to result in inflation and limited capital for investment.
It can and will get worse if we continue down the anti-innovation path. If we bail out failed companies, then we will choke out investment in new companies. If we allow government bureaucrats to impose mandatory work conditions on our most innovative companies, we will encourage these companies to move jobs overseas. If the best and brightest are discouraged from coming here or are required to leave after being educated here, then we lose the brain power which has produced at least half the successful Silicon Valley IT start ups. If we turn inward and refuse to trade with the rest of the world, we will become like Cuba, stuck in the past.
For the United States to lead the global economy, we need to pursue national policies that encourage innovation, creativity and new ideas. For the United States to rise out of the recession, we need to invest in technological innovation and create an environment where entrepreneurs can challenge, improve and strengthen our society. Entrepreneurship, combined with technological innovation, will mend the global economy and lead us out of the recession.
When asked which group is driving innovation today, 73 percent of Americans say it's the entrepreneurs who create and build companies. Fifteen percent say its big companies who invest in R&D, and just five percent give the credit to policymakers who make spending and tax decisions. To read additional findings from the Zogby poll, visit Innovation-movement.com.
We cannot take our success for granted. The party is over. Unless we recognize that innovation is our core national strength, we will become just another has-been nation. Our arrogance, complacency, and sense of entitlement now threaten our ability to innovate.
Innovation has been our core DNA. Our ability to do things better comes from our immigrant forefathers who wanted a better life. It comes from our First Amendment that encourages challenging the status quo and diversity of thought. It comes from our willingness to try and to fail and to learn from failure.
But if we take away seed capital, if we remove failure, if we block the best and the brightest, if we block trade, then we will destroy our ability to innovate. If we destroy innovation, we destroy jobs.
This cannot be. It's time to act. It's time to speak up and focus on the value of innovation. We must demand a national innovation agenda that will jump-start our economy and ensure our children will come of age in a world where they will have every opportunity to realize the American dream. Or we can do nothing and let our children be saddled by the burden of heavy debt and ill-conceived policy decisions.
The time has come for a national innovation movement.
Because we believe that innovation is the key to our economic future, CEA is calling on everyday Americas to engage themselves in the policy issues that will shape the world we live in for years to come. Anyone can join to learn more and let Congress know how they feel. We're already 14,000 people strong, and counting more every day.
We're asking Congress to judge new policy proposals on a straightforward, six-point checklist -- with the first question that they need to ask themselves when they consider legislation: Does this bill create American jobs? If it's not creating employment and new opportunities for our citizenry, then is it a good policy? We think the answer is no.
There has never been a more important time for supporters of innovation to mobilize. But the innovation crossroads is not in Silicon Valley, Research Triangle, Austin or Atlanta. Oddly, it's in perhaps the one place in the United States where business is least understood -- Washington, D.C. What we're witnessing on Capitol Hill and in the White House is the battle for the future of our nation and its economy.
The choices are stark. Will we master our fears and step boldly into the new economic reality with a plan for creating jobs and wealth? Will we confront the long-festering and systemic problems that, if left unaddressed, will doom us to the middle of the pack among industrialized nations? Or will we look to short-term solutions and unsustainable government protections that will force the United States to take a backseat in the new era?
If you've ever supported or opposed a piece of legislation based on how it might impact America's innovative companies, it's time to take a broader view of all the policy challenges we face and make a strong determination to defend innovation. Innovation-movement.com
Gary Shapiro is the president and CEO of the Consumer Electronics Association, which represents more than 2,000 U.S. technology companies.
REAL LIFE. REAL NEWS. REAL VOICES.
Help us tell more of the stories that matter from voices that too often remain unheard.