By Mary Ellen Sprenkel, President & CEO of The Corps Network
Dating back to the Great Depression-era Civilian Conservation Corps, one of the great aspects of the Conservation Corps model is its ability to help young people develop work skills through tangible projects and with the guidance of mentors. Working collaboratively with other young people also provides Corpsmembers with the chance to learn, grow, and build confidence and experience that they can apply toward a future career.
That's why I am excited to write about a public-private training partnership that The Corps Network and Trout Headwaters, Inc. have been working to implement. Called Waders in the Water, the training helps Corpsmembers learn about the fundamentals of aquatic restoration science. Christopher Gomon of the Texas Conservation Corps is among those who have participated. After the training Christopher said that "real world, practical advice was given. It gave me the baseline knowledge and certification I need to be successful as a young professional."
To date, we are proud to say that Conservation Corps operating in 23 states have enrolled Corpsmembers like Christopher in Waders in the Water, and have started Corpsmembers on a path to greater understanding about the importance of this kind of work in protecting water resources and habitats. One of the great aspects of Waders in the Water is that in addition to teaching the ecological principles associated with the work, it helps Corpsmembers understand how to find jobs in the aquatic restoration industry. In addition to providing tips about how to approach and impress employers in the field, the team at Trout Headwaters has supported Corpsmembers with an incredible and exclusive online resource they built for identifying jobs.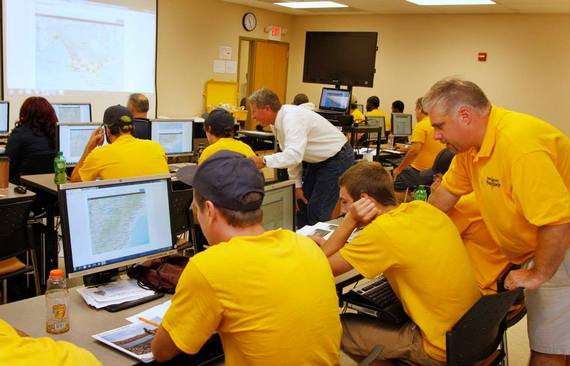 New Jersey Youth Corps of Phillipsburg Corpsmembers take part in a Waders in the Water training session.
While we cannot expect all Corpsmembers who participate in Waders in the Water to choose this specific career path, we've already received positive feedback from Corpsmembers like Chris Wilson, who as a Corps participant in Florida with Community Training Works' Young American Conservation Corps, took the course and earned the unique industry-recognized certification. Subsequently, he was able to talk about his Waders in the Water training during a recent and successful job interview with Florida State Parks. Chris says that he could definitely apply some of the concepts he gained in the training and "use that knowledge now [for example] to replant vegetation on streambanks to make erosion problems go away."
Businesses and organizations who work on aquatic restoration projects have taken notice of the talent Waders in the Water can develop. Recently, the New Jersey Youth Corps of Phillipsburg partnered with New Jersey Audubon on a project to restore a stream that feeds into the Musconetcong River. John Parke, Stewardship Project Director for Audubon, has said that "I cannot express how impressed we were of the group's knowledge of riparian systems and their immediate understanding of how to do the job and do the job right the first time... To see the pride on their faces after the job was complete, knowing that they helped improve the ecosystem with the hard work they performed, is something that I will never forget and a big reason why we would certainly reach out to students of the Waders in the Water program again."
As a result of the training, Greenvest, a private business specializing in restoration projects, made an agreement earlier this year to work on several projects with the New Jersey Youth Corps of Phillipsburg as well as the national Corps program known as American Conservation Experience. Greenvest is impressed. "Employing Youth Conservation Corpsmembers who took the Waders in the Water course to work on mitigation bank projects has been a great success... They have helped us restore some severely degraded aquatic resources so those resources can do their job of filtering and storing precious water while providing much-needed habitat to a wide range of wildlife. At the same time, we are providing valuable training and hands-on experience to a part of our society where opportunities need to be provided. The rewards on both sides make this source of skilled labor something we feel comfortable using time and time again," said Brian Cramer, Senior Biologist for Greenvest.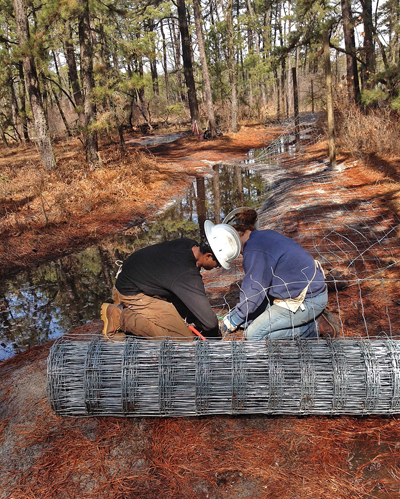 American Conservation Experience Waders in the Water Corpsmembers work on an aquatic restoration project with Greenvest.
We hope the value that New Jersey Audubon and Greenvest have found in working with the Corpmembers who participate in the Waders in the Water training continues to help Corps grow and, in turn, have the capacity to enroll more youth. My friend Michael Muckle, who is the Director of New Jersey Youth Corps of Phillipsburg, says he sees that happening.
"The Waders in the Water green jobs training program has enabled our Corps to work on projects that require minimal preparation while producing maximum impact. Local conservation agencies have been more eager to partner with us since learning we've earned a national, third-party aquatic restoration certification from Trout Headwaters, Inc. They told us there's never been a shortage of project work, only a shortage of trained workers. This training and certification has addressed that issue, allowing us to provide qualified, competent, and informed candidates to work on these important ecological projects. Our Corpsmembers consider the Waders in the Water training as the first 'road sign' on a career pathway that has limitless potential. After taking the training our Corpsmembers now realize a career in ecological restoration is attainable, and that this important work to save our planet, is virtually all around them - in every community."
Calling all HuffPost superfans!
Sign up for membership to become a founding member and help shape HuffPost's next chapter