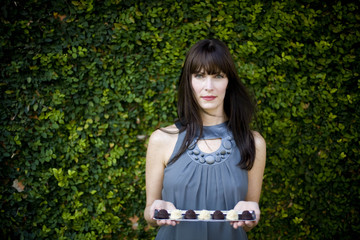 Turning 40 is a wake up call for many women. We realize that we can no longer eat what our heart desires but instead need to eat for our heart's health and longevity.
Susan O'Brien, founder of
Hail Merry
natural food products found herself on this path in 2005. At that time, she was a busy mom of three young boys working in the design/architecture industry. She felt the need to become a bit healthier and more focused with her food choices. In 2005, she had a fortuitous meeting with Renee Loux. Susan explains:
She is one of the original raw food chef's in the U.S. Renee gave me a copy of her book titled Living Cuisine and I was blown away by the thought that food could really alter your health. Most people just think that all they need is exercise. Americans need help learning about the connection between food and the health of not only our hearts, but our skin, hair and moods.
As a fortieth birthday gift to herself, Susan decided to be a raw foodist for as long as possible. She did the "Master Cleanse" for eight days and then broke her fast by eating only raw food. She says she went "really deep, no dabbling!" She saw a complete transformation not only in her beauty but with her insomnia issues as well. She had found a system of eating that worked so well for her but was really considered to be "hippy" and very fringe at the time. It was also not readily available in local markets. Susan was living in Dallas but her husband's business had an office in L.A., so she would come to L.A. and decided to train under Juliano, a well-known raw chef in Santa Monica, CA. She realized that raw is not only healthy but can also be delicious. She wanted to change the image of raw from hippy to a resourceful resource for busy moms, professional women... everybody who wanted to feel healthier. So in 2008 she launched Hail Merry.
The line consists of a raw assortment of pecans, granola and sweet indulgences such as macaroons and tarts. She started out of her own kitchen. It was actually a separate kitchen in the cabana of her Dallas area home. She felt it was a step up from being in her home kitchen, "At least it was away from the kids, dogs and the laundry!" She got a food license and began making raw products. She received positive feedback and knew she was on to something. She found two partners who shared her passion and complimented her experience with their own as food scientists and food industry officers. Susan has a design and architecture background, so she was able to blend her technical background with this love of raw food and welcome the chance to operate the big dehydrators and manage the super clean environment needed for food production. Today, the three women run Hail Merry, which has grown to be sold in 2,000 stores in the United States.
They do realize that they have an uphill battle with making raw food "mainstream" but there has been progress with retail chain Williams Sonoma offering demos of raw food recipes. Susan and her team realize that their customers gravitate to their line for other reasons than the fact that it is raw. Susan explains: "It's the Non-GMO and gluten free aspects that bring them in and that's fine with us." Hail Merry spends a great deal of time surveying their customers and have found that Non-GMO has trumped Gluten Free. What inspires her customers most to purchase is taste and purity of ingredients.
Susan's advice to others who want to launch a product in the food industry:
Its ok to start in your own kitchen. Everybody does it in the beginning. The best companies are always started in someone's kitchen as opposed to a large commercial laboratory. The best brands are created by someone who is inspired to do something different. Don't ever think you can't start in your own kitchen.
Find partners that understand business. Not everyone can mix creativity and business. Acknowledge that and bring in a partner for equity. They will become committed to business because they have ownership. I wouldn't have been able to grow otherwise.
Getting into big grocery chains can be very difficult. Getting started one should focus on smaller chains who welcome new local products. If you can get one of these smaller retailers who will sell your product, be sure to shower them with amazing customer service! They will become very loyal and encourage your success and growth.
Know your competition. It's a war for shelf space! You have to fight for it. That being said, the best thing you can do is to be nice to competition, become friends. The truth is that you have so much common. Its like two football players who play for NFL, they fight on the field, but off the field they are promoting the game. You can pool resources with competitors and learn from each other. We are all trying to raise the awareness of the benefits of raw. I would be happier to see my competitor take shelf space than having it occupied by a bad nutrition/conventional company. So, don't view competitors as enemies, make friends and build the industry.
Hail Merry's mission right now is: "Changing palates one mouth at a time." Susan explains that
Going from eating refined flour crust to almond flour crust is a different experience and people have to learn how to do that. But it's nice to see that people are pleasantly surprised when trying the alternative healthier choices and seeing that they can be delicious.
Susan and her team are also involved in a movement called "Conscious Capitalism," founded by John Mackey, the founder and Co-CEO of Whole Foods Market. It's in sync with their philosophy of putting employees, customers and vendor partners ahead of investors and profits. Susan explains:
When you put your stakeholders ahead of profits then your company can flourish naturally and profits will eventually come, it's the universal code. Hail Merry management provides fresh food daily to their employees.
She says that her partners operate and manage "from a place of love as women and moms. Employees enjoy coming to work because they are treated like family."
Susan's journey that started from a simple impulse to become healthier has turned into a venture that continues to enrich the lives of many others as well.
REAL LIFE. REAL NEWS. REAL VOICES.
Help us tell more of the stories that matter from voices that too often remain unheard.