When I talk about the importance of our global youth programs, I often cite a recent government report from the United Kingdom which found that UK kids spend less time outdoors than prison inmates, with one in nine reporting that they hadn't set foot in a natural landscape for more than a year. This challenge isn't unique to the UK–I see it every day where I live, near Boston, and I hear concerns from friends around the world. But my colleagues in the UK are undertaking an exciting partnership to meet this challenge head-on, and I'm pleased to share their perspectives here:
By Christopher Webb, Thomas Brzostowski: TNC Europe
We were both lucky to grow up close to the British countryside—childhoods full of rambling across the hills, eating wild blackberries until we turned blue (at least on the outside!), and exploring rock pools and beaches dodging the inevitable rain of a British summer day. In part, these experiences have been what has inspired us to both pursue careers at The Nature Conservancy.
This is not uncommon—we know though that if not exposed early to nature, people will be less likely to see themselves as stewards of the planet as they make decisions about the future of our natural resources.
However, this childhood is no longer typical, in fact it is the opposite—driven by rapid global urbanization. By 2050, there will be 9 billion people on Earth, and a staggering 70 percent of them will live in cities.
Today's youth are growing up more disconnected from nature than in any previous generation. The challenges we face are significant. More than half of all UK wildlife species are in decline, yet the amount of time people spent volunteering for conservation has dropped by 23 percent in recent years.
If young people are not exposed early to nature, they will be less likely to see themselves as stewards of the planet as they reach voting age and make decisions about the future of our natural resources. Not only does the world need natural places, it needs the next generation to connect to them, to belong to them, and ultimately to work and advocate for them in all kinds of different ways.
This global challenge requires a global response, and we at TNC Europe were delighted to announce an exciting new partnership with the charity Action for Conservation (AFC) to help inspire the next generation of conservationists across the UK. As part of this partnership we both recently participated in one of AFC's annual 'conservation camps', where a group of young people, aged 12-16, spent a week at an outdoor center in Wales, UK, connecting with nature and learning how to protect it alongside their peers.
Action for Conservation is a UK charity which uses pioneering approaches to engage and inspire young people to become the next generation of nature conservationists. The group's leaders believe that being a 'conservationist' doesn't just mean following a career as a field biologist or a campaigner. Their vision is that every young person in the UK is moved and empowered to protect the natural world, and they accomplish this through programs including the summer camp we visited.
AFC selected 26 campers, from a mixture of backgrounds and from cities across the UK to attend a five-day camp at the National Trust's Stackpole Outdoor Learning Centre in Pembrokshire, Wales. The camps are designed to enable young people to create meaningful connections to the natural world through a mixture of mindfulness activities, games and hands on conservation work, while learning how to take action on the issues they care about most. The goal is for every camper to leave with a sense of hopefulness about how they can have a positive impact on the natural world, and the tools and support network to take action now.
This partnership is a part of the Conservancy's global youth strategy to connect young people around the world with nature through learning, volunteer action and leadership. In addition to over 20 years of working with young people in the United States and the UK, the Conservancy is now developing a youth engagement program in mainland China and has established programs in Canada, Indonesia and Hong Kong.
During the camp, we split our time exploring the wild landscapes of Wales and supporting the campers as they designed their own successful environmental change projects that they will lead when they get home, with the support of the AFC team. We went on the hunt for bats, identified plants and insects, volunteered with the National Trust, and trekked through forests, across beaches and up hills. We cooked and ate together, played Frisbee and made art out of tree branches, stargazed and had a final farewell bonfire.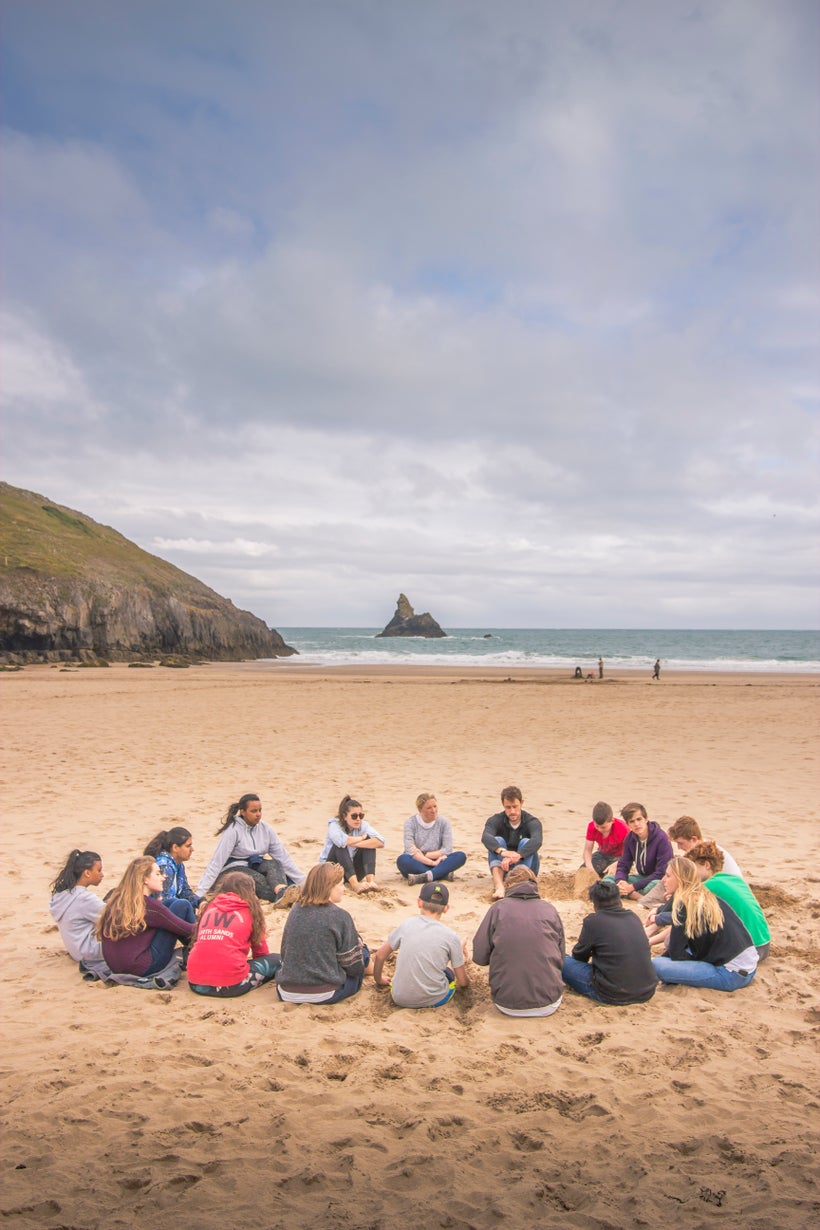 Educational materials from the Conservancy's online resource for schools, Nature Works Everywhere, were used in workshop sessions throughout the week. One evening, we both took part in a 'careers workshop' where we shared our personal stories and advice for those interested in embarking on a career in conservation, and made clear that whatever career these young people end up doing, they can be champions for the natural world.
A key moment for us came when one of the young participants said: "I thought I had to choose between my interest in engineering and my love of conservation, but I can see now how connected the two are and how it's possible to do both"
It was an adventure that left us all feeling more connected to the wild world of nature that sustains us all and empowered to protect it when we returned home. And we weren't the only ones feeling inspired: 100% of camp participants said that the camp gave them the confidence to tackle environmental issues and would recommend the camp to a friend. "It is an amazing experience that is life changing and definitely a once in a lifetime opportunity," reflected Tessa, age 13.
The best part is, this experience doesn't end when the young people leave camp. They are now invited to join AFC's Ambassador Programme, a UK-wide mentorship programme that supports young people to lead environmental change projects in their local area.
TNC is proud to be supporting and working in partnership with AFC, and to have helped us get a little closer to reaching our goal of empowering at least six million young people all around the world about how nature works for us and how we can help keep it running strong – whilst reliving our childhoods along the way!
Christopher Webb is Senior Climate Policy Advisor and UK Relationship Manager, The Nature Conservancy, Europe; Thomas Brzostowski is Associate Director of Development, The Nature Conservancy, Europe.
Calling all HuffPost superfans!
Sign up for membership to become a founding member and help shape HuffPost's next chapter
This post was published on the now-closed HuffPost Contributor platform. Contributors control their own work and posted freely to our site. If you need to flag this entry as abusive,
send us an email
.