How many times have we allowed the demands of our businesses to shut out the needs of our families? Do that enough and we're left lacking meaningful connections and relationships with the most important people in our lives.
The good news: Entrepreneur Jim Sheils has a strategy to build and maintain those deep connections with the people that matter most. An avid surfer, he runs what he calls family "board" meetings (get it?) that use surfing and experiential learning to help business owner parents reconnect with their kids -- and to impart some key lessons about life and entrepreneurship.
"The idea is to treat your kids with the same level of respect and importance as you do your largest clients and investors," says Sheils, founder of Board Meetings International. "That might sound simple. But for us go, go, go entrepreneurs, it's a game changer."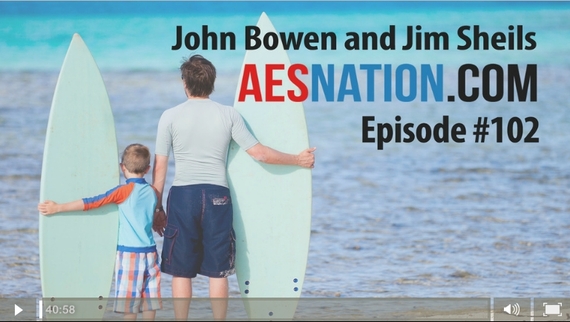 Sheils' approach to building connections and instilling entrepreneurial wisdom in our heirs focuses on six areas of learning:
1. Confident mindset. In business and in life, the importance of self confidence can't be overstated. The ability to face challenges with a sense of assurance is vital. "We asked thousands of entrepreneurs what they most wanted their children to learn and what school wasn't providing. Confidence was a top answer," says Sheils.
At his three-day retreats, Sheils combines experience and reflection to bolster kids' confidence. First he gets the class out in the surf. "One of the best ways we've been able to teach confidence is to paddle people offshore and get them up on their very first wave," he says. "90 percent of participants have never surfed before and most have a fear of even trying."
Later he has the kids journal about their day using the well-known Five Minute Journal format. Each day during the retreat, the children write down three things they are grateful for from the past 24 hours, three positive affirmations about themselves and three things they want to accomplish in the coming day. "Expressing your gratitude and setting clear objectives for the day very rapidly builds trust and confidence in yourself," he says.
2. Entrepreneurial vision. Sheils believes that today's education system doesn't encourage children to dream big and think creatively. Instead, the focus is simply on a "good enough" education for the average student.
To stimulate out of the box thinking that plants the seeds of innovation and vision in young kids, Sheils has the entrepreneur parents in his classes share their backstories with the group -- how they achieved success, and the potholes they encountered along the way. This helps the kids understand what is possible and how far one can come in life.
He also takes a page from Walt Disney's "dream room" playbook by conducting exercises where parents and the kids are encouraged to dream as big as they possibly can about what they could do in life. "It's a way to awaken entrepreneurial vision and passion in the young, but it also often reawakens dormant passions in the adults, who might be successful but who also have a dream they've never pursued," says Sheils.
3. Financial empowerment. Financial literacy is virtually ignored in traditional schools these days. But of course, smart financial decisions throughout life are vital to achieving success and the freedom to do what you want to do. What's more, even wealthy kids can lose the family money quickly if they don't understand basic money fundamentals and how to manage, save and spend for long-term financial health. To that end, the kids and parents play games that simulate what it's like to start a business, make investments and pay bills in the real world.
4. Conscious contribution. Most of us entrepreneurs want to have an impact not just in our companies but also on the world at large by contributing in ways that are bigger than ourselves. But how do we help our kids appreciate what they have and instill that desire to support others?
Here again, Sheils' approach involves surfing. After two days of teaching the kids how to surf, he has them help paraplegic and quadriplegic surfers who can't ride the waves on their own. Later the kids reflect on the experience. "If I had a dollar for every time a kid said, 'Wow, I never really appreciated what I have'," laughs Sheils. "I hear from kids who attended the retreat years ago that just that one day of helping people changed their lives."
The upshot: "The learning we get from hands-on experiences can carry over and stay with us for a long time," notes Sheils.
5. Quality connections. We have so many ways to get in touch with each other -- texts, IMs, Facebook and the list goes on -- yet we feel more disconnected than ever. To build quality connections, especially with children, Sheils recommends three key steps:
Focus on connecting with one person at a time. Sheils' retreats always involve just one parent and one child.
Share an experience. Do something that you and your child both find really fun or see as a challenge (such as surfing) that you both want to try, and then reflect on your shared experience afterward.
Ditch the electronics. Turn off your phone while you're engaged in the experience to help you stay in the present moment. "One text can shatter your focus, so shut off the tech and keep it off," says Sheils.
6. Energetic health. Do your kids really just want to play video games -- or is that all you're encouraging them to do? Sheils rightly points out that we've got to lead by example if we want our kids to be active and healthy throughout their lives. And yet, too many of us trade our health for wealth. "A lot of successful entrepreneurs out there are carrying around the spare tire, and talking while walking up a flight of steps is a lot of work for them," says Sheils. "The kids see that."
Therefore, the activities at Sheils' retreats are on the beach -- not the couch. "When you get together with your kids, try to make it an outdoor activity of some kind. Just try to do the act of doing," says Sheils.
Build a great business and a great life -- on purpose and on your terms. Check out AES Nation for elite insights and actionable strategies from top entrepreneurs.
Calling all HuffPost superfans!
Sign up for membership to become a founding member and help shape HuffPost's next chapter