 The war in Iraq is over, as signified by the casing of the U.S. forces flag in Baghdad. One war's end focuses attention on another. Is there a sensible path home for American troops in Afghanistan?
The 10-year anniversary of the war in Afghanistan was recently observed here by the Taliban through increased fire on several American bases along the Pakistan border. The intensity was not only another example of the nostalgia the Taliban seem to have for anniversaries, but perhaps an attempt to divert attention for another attack. The tactics continue.
Deployed here in August, for the 172d Infantry Brigade, or "Blackhawks," it's not all about the firefight. In the volatile eastern province of Paktika, there's a balanced approach, measured not only by counter-fire, but also by the regular breaking of bread with the Afghan National Army.
"In this global war on terrorism, one way or the other, Muslims are going to win this war. If it's the guys we need to win, or if it's the bad guys, that's really what we're determining," said Captain Nathan Moore from Forward Operating Base Sharana, in Paktika. "We're trying to build them up, along with the (ANA) partnership. They're going to take over for us at some time, and we want them to be the best they can be," he continued.
Partnering with the ANA means opposing extremism. The Taliban lost their iron grip on the population through too harsh a brand of Islamic rule in the late 1990s. While the Afghans are varied in their appearance, tribal loyalties and dialect, people generally want to pursue their lives without overt interference. Sharia law made that impossible. This new ANA developed since 2002, with the support of NATO. Along the way came the opportunity to forge a better alliance, based on growing trust and a shared goal.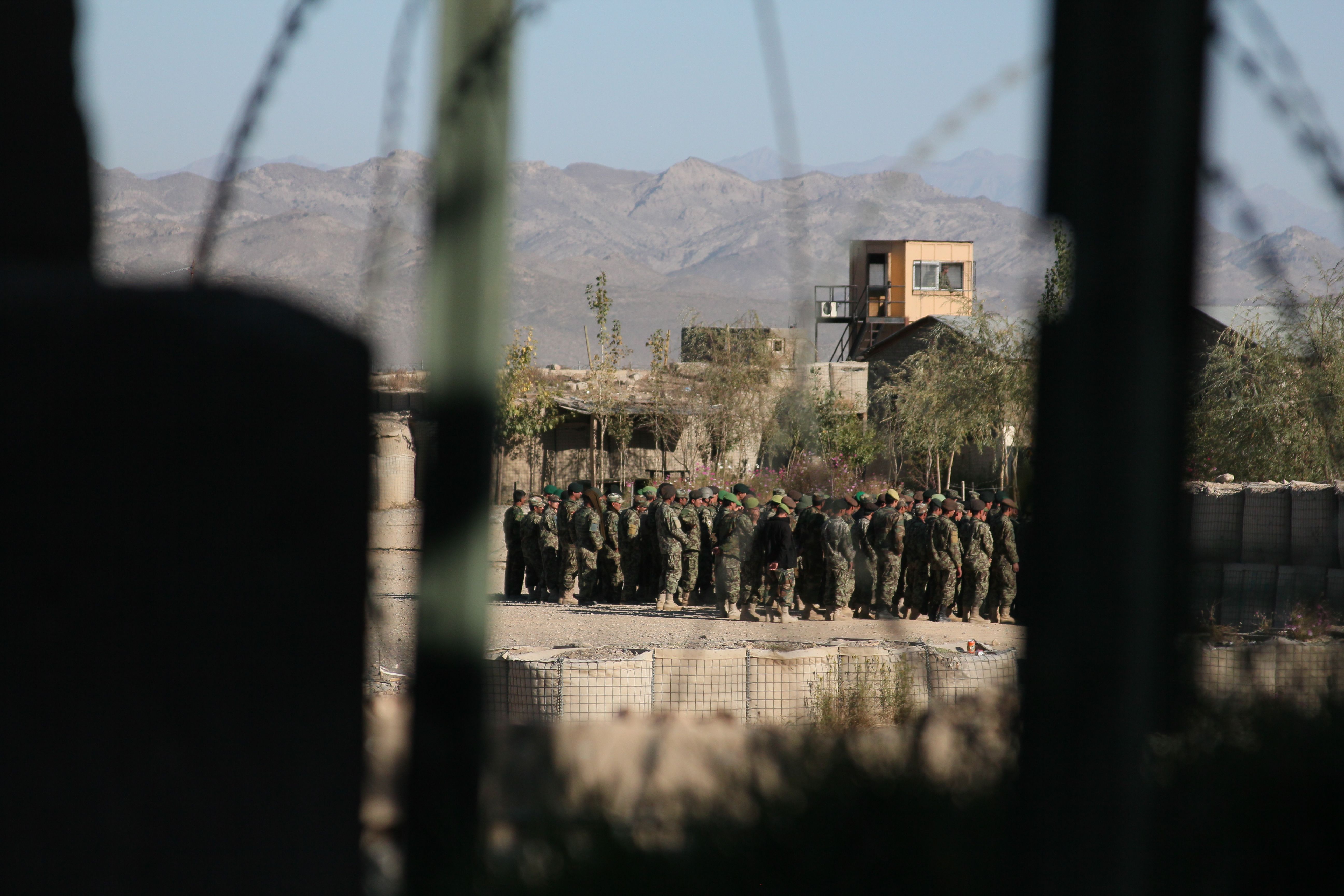 In speaking of the deployment, Lieutenant Colonel Christopher Cardoni (1st battalion 77th field artillery regiment) offered, "It's an overwhelming responsibility. We position ourselves to have some effect on the enemy, so the border isn't really their entry in Afghanistan, particularly in Paktika. We've had some effect in accomplishing that so far." He added, "I am very proud. Every time I go out, I see soldiers mature."
Maturity helps build the ANA alliance. Capt. Moore summed up the dynamic, "In the end it's about trust. You are counterparts. These guys are from here, and Afghanistan is home. If I don't trust somebody I'm not going to fight with them. In the end their goal is the same as mine -- to get a professional fighting force to be able to sustain itself and be here when we leave. It's sowing the seeds that we hope will last a long time."
Moore's attitude was reflected out on the front lines, too. Near the Pakistan border, Captain Brian Jenson is the ranking officer in charge at Combat Outpost Boris. He said, "Our goal is a partnership with the Afghan army, to help them prepare to take over the reigns."
Capt. Jenson, who practices mixed martial arts, thinks like an athlete. He attended West Point to play football as a strong safety, and proudly holds the distinction of playing on the last Army team to beat Navy. "Any sport you play, you learn that team mentality of trying to achieve the same goal, so if you apply that to the military it's the same thing. Everybody's got a role on the football team, everybody's got a role in the fight over here," Jenson shared. His role is to provide protection in the firefight, and build vital bridges with the ANA along the way.
According to Capt. Jenson's second in command at COP Boris, that means working together. First Sergeant Rickey Jackson says, "Basically I tell you if it wasn't a team concept here it'd be tough. But we've made that. Making it work here is partnering with the ANA on a daily basis. I am very confident that by the time I leave here, they will be able to stand up and operate on their own."
Jenson and Jackson are born leaders. "Guiding the men is all I know," said 1st Sgt. Jackson. Now this outpost is in tip-top shape as "Team Boris," where everyone is important to long-term success. That means treating Afghan soldiers with respect, and using "brother" or "sir" in conversation. Of his own men, Jackson pushes them to be their best. "Remove those gloves flapping at your side," he bellows, when a soldier has them out of place. He requires excellence from everyone, in everything, right down to organizing the old VHS movie tapes in the recreation room into perfect rows. Today, COP Boris is a place of pride and respect.
Danger persists, however. One stark reminder is the enemy mortar round that hit squarely inside of COP Boris recently. The insurgents can get lucky with indirect fire (IDF), as Jackson recalled, "We were lucky too though, as no one was injured, and there was only minor damage to the Hesco" where the shrapnel tore into the protective barriers. Jackson added, "We are also prepared."
It's a good thing, as the recently instituted "Sunday brunch" was interrupted by more incoming rounds. When the "Take cover!" alarm is sounded, the battle stations are manned immediately. Jackson sprang into action, soldiers scrambled, and in seconds the howitzers were dialed in and returning fire. Rickey Jackson turned on a dime from Sunday brunch-goer to 1st Sergeant in charge of his men. The incoming was ineffective, but the men were prepared. Afterwards, some of them returned to brunch to try to reclaim the Sunday solace it was meant to provide.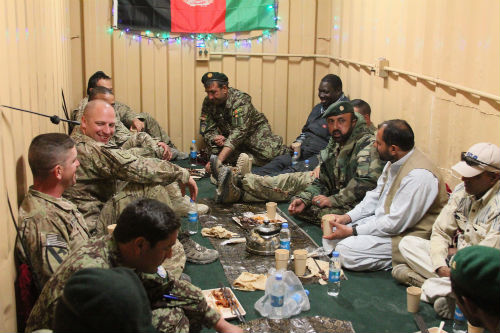 Being prepared also means a willingness to evolve, such as building bridges beyond the firefight. Said Capt. Jenson out at "the tip of the sword," as COP Boris is sometimes called, "I measure progress one dinner at a time." That night, a meal was planned with the local ANA leaders. Jackson noted, "This is vital to our success. It's as important as being precise on the guns when our men need support in a firefight. We want to do both very well. When you break bread together, and have chai, you see things differently. There's more conciliation. It brings you together."
At 1730 hours, Capt. Jenson and 1st Sgt. Jackson made the short stroll to dinner. The local ANA leadership was seated cross-legged on the floor in the small windowless space, and they all shared jokes and laughter. Between the dal lentil, red rice, lamb curry and kebab, and freshly fired naan bread, the meal was plentiful. Capt. Jenson reflected, "To build relationships and forge progress toward a goal of transition, this is one way we do that. It's a long process but it's worth it, and the only real way to get it done. You build the trust, and become like brothers."
Jenson was quick to point out it's a trial-and-error process. "There's no manual that tells us how to do this part, or even to do it at all," the Captain said, "but we know it's working. Seeing the improvements around here, it really does give you hope." Back at FOB Sharana, Capt. Moore echoed, "The reaching the hand out, it starts small. Evening chai and dominoes are 90 percent of it. Being as connected as you can be is the difference." Moore recalled, "This started back in Iraq, where we had to do the same thing. We had to build bridges in order to have any hope of changing the battle into something else. If we want the fighting to stop, we have to take another approach."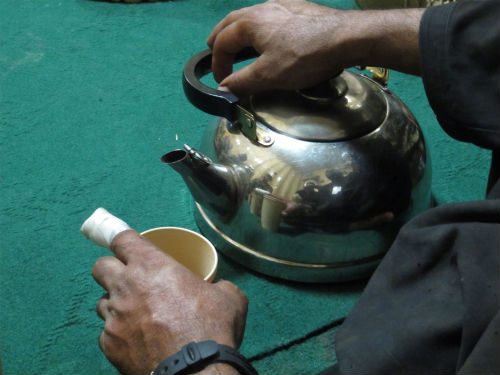 In Afghanistan, partnering has become part of the strategy. Moore continued, "I'm a true believer, I know this is effective, I witness the results here. Unless we want our children fighting this same exact war ten years from now, we'd better find another way. That doesn't mean letting up in the fight, it just means adding another dimension."
Moore talked about why he joined the military, recalling 9/11. "When I saw the towers fall, I wanted to do something about it," he said. Ten years later, his approach has evolved to include building the bridges that last into the future. He knows, "It's a long effort, but we have to persist if we want to alter the dynamic, and the outcome."
Encouragement over lamb and bread makes a difference. As dinner was ending, Capt. Jenson told ANA Commander Omar Gull, "You did a great job with your men this week. Keep going, you're making progress." Commander Gull replied, "Inshallah god-willing I can be effective." Being at the table both literally and figuratively is a step in the direction of self-reliance.
Undoubtedly, there's a cultural element, and different resources too. The U.S. has funding, skills, and experience. The ANA has local knowledge and language. But it's the hearts and minds that must be won. Without the efforts of good men like Moore, Jenson, Jackson, and Cardoni, the costs may continue to outweigh the gains. Real progress is intangible. Break bread. Encourage. Share a kebab. Hold the line in battle. Build bridges, and truly believe that it leads us to more security. One day, U.S. soldiers may be able to come home for good, leaving a more stable Afghanistan behind. First Sgt. Jackson said, "I miss home [in Philadelphia] very much so. Out here I talk to the soldiers about old stories. That brings us closer to home. But this is a far place away from home. The only thing we can do to make home come here is stick together, continue to talk, continue to help each other. That's how we're going to make it through."
Related
Popular in the Community