A young woman was giving birth, surrounded by the sick, injured and dying at an open-air hospital behind l'Universite d'Etat. A baby was being born in a sea of broken bones, in a shattered country. It was January 2010 in Haiti, ten days after the devastating earthquake had hit Port-au-Prince. I had recently arrived with Oxfam and was visiting this makeshift hospital. Though I was no stranger to humanitarian emergencies, I was totally shocked by the level of suffering I was witnessing. I could barely make it through a couple of interviews with Irish TV and Canadian Radio on the humanitarian challenges the aid community was facing.
Despite the utter misery of the place, it felt somehow safe and orderly compared to other camps and displaced centers across the Haitian Capital.
I made my way out, and heard a familiar accent, American voices. To my surprise I realized it was the US Marine presence that was keeping order. Soldiers were clearing the streets, limiting the number of hospital visitors, and ensuring that they had plenty of clean water. Despite the soldiers' constant shouting and miscommunications with the locals, their presence felt somewhat reassuring.
Relief Agencies and the Military?
In the days after the quake, the Marines were everywhere. The US Navy also sent ships and so did the French, Italian, Dutch, Spanish and Canadian Navies. Within a week, the world witnessed not only the response from the aid community, but also massive rescue and medical teams arriving from the national guards of the Dominican Republic, China and several European nations.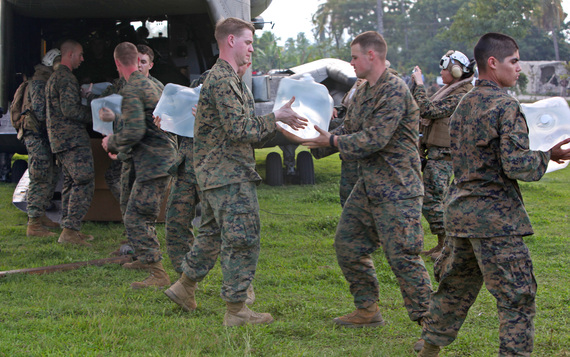 U.S. Marines landing team unload water from the back of a helicopter for earthquake victims in Leogane, Haiti, on Jan. 20, 2010. Credit: Lance Cpl. Christopher M. Carroll, U.S. Marine Corps
By definition, humanitarians are not the biggest supporters of the military. The aid community also tend to fiercely defend its independence and impartiality, especially in conflict areas. Still, the reality is that in many humanitarian emergencies, the military is indeed very useful. They help support communications, lead the search and rescue of people missing, and support the aid community with overall coordination in a joint effort to reach people in need.
The relationship between the military and aid workers is also crucial when humanitarians need to get access to dangerous zones. In an armed conflict or high-risk environment, using military assets to support humanitarian action becomes more complicated, particularly if military actors are part of the conflict.

Coordinating the Humanitarian Response
Next comes the UN Office for the Coordination of Humanitarian Affairs, known as OCHA.
OCHA's Emergency Services Branch has a network of civil-military coordination - UN-CMCoord - experts that are dedicated to making sure that the open, balanced and often sensitive dialogue between the aid community and the military is maintained. The branch is the guardian of internationally agreed guidelines which seek to preserve the impartiality, neutrality and operational independence of humanitarian actors.
That job is difficult, if not almost impossible at times. Syria, Somalia, Afghanistan, Nigeria, Yemen or the DRC are a few examples of countries where humanitarian civil-military coordination is needed. The UN-CMCoord experts have a lengthy and also difficult task at hand as they sit down and talk to warring parties.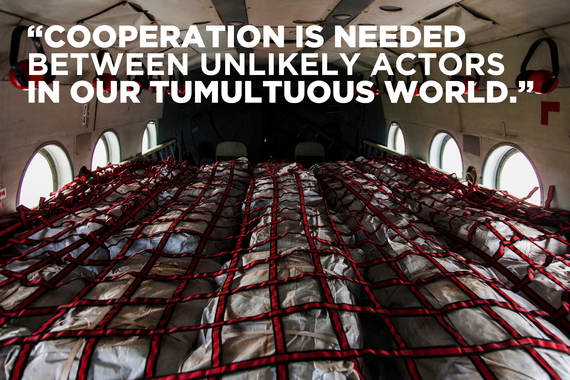 As humanitarians, our roles and objectives are not always as clear for the generals as they are to our close-knitted aid community. UN-CMCoord facilitates civil-military interaction in sudden onset, escalating and protracted crises. In many complex emergencies, these humanitarian experts also contribute to humanitarian access negotiations, basic humanitarian operations, and the protection of civilians and humanitarian aid workers.

Dealing with complex reality in Boko Haram-operated area
Just a few weeks ago, experts from various UN agencies, NGOs and allies met in Cameroon, West Africa, to look into ways to improve the humanitarian response at the Cameroon-Nigeria border. After months of military exchanges between the group Boko Haram and the Cameroon forces, the Far North Region of the country has seen a huge spike in refugees (65,000) as well as internally displaced people (over 150,000). The complex nature of the conflicts in that region of Africa means that various military actors are fighting to eliminate Boko Haram while at the same time operating alongside the humanitarian agencies trying to secure the area so humanitarian assistance can be delivered.
A UN expert from the UN Office for the Coordination of Humanitarian Affairs facilitated discussions amongst those aid groups to have a consistent approach in dealing with military actors. It is vital in these situations that both sides understand their roles and objectives. The separation of the military actions versus humanitarian activities also needed to be clearly defined by the expert.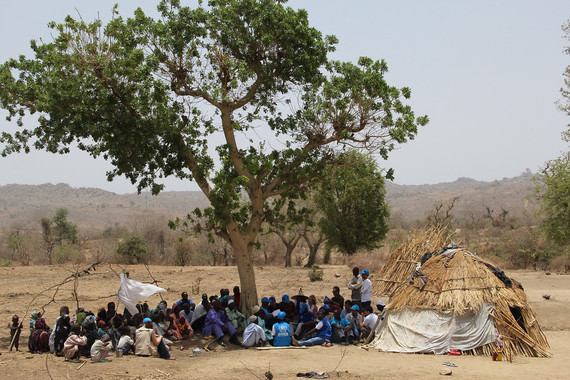 Zamai, northern Cameroon: A UN inter-agency mission meets with displaced families in their settlement near Mokolo, in northern Cameroon. Credit: OCHA/Ivo Brandau

Overall, effective civil-military coordination ensures that humanitarian action is seen as distinct, while also identifying areas where humanitarian civil-military interaction is possible.
With so many conflicts brewing and people in need of basic assistance, humanitarians must be aware of the issues emanating from working with the military to ensure that their neutrality, impartiality, operational independence and the civilian character of humanitarian assistance are not compromised.
I sometimes wonder about that baby I saw being born that day in Haiti. I think about what has become of her and her mother. I worry that not enough has improved since that day six years ago. But I'm thankful that for one moment, there was an oasis of life in the midst of chaos and death. I'm thankful for the military personnel who made that refuge possible.
At the time I would have considered it sacrilege for a humanitarian to say, but now I can say with confidence: I'm grateful the military was there.
I see that cooperation is needed between unlikely actors in our tumultuous world. We can coordinate. We can unite around offering help, civilian and military alike. More than ever, we must.
Calling all HuffPost superfans!
Sign up for membership to become a founding member and help shape HuffPost's next chapter