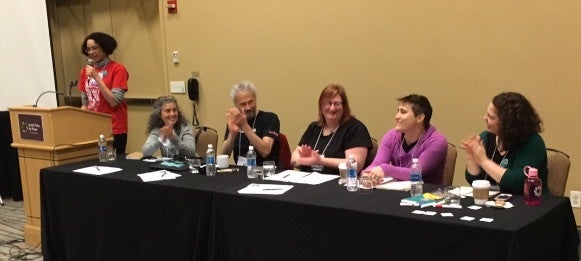 Last weekend, over 1,000 people gathered in Chicago for the National Membership Meeting (NMM) of Jewish Voice for Peace (JVP), "an organization that is inspired by Jewish tradition to work for the full equality and freedom of all people in Palestine and Israel." People came together, with great energy and anticipation, from across the country and from many different backgrounds, experiences, and histories.
There is much to say and reflect upon about the entire weekend, but I would like to focus on some of the issues that most resonated for me.
Presenters spoke movingly and, at times, quite painfully, about the brutal realities and challenges Palestinians and many other communities are facing at this moment and also located the current moment in the context of a long history of injustice and struggle.
In the opening plenary on Friday evening, Fadi Quran, a Palestinian organizer, particularly among Palestinian youth, and senior campaigner for Avaaz in Palestine, told the crowd that, 30 years after the first intifada, nobody in his family or neighborhood "would have expected, when they rose up for liberty so many years ago, that the occupation, that colonialism, that the oppressive system of inequality, would last for so long." He added: "Today the occupation continues to expand and to expand its brutal work, which can be measured by the number of families that have been removed from their homes and that have lost their land; which can be measured by the amount of children that have been killed and the amount of widows and widowers that have been created; which can be measured by the number of all of us here today resisting."
In addition to recognizing the importance of making visible these long-standing realities and challenges, a theme that also resonated throughout the weekend was the need to envision the future and to be revolutionary not just in our politics, but, also, in our values and in how we live our lives. Historian, prolific author, and leading scholar of African American studies, Professor Robin D.G. Kelley, made clear during the opening plenary that "Strategy is only as good as our values and principles." Throughout his speech, Kelley quoted and drew upon the words of Dr. Martin Luther King, Jr. as a voice of conscience, as a revolutionary, and as an example of how to live and fight--with principles--for justice. He ended his presentation by suggesting that if Dr. King were alive today, he would be at the conference telling us, in his famous words: "On some positions, cowardice asks the question, it is expedient? And then expedience comes along and asks the question, is it politic? Vanity ask the question, is it popular? Conscience asks the question, is it right?" So, concluded Kelley, "we want it right."
These words of hope and envisioning were not at the exclusion of addressing the extremely difficult challenges Palestinian, Muslim, Black, and other communities are facing, which Kelley and others spoke about compellingly—but, rather, provided a foundation for moving forward and for gaining inspiration from the experiences of movements and organizers for justice that have come before us. As Kelley noted, "We need the politics rooted in principle. We need to mourn our losses, but we also need to struggle for the future."
The issue of the Nakba was brought front and center by beloved community leader Rasmea Odeh, whose work has benefited thousands of Palestinian, Arab, and Muslim women and who, as a Palestinian woman, endured unspeakable brutality and torture at the hands of the Israeli government. She called out to the JVP community, "My heart screams against injustice," and told us: "I was an infant during the Nakba [the 1948 catastrophe in Palestine]. But I heard many stories of pain and bitterness from my family, who were forced, along with 750,000 other Palestinians, to leave the homes, lands, lives and memories they had built for generations."
Also addressing the Nakba, Stefanie Fox, a JVP deputy director and long-time social justice organizer, spoke as a Jew who struggled to face the Nakba and the devastation Zionism wrought. She used Adrienne Rich's poem, "Diving into the Wreck," as a metaphor to describe her own process of "exploring the wreck," and, as Rich's poem demands, confronting hard truths. The call before us, Fox said, is to explore the thing itself" (the consequences of Zionism, that is, the Nakba) "and not the twisted story of the wreck that I had been told" (of a land without people for people without a land).
As a member of JVP's Network Against Islamophobia (NAI), I went to two productive workshops on challenging Islamophobia facilitated by chapter leaders from New Haven, Boston, Chicago, Portland, and Triangle-NC. Some chapters are engaging in community education with the NAI curricula and resources and are canvassing with posters in different neighborhood stores with messages like "Standing with Muslims Against Islamophobia and Racism," "Stop Profiling Muslims," and "We Stand with Our Muslim, Arab, and Immigrant Neighbors." Others are insisting that Jewish organizations stop funding Islamophobia, such as in Chicago, where the JVP chapter is spearheading a defunding campaign targeting the Jewish United Fund, the funding arm of the Jewish Federation of Metropolitan Chicago. And many are participating in coalitions like the Movement to End Racism and Islamophobia in North Carolina and others that are rooted in the leadership of Muslim and other targeted communities.
Critical to NAI's work is making deep connections among Islamophobia, the so-called "war on terror," and Israeli apartheid. JVP Chicago chapter and NAI leader, Lesley Williams, who skillfully moderated the panel on "How Palestine Liberation and Challenging Islamophobia are Inseparable," opened by stressing that "Islamophobia is not just a side issue in our fight for Palestinian liberation but is deeply imbedded and a key aspect of fighting for Palestinian liberation." Human rights attorney and public defender Bina Ahmad, who has helped to guide NAI's work, further articulated this issue when she spoke about Islamophobia having long-standing roots. She said: "Islamophobia is so core to what is happening. It's the oil that gets this larger war machine going. It's really about "othering" Muslims in order to facilitate not only supporting Israel but also to support imperialism and US wars."
Tarek Abuata, from a Palestinian Christian family in Bethlehem, and currently the director of Friends of Sabeel-North America, pushed those of us in the audience to challenge ourselves more deeply about how we do our work and what we bring with us to our work. He offered penetrating reflection, encouraging us all to challenge our own Islamophobia when we talk about white supremacy and Islamophobia and to be aware that "it is right in here in this room as well." He asked the question, which he stressed was relevant to those of us at the conference and for himself as a Palestinian Christian on the panel: "How do we continue to uplift Muslim organizations and voices working in this movement without taking too much space ourselves in this movement and knowing when to move out of the lane for Muslim and Palestinian leadership when that is called for and due."
I couldn't be present for the "Freedom Fighting Under State Repression" panel, but listened on-line to the words of Reuven Abergel, a founder of the Israeli Black Panthers in the 1970's and a long-time leader of the Mizrahi struggle and of movements for justice. Abergel spoke about the long history of racism against Mizrahi Jews in Israel and the importance of joining together with Palestinians. "We have to collaborate and act together in order to further our struggles," he said, though, he added, that the government has done whatever it could do destroy those relationships.
During the final plenary, Linda Sarsour, a Palestinian Muslim racial justice and civil rights activist and leader in the US, noted that, while Islamophobia, anti-Black racism, and acts of anti-Semitism all deserve to be addressed carefully and fully, the first two are systemic and state-sanctioned in this country, while anti-Semitism is not. Without minimizing any manifestation of oppression and as someone who has clearly stood strong and acted forcefully against all forms of injustice, from white supremacy and Islamophobia to anti-Semitism, Sarsour added: "This is not oppression Olympics that my pain and oppression has to be the same level as somebody else's. That's not how it works."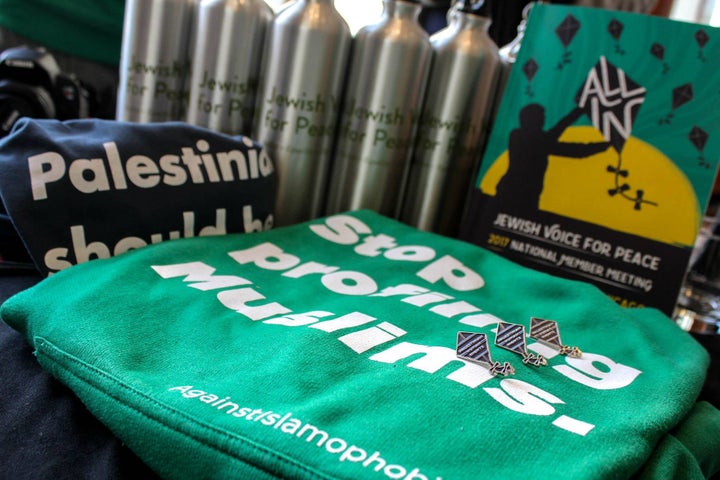 The weekend included, for those who were interested, meditation, Shabbat services, singing, yoga, videos, and dancing, and lots of opportunities for building community. I didn't get to attend many of the workshops (there was an enormous selection) so can't comment specifically on them, but they ranged from "The Art of Social Justice Organizing," "Understanding Israeli State Racism and Hierarchy through Mizrahi History, Accommodation, Struggles, and Resistance," and "How to Reimagine the World: Solidarity Through Art," to "We're not Waiting: Building the Visionary Jewish Communities We Need," and "US Foreign Policy in the Trump Era and its Impact in the Region."
Before the NMM began on Friday evening, Jews of Color and/or Sephardic/Mizrahi (JOCSM) in solidarity with Palestine convened a full day gathering with over 100 participants from across the country as well as some from outside the US. The organizers wrote in the NMM program: "We believe that the liberation of Palestine, the issues facing JOCSM, and the struggle for all people of color against racism are interconnected" and described what brought them together: "…a commitment to justice and to center the voices of the most marginalized. We are still figuring out, together with all of you, what it looks like when we all organize together against Zionism and white supremacy in all its forms, including in Jewish spaces." Members of JOCSM also participated in the planning process for the NMM and facilitated critical workshops throughout the week-end, insuring that Jewish voices, experiences, and perspectives went well beyond white, Ashkenazi ones.
I thought the NMM planning team did a beautiful job crafting a truly meaningful, thought-provoking week-end--including lots of difficult, challenging issues to explore-- to help deepen and strengthen our work moving forward and to be thoughtful, effective, accountable partners in the Palestinian-led movement for justice. We all continue to have a lot to learn and reflect upon to make our work as meaningful as possible and to truly stand together with Palestinian and other communities directly targeted by multiple forms of injustice who are leading movements for justice and self-determination for all communities.
I want to end with the words of minister, activist, and student of Religion and African American Studies at Princeton Nyle Fort, who also spoke with great conviction on the closing plenary. By the response of the audience, I think his words resonated far and wide for all of us. "But resistance alone won't get us free," he said. "We need revolutionary visions and radical imaginations. Why? Because it's our imagination—not public policy, not foundation money, not establishment politicians—that tells us what is possible. Resistance is important because it tells us what we're fighting against. But imagination is key because it tells us what we're fighting for."
He then spoke about what is necessary for true liberation: "We don't just need good politics, we need good people with good politics. Why? Because there's nothing revolutionary about being mean. There's nothing radical about tearing each other down. We need good people because liberation isn't simply about transforming the world, it's about transforming ourselves in the service of the work. Good people aren't perfect people. Good people are people who are striving and struggling to be the best version of themselves. Who are willing to be challenged and transformed." And he spoke about wanting to be the kind of people who would "carry on that long tradition of freedom fighters who, against all odds, struggled to make the world anew."
Support HuffPost
The Stakes Have Never Been Higher
Related
Popular in the Community