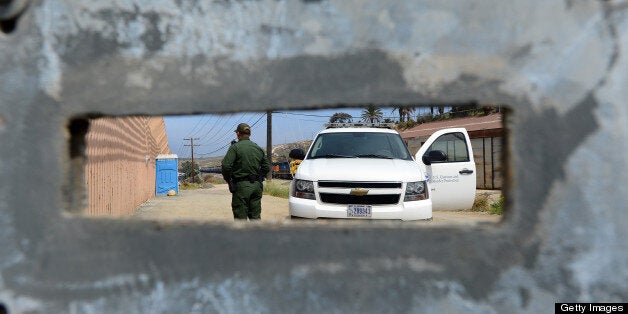 As the immigration debate heats up in Washington, D.C., and around the country, various interest groups are lining up to make sure they get what they want from reform, whether it's more fences, protections for American workers, visas for qualified high-tech workers, or increased immigration quotas for specific nations.
One important group has so far been overlooked during current debates on immigration reform -- the people who actually live along the U.S.-Mexico boundary line. For them, the border is a connecting tissue, not a divide. The mayors of San Diego and Tijuana understand this, which is why they are working together to realize a shared destiny for their 'twin cities.'
A centuries-old cross-border mentality unites twin cities along the entire length of borderline, including El Paso/Ciudad Juárez, and Brownsville/Matamoros. Such bi-national collaborations not only benefit localities, they also make vital contributions to international stability and prosperity.
Cross-border connections are often informal and spontaneous. For instance, the Mexican village of Boquillas del Carmen (in the state of Chihuahua) was devastated by the loss of tourist income that followed the closing of the border after 9/11. However, it was not long before folks in Terlingua (Texas) began collecting fabric for Boquillas neighbors to sew into quilts for sale back in Terlingua. The money earned from these sales was turned over to the residents of Boquillas to help them weather the economic downturn.
More formal cross-border institutions also consolidate bi-national ties, including local business alliances as well as international agreements on trade and environment. In El Paso, the International Boundary and Water Commission and its Mexican counterpart, Comisión Internacional de Límites y Aguas, for more than a century have shared responsibility for maintaining the international boundary line and supporting joint development projects. Their efforts have cleaned up the river-borne pollution that crosses over from the city of Tijuana into San Diego County, protected environmentally-sensitive desert regions between Texas and Chihuahua, and forged important water-sharing agreements pertaining to the Colorado River.
Every single day, trans-border unity is further bolstered by the synergies of twin-city economies. Border states are among the fastest-growing regions in both countries. Ciudad Juárez, once a city of 1.5 million, lost about a quarter-million inhabitants who fled from drug cartel-related violence. Yet Juárez's industrial sector continues to add jobs, and trade between the city and Texas rose almost 50 percent in 2010. In El Paso, the arrival of 30,000 sanctuary-seekers from Juárez created a boom in local real estate and restaurant businesses.
In McAllen, Texas, 80 percent of businesses were Mexican-owned by the mid-2000s, a reversal of the proportion from a decade earlier. McAllen draws a greater share of Mexican spending than any other US city, affecting everything from retail sales to home purchases and vacation destinations. Most of the money comes from the major industrial metropolis of Monterrey in Nuevo Léon, only two hours away by toll road. So common is the trip from Monterrey to McAllen that a new Spanish verb was coined: macalenear, literally 'to do McAllen.'
The troubles in Ciudad Juárez remind us that cross-border connectivity is not solely about positive connections. Drug smuggling and human trafficking across the line are never welcomed, but they nevertheless constitute another kind of cross-border linkage. In turn, they have spawned new forms of collaboration among law enforcement agencies on both sides.
Today, U.S. Border Patrol agents in the Texan Big Bend region worry because Mexico's plans for infrastructure improvement (to transport goods more expeditiously into the US) could expose the remote region to an influx of criminal activity. But the US has not yet moved to upgrade regional transportation infrastructure north of the border.
Oblivious to the needs of trans-border communities, reform-minded lawmakers in distant Washington, D.C. persist in demanding yet more barricades between our two countries. Instead, we should be listening to the voices of border residents on both sides, following the lead of twin-city mayors, and working harder to strengthen cross-border ties. Mexico is already ahead of us in developing the border-zone infrastructure needed for bi-national trade and prosperity. Why aren't we matching these efforts?
Paradoxically, our national obsessions regarding security, immigration, and drugs may best be served by encouraging cross-border connections instead of building more fortifications that interrupt transborder lives, jeopardize economic prosperity, and downgrade environmental and community well-being along the line.
Michael Dear is the author of WHY WALLS WON'T WORK: REPAIRING THE US-MEXICO DIVIDE. To read more about the wall and history of the US-Mexico borderlands, visit whywallswontwork.net.
Related
Popular in the Community