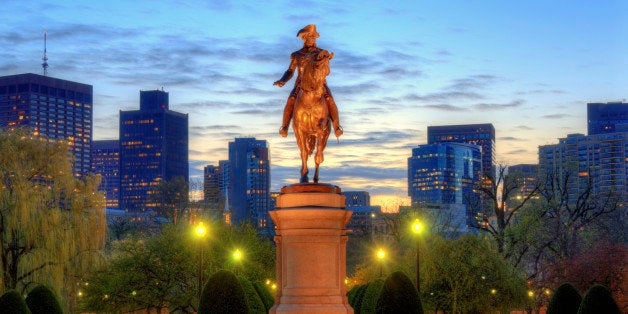 On its face, Boston is thriving. The education, health care, bio-med, and technology sectors are creating jobs and fueling business start-ups. For 19 years in a row, Boston has been the top recipient of National Institutes of Health research funding. The economy is booming, Boston now has more jobs than before the recession, and the unemployment rate in the region is down to 4.9 percent.
Unfortunately, these improvements aren't adding up to financial stability and prosperity for all, as too many families lack the savings and assets to withstand a financial emergency.
According to data from FamilyAssetsCount.org, an initiative of the Corporation for Enterprise Development (CFED) in collaboration with Citi, nearly half of Boston households (46.3 percent) are "liquid asset poor," which means they lack sufficient savings to live at the poverty line for three months if faced with a job loss, medical crisis, or other income disruption. Households in this vulnerable position -- especially those without a bank account -- are left with few options for weathering an unexpected crisis, apart from expensive alternative financial services like check-cashing services.
Communities of color are especially vulnerable: 69 percent of African-American households and 75 percent of Hispanic households in Boston are liquid asset poor. And this problem deeply affects not only those living at or below the poverty line: 40 percent of families earning $50,000 to $75,000 annually are also liquid asset poor and struggling, living paycheck to paycheck.
While Boston is rapidly becoming a hub of opportunity for some, the breadth of this financial instability exposes an inequality of opportunity that hurts both families and Boston's long-term economic prospects.
The data in the FamilyAssetsCount.org report is sobering, but it also offers further evidence that strengthening the economic security of Boston's families is a complex challenge that requires a holistic approach that brings together government, nonprofit and corporate partners to creatively combine workforce development, housing, education, asset building, and other disciplines into comprehensive programs for expanding financial capability.
Recently the City of Boston hosted 20 mayors, from around the nation, including New York's Bill de Blasio, Baltimore's Stephanie Rawlings-Blake, Mitch Landrieu of New Orleans, and Betsy Hodges of Minneapolis. The mayors came together as part of the US Conference of Mayors' Cities of Opportunity Task Force, a platform for mayors to join forces in tackling the extreme wage and wealth gaps that are shrinking opportunity, fracturing community, and slowing down the economy all across the country.
During our conversations we agreed that cities must implement innovative policy to empower individuals, and change the structural dynamics that drive inequality. Those dynamics include transportation infrastructure, housing markets, educational opportunities, and financial inclusion to bolster the household finances of the working poor and, increasingly, the middle class.
The City of Boston, together with the support of many of its community partners and funders, has launched the Office of Financial Empowerment aimed at closing the wealth gap. The office's top priority is to expand financial empowerment strategies for building assets and stemming cyclical poverty. Since its launch in October, the Office has assisted thousands of individuals with career development, financial coaching, credit advising, and tax services.
If we want to begin to address inequality and household financial vulnerability, we must ensure that families have the tools necessary to become economically resilient. Only then will Boston be a city where all its residents have a pathway to achieve the American Dream.
Martin J. Walsh is Mayor of the City of Boston. Bob Annibale is the Global Director of Citi Community Development and Inclusive Finance.
Popular in the Community