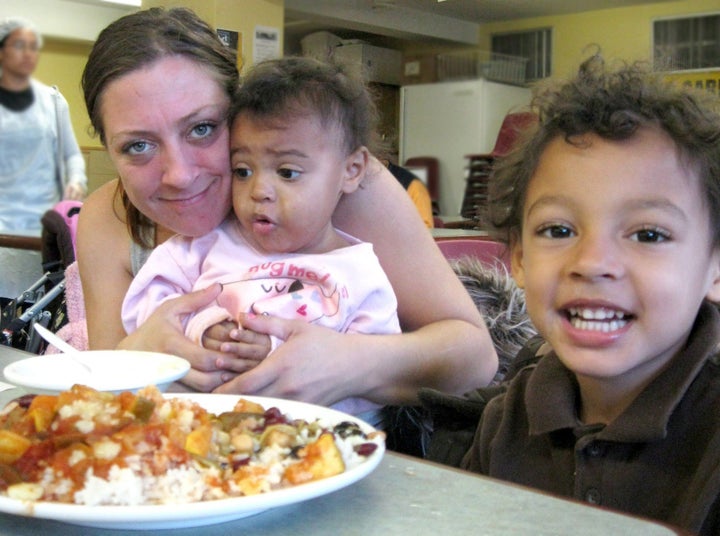 Note: October 16 is World Hunger Day. This is the first blog in a series of content designed to raise awareness of global hunger both internationally and domestically.
A few years ago a young woman came to my office with her four year old son in tow. She had just visited a local emergency food pantry. She placed two bags of food from the pantry on the table in my office and began to pull out the items from the bags. There was a package of cookies, a box of sugar coated cereal, a couple of cans of fruit packed in syrup, pasta, juice (not 100 percent fruit juice) and a few more items. She explained to me that her son had diabetes and he could not eat any of the items in the bag. She asked the pantry volunteers for substitutions, and they told her "if we do it for you we have to do it for everyone." She looked at me and asked "can you help me? I don't have anything to feed my son."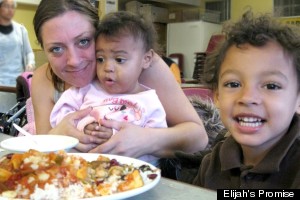 Every day, across the state of New Jersey, and around the United States, people are forced to make difficult choices, such as: "Should I pay my rent and my utility bills, or buy food for my family?" and "Should I pay for my medication or buy food?" "Should I visit the neighborhood pantry for some canned goods or skip meals to make it until the next check?" One of the most disturbing and extraordinary aspects of life in this very wealthy state is the persistence of hunger.
Just before the Great Recession hit, the numbers of people lining up for meals at Elijah's Promise soup kitchen skyrocketed, as did the lines at emergency food centers across the area. The rate of food insecurity in New Jersey (that is the number of people who regularly skip meals, cut back on the quality and quantity of what they eat or rely on emergency food sources) mushroomed from around 8% to 15% in three years. The number of people struggling in New Brunswick, where Elijah's Promise is located, is nearly triple the state rate of food insecurity.
A crisis and shock wave ran through the emergency food system: more people than ever before needing help, and not enough food on the shelves to meet the swelling ranks of the hungry. Most remarkable was the reality that hunger had crept up to the traditional "middle class," people who worked, owned homes, even volunteered and donated to their local emergency food center, now turned to us for help.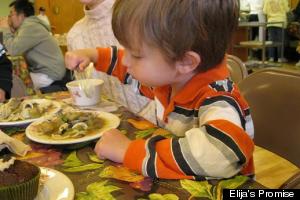 I remember the day a woman came in for lunch. She worked at Rutgers, the State University of New Jersey. She had two teenage sons at home and her eldest son was serving in the U.S. Military in Iraq. With his income out of the equation, she was struggling to feed her sons. She dined at the soup kitchen to stretch her resources so her boys would never know the challenges she faced.
In a world where more and more people are struggling to put food on the table and worrying about how they will feed their children, we must look beyond the old models of addressing hunger. Collecting cans and feeding the hungry is important... but charity is not enough. We must address the causes of hunger and deepening reality of food insecurity.
For the past two years in New Brunswick, N.J., we have been having a community wide dialogue about ending hunger. Thanks to the leadership and resources dedicated to the process by Johnson & Johnson, headquartered in our town, a partnership of people from community and faith based groups, local government, Rutgers University, local businesses and Johnson & Johnson, have organized a local food policy council to address food security in a systematic way. This coalition, of groups and residents, called the New Brunswick Community Food Alliance (NBCFA) is spearheading a coordinated approach to building a local food system that contributes to food access for all people.
The NBCFA is working to facilitate expanded participation of those who are eligible in government nutrition programs like school breakfast and SNAP (formerly called food stamps). We are working to expand access to healthy affordable food through farm markets, in corner stores and food deserts. We are promoting access to healthy foods and choice in our emergency food pantries and kitchens. We are supporting opportunities for people to start food businesses and grow their own food through community gardens. And we are lending our voices to the broader statewide and national dialogue about ending hunger and building food security.
No one should go hungry in richest nation on the planet. No mother should ever worry about how she will feed her children. With a new community and school garden coming online, a greenhouse project, a pilot breakfast in the classroom program launched and several other initiatives in the hopper, the New Brunswick Community Food Alliance in partnership with Johnson and Johnson, is working to support policies and practices that ensure all people have access to good, healthy food, and the tools to feed themselves.
Since 1989, Elijah's Promise has harnessed the power of food to break the cycle of poverty, alleviate hunger and change lives for the most vulnerable members of our Central New Jersey community. We operate a community soup kitchen, culinary arts school, catering business and café, and connect low-income individuals and families with social and health services.
Related