SEATTLE -- The Bullitt Center's composting toilets need less than a cup of captured rainwater to flush. Its rooftop solar panels keep the six-story office building -- located in a notoriously not-so-sunny city -- contributing to, rather than tapping from, the local electricity grid.
But there's another bragging right that has been widely overlooked since the center's opening on Earth Day this April: More than 360 commonly used and potentially toxic elements and compounds were kept out of its construction, from its walls and wires to its pipes and paints.
Many of the avoided ingredients are currently industry standard.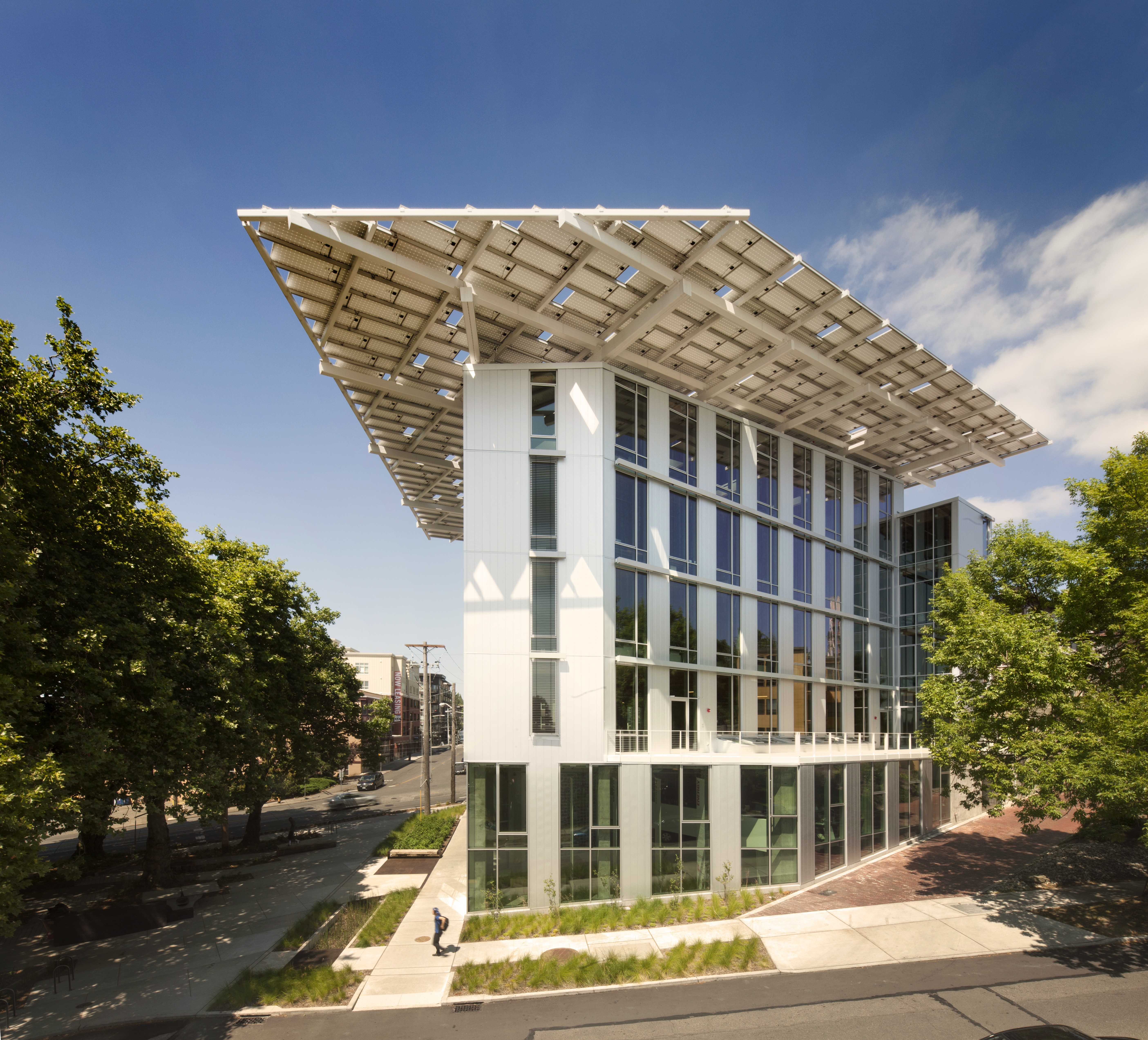 The Bullitt Center, which opened in Seattle this past April, aims to set the bar high for future buildings to be both energy efficient and healthy. (Nic Lehoux)
"That new building or new car smell -- that's the smell of poison," Denis Hayes, president and CEO of the Bullitt Foundation, said during a recent tour of the center, which is designed to be the greenest commercial building in the world.
A report published on Wednesday underscores the potential dangers of this vast and largely undisclosed stew of chemicals hiding in the building materials of modern homes, schools, hospitals and offices -- indoor spaces in which Americans now spend an estimated 90 percent of their time.
This ingredient list can include neurotoxins, carcinogens, hormone mimics and reproductive disrupters, which could be playing a role in a number of today's increasing health problems. Scientists with the environmental health nonprofit Healthy Building Network, however, focused their research on one common condition: asthma. The lung disease now affects an estimated one in 10 children, according to the U.S. Centers for Disease Control and Prevention.
"Despite more attention and more interventions than ever, asthma rates continue to rise," Bill Walsh, founder and executive director of Healthy Building Network, told The Huffington Post. "There are chemicals that can cause asthma in building products."
By cross-referencing a list of known and suspected asthma-causing chemicals with ingredients in over 1,300 flooring, adhesive, insulation and other building products reported in the group's Pharos database, Walsh's team identified a priority list of target chemicals for asthma prevention. The 20 chosen chemicals showed significant potential to not only trigger an asthma attack but to cause the onset of asthma, as well as a substantial likelihood to actually be absorbed, inhaled or ingested by building occupants.
Many volatile organic compounds (VOCs), such as formaldehyde, made the list. The potentially toxic emissions from these products peak when the product is new and dwindle. Semi-volatile organic compounds (SVOCs), which tend to capture less attention from the building industry, are also represented on the list, due to their propensity to create long-term indoor hazards as they slowly scuff and degrade over time.
Flame retardants, phthalate plasticizers and other SVOCs have also been identified as hormone disrupters. Better known for their emerging links to things like obesity, breast cancer and attention deficit disorder, evidence suggests the chemicals can affect the lung development in fetuses, infants and young children.
"This can create conditions that actually lead to asthma," Walsh said.
While finding alternatives to some of these so-called asthmagens is tough, choosing linoleum rather than PVC vinyl flooring is one relatively easy move that could curb exposures, Walsh noted. Linoleum is far less heavily laden with phthalates.
Over recent decades, as more and more man-made chemicals have entered our daily lives, energy efficiency standards simultaneously tightened-up buildings. One of the troublesome trade-offs to this well-intentioned campaign is the trapping of toxic gases released by those chemical ingredients. Even construction earning a top rating for green building, such as the U.S. Green Building Council's Leadership in Energy and Environmental Design (LEED) certification, may still be packed full of toxins -- with perhaps even less of an opportunity for their escape.
"People generally assume green building is good for your health," Walsh said. "Because there aren't any prerequisite health credits focused on chemicals, people can make assumptions that are not warranted."
In a statement for HuffPost, Margaret Ross, an ExxonMobil Chemical spokeswoman, noted that her company "rigorously evaluates the safety of its products to confirm that they meet or exceed the safety and performance standards of their intended applications, including in building and construction applications."
Some movement is underway, however, to bring more human health considerations into green building. At a conference in November, leaders unveiled new LEED standards, which offer manufacturers credits for disclosure and elimination of certain hazardous chemicals.
"Before we were getting information from a manufacturer emphasizing what is not in a product," said Walsh, who is also part of the Health Product Declaration Collaborative that is helping facilitate such disclosures. "But they may have replaced VOCs with chemicals that are equally or even more toxic, but just don't happen to be volatile at room temperature."
"The point is not to send manufacturers on a whack-a-mole hunt," he added. "The point is to ultimately reduce harmful chemical exposures. In order to do that, we have to start a dialogue about what is actually in the product and going into the building."
In the end, not only would building occupants benefit, experts say, so would construction and maintenance crews, and even firefighters who are forced to breathe toxic fumes released when buildings burn.
"The green building movement arose as a building issue, looking at energy, water and resource use," explained Dr. Howard Frumkin, dean of the University of Washington School of Public Health, who was not involved in the report. "Meanwhile, there's been a healthy building movement, which has been looking at what is best for the people in that building."
"What we're seeing now is that green and healthy are converging. That's a really good thing -- the sweet spot," said Frumkin, who also serves on the board of the U.S. Green Building Council, which is forming a new Center for Green Building and Human Health.
"Indoor air quality matters," he added. "It's a bigger determinant of what people breathe in than outdoor air."
Both energy efficiency and health promotion were central to plans for the Bullitt Center, noted Hayes, who also coordinated the U.S.' first Earth Day in 1970.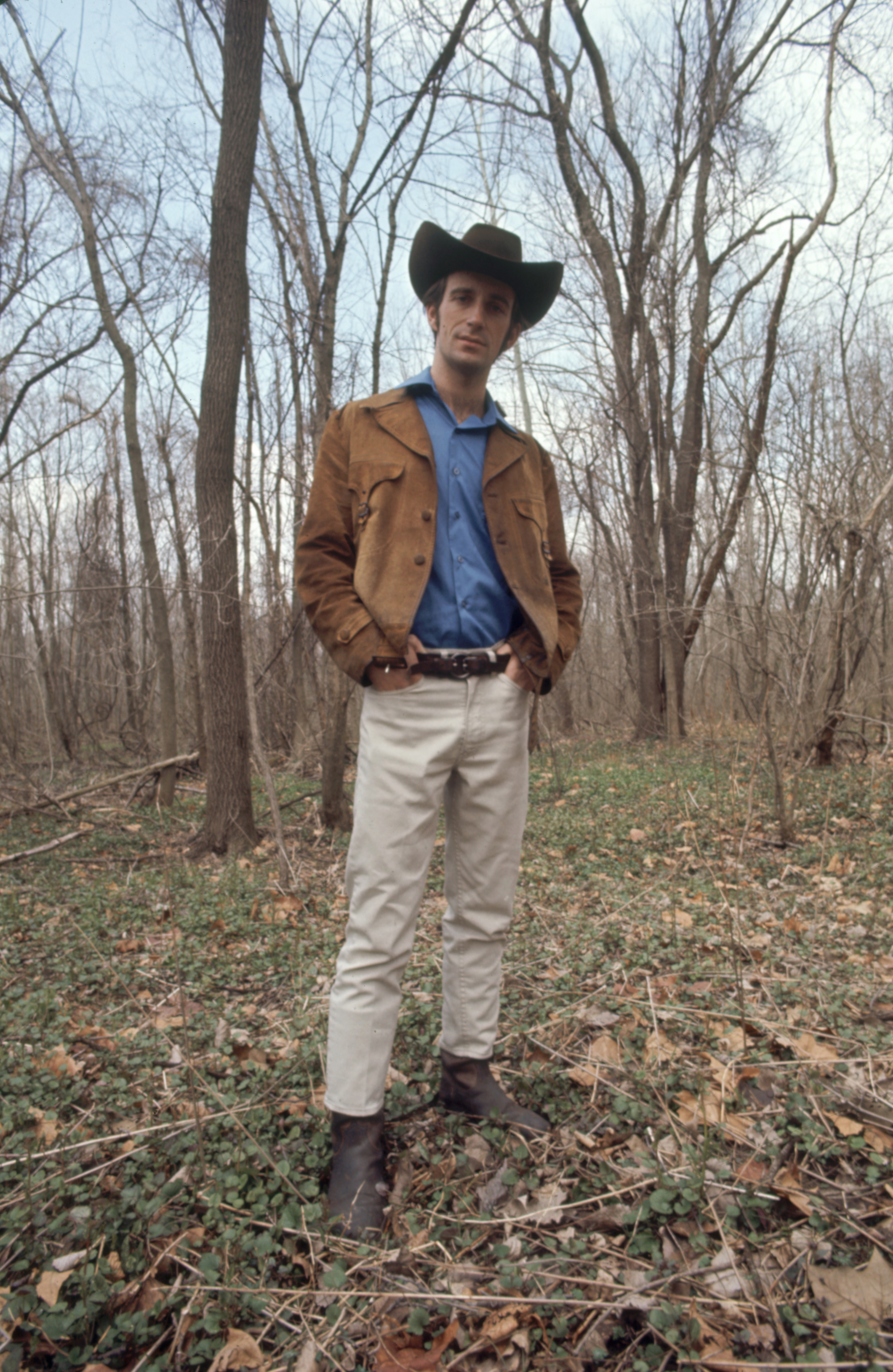 Earth Day coordinator Denis Hayes in Washington, DC, in 1970. (Getty)
It took a year of full-time work from two people, extensive help from the Pharos database and many calls to manufacturers in order to avoid a "Red List" of chemicals as part of the Living Building Challenge, another green building standard. The researchers even worked with one manufacturer, Prosoco, to reformulate its "liquid applied air and water barrier" without phthalates.
"Turns out, for almost everything there is some kind of work-around," Hayes told HuffPost. On Jan. 15, the Bullitt Center website will list all of the ingredients chosen for the more than 950 individual components of the building, in an effort to help others more easily find alternatives.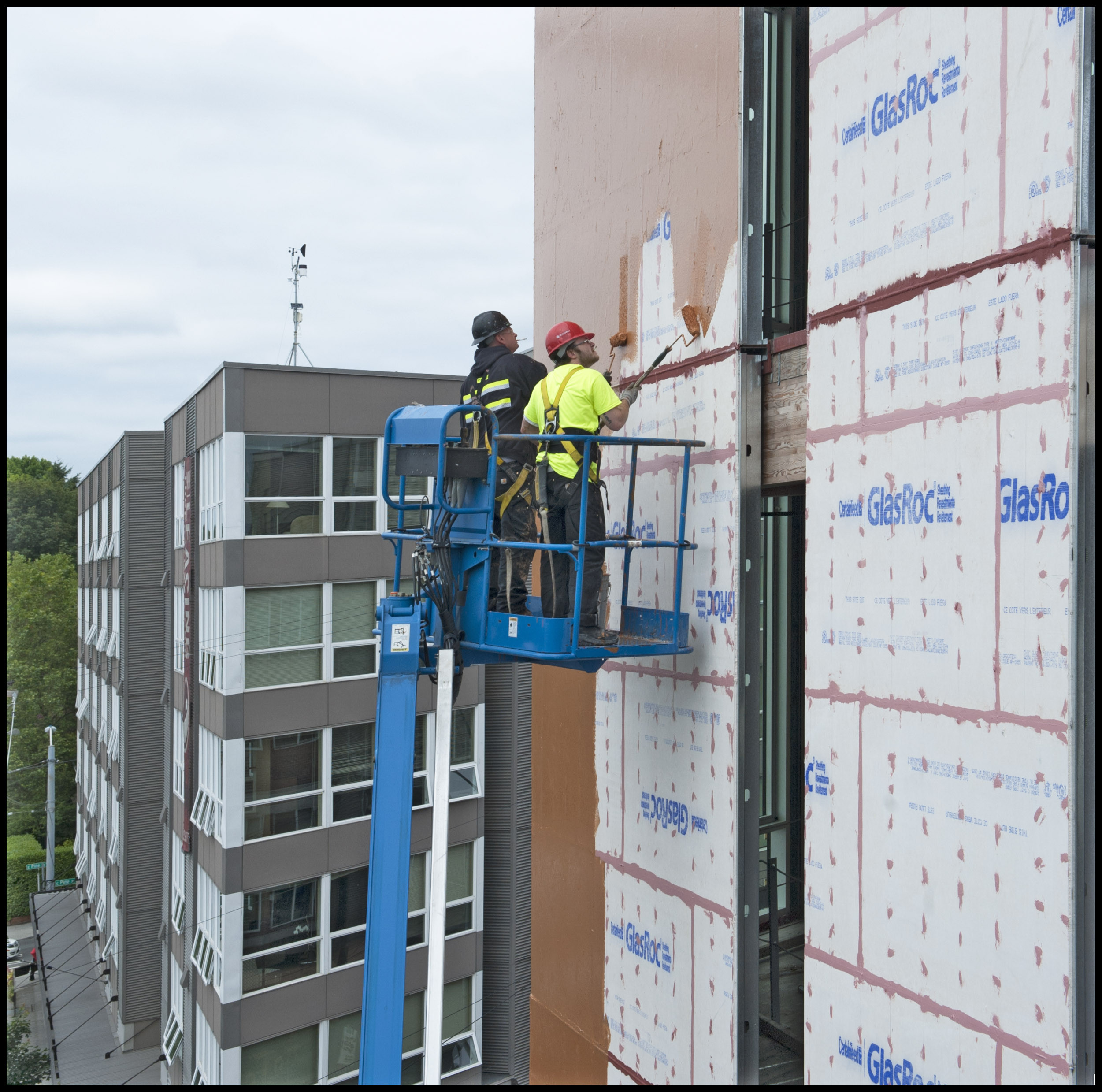 Workers apply a reformulated, phthalate-free sealant to the outside of the Bullitt Center. (John Stamets)
Still, Hayes emphasized the same troublesome, incomplete picture faced by any consumer, whether shopping at Home Depot or Toys R Us: Weak federal regulations leave products generally unlabeled and untested.
"We did a more thorough job than anyone has done in the world in identifying ways to build a building without toxic elements and compounds," said Hayes. "But many of the things we're trying to keep out of buildings are viewed as trade secrets. They often don't appear on any list of ingredients."
"The vast, vast majority of chemicals out there have never been tested even on lab animals," he added, "much less for their effects on humans."
Hayes said he's hopeful that the green building and broader environmental movements are going in the right direction -- towards a renewed recognition that the health of the environment and humans are intimately connected. Such a consciousness pervaded the first Earth Day and drove subsequent battles against hazards such as DDT.
"People are once again seeing the immediate impact on themselves and their kids," he said.
Hayes noted another evolution over the last decades. He recalled just one childhood friend who suffered from asthma.
"Damn near everyone I know seems to have asthma now," Hayes said. "It's disturbing."
Related
Popular in the Community