With the latest news that consumer prices have surged, primarily due to record high prices of gas, it's hard not to wonder how desperate this crisis must get before we decide to solve it. Really solve it -- no gimmicks, false hopes or continuation of failed policies.
Case in point: Just as economic data confirmed what Americans already felt - we're paying more and more for everyday necessities -- President Bush again last week offered offshore oil drilling as the panacea.
But drilling on the coast of Florida or in Alaska's Arctic National Wildlife Refuge is no solution at all. It would simply extend the failed U.S. energy policies from the last 30 years and do nothing to help Americans cope right now with the costs of gas. Worse, it would deepen our oil dependence, because it does nothing to address the underlying reasons why each generation drives more than the last.
Experts estimate it would take up to 10 years to begin producing offshore if Congress lifted the ban today. Even with that, the amount of crude produced would supply the U.S. for a mere 18 months according to the U.S. Energy Information Administration. Energy analysts say that if nothing else about the global market for oil changed, the oil from ANWR would reduce the pump price by about 4 cents.
Consumers, meanwhile, have already discerned that the only sure-fire way to reduce our vulnerability to skyrocketing gas prices is to reduce our need to consume oil and gasoline. Unwilling to wait for government action, Americans are taking matters into their own hands.
We're hopping buses, boarding trains, and slipping on our walking shoes. We're looking for houses in walkable and bikeable communities with access to public transportation, where our life savings won't be held hostage by each uptick in the cost of gasoline. We're finding innovative and clever ways to limit our fuel consumption on a daily basis, consolidating our errands and carpooling to work.
Public transportation ridership is at its highest point in 50 years, according to the American Public Transportation Association. To eliminate those painful visits to the pump, we're trimming our car trips: Americans drove 1.4 billion fewer highway miles in April 2008 than in April 2007, the first drop in nearly 30 years.
Looking to live closer to work, we're searching for homes near urban centers. The Associated Press reported that 78 percent of more than 900 Coldwell Banker real estate agents surveyed said that high gas prices were increasing their clients' desires to live in cities.
Still, the American people cannot solve this crisis on their own. We need our leaders to begin building long term solutions that will move us beyond oil dependency and the pitfalls that follow.
But as we look for ways to reduce our gas bills, we are discovering disconcerting truths about America's landscape and transportation network. Many of our public transportation systems, short-changed over the years and facing their own high fuel bills, are having a hard time keeping up with the rising demand. The supply of homes -- whether stand-alone houses, townhouses or condos -- in convenient locations near jobs is far below the demand. And many of us -- the majority, in fact -- find ourselves living in a drive-only landscape, where we must burn gas even to reach a metro rail or subway stop, if one exists in our area.
Encouragingly, Congress has begun to hear their constituents' calls for help. The U.S. House voted overwhelmingly for the Saving Energy Through Public Transportation Act, authorizing $1.7 billion over two years to help transit agencies stave off fare increases and keep pace with ballooning ridership.
But while critically important and timely, this measure is only a minor down-payment on what is required to meet the growing demands on our transportation network. Still needed, urgently, is relief for residents of small cities and rural areas. And longer term, we have to keep pace with demands for public transportation, and give this country a reason to be proud of its high-speed trains, light-rail lines, and both rapid and conventional bus transportation options.
We need to make more of our streets safe and convenient for walking and biking to work, school, shops and public transportation stops. We have to create incentives for developers to invest in our close-in suburbs and urban centers, to meet the huge demand for affordable homes in convenient locations. Americans are not dumb: given the real choice, we would much rather invest in well-located real estate than in gasoline.
We are tired of feeling like victims -- whether of oil companies, poor planning, or a lack of vision. Americans are ready for innovative change, if only our leaders will follow the people's charge.

Geoff Anderson, president and CEO of Smart Growth America, and Shelley Poticha, president and CEO of Reconnecting America, are co-chairs of the Transportation for America Campaign.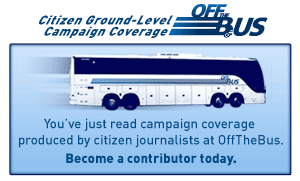 Support HuffPost
The Stakes Have Never Been Higher
Related
Popular in the Community