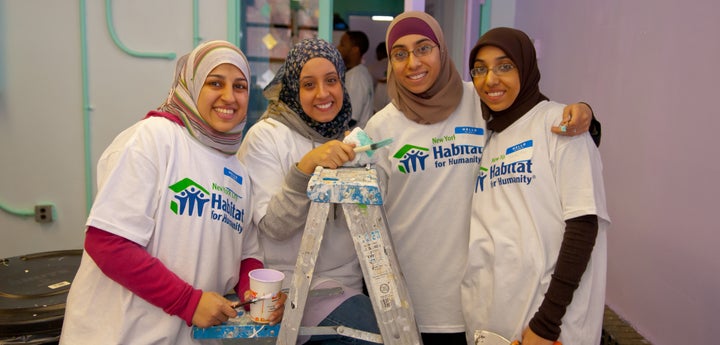 New York City is one of the most diverse places on the planet and in fact, Queens County ranks as the most diverse in the mainland United States. We are proud to be a home to people from all walks of life, of all faiths, ethnicities, political persuasions, sexual orientations, gender expressions and more. We know that our city's strength comes from working with one another to build a more equitable society. At Habitat for Humanity New York City, we take this approach quite literally!
On worksites throughout the five boroughs, we rely on the hard work of volunteers to keep our affordable housing development projects on schedule. This weekend we are hosting Build for Unity, a three day "blitz build" at one of our construction sites in Brooklyn. Build for Unity is part of a national Habitat for Humanity movement – with others in Los Angeles, Sacramento, and Atlanta – that is focused on bringing together people of all colors, creeds, and communities. And it couldn't come at a more prescient time.
We are in the midst of a deep national division. The news, the noise and the negativity consumes us – it seems like every day there is another offense or tragedy. Even New York City is not immune to the disturbing trend of the rise in hate crimes. According to NYPD reports, while overall crime is down 9.7 percent since last year, hate crimes specifically are up 55 percent.
Yet even in the darkest of times there is always a light to be found. Despite a growing movement of hate and fear, all across the country people are coming together to help each other.
In response to an attack on an historic Jewish cemetery in St Louis that left over 150 headstones toppled, two Muslim-Americans rallied their communities to raise more than $64,000 in support of the rebuilding efforts. Similarly, after an attack on a Tampa, Florida mosque, a number of Jews contributed to the fundraising efforts in multiples of $18 – a number that is associated with the Hebrew word for "life." All these acts of unity have shown us that the hope and change we need in these trying times is inside of each of us. It is through building one another's communities up, that we can elevate all people – a sentiment by which Habitat NYC operates every day.
By joining hands with our partners of all faiths on Build for Unity, Habitat NYC is making a statement about our shared New York values of diversity, inclusion, and community. Together we can share in our strength to support our communities through the preservation and construction of affordable homes for lower-income, hard-working New Yorkers of all faiths and no faith.
Over three days starting this Friday, March 24, we will be working to build 15 homes in Brooklyn with community organizations representing a diaspora of faiths, including the Bangladesh Society Inc., St. Peter's Church, Mid-East Turkic Society of the NYPD, Amalgamated Bank, Fordham University Campus Ministry, Muslim Officers Society of the NYPD, NYU student group Muslim Christian Dialogue, Local 157 carpenters' union, National Association of Arab American Professionals, and Jewish Congregation Ansche Chesed.
It is the core mission of Habitat NYC to provide affordable homeownership as a choice to all New Yorkers, and to bring the surrounding community together in making that a reality. So as we continue to uphold high spirits in these trying times we must all remember what makes us Americans – the ability to work together to build the common good, the calling to help one another through times of struggle, and that no matter our faith, home is a sacred place.
Related
Popular in the Community