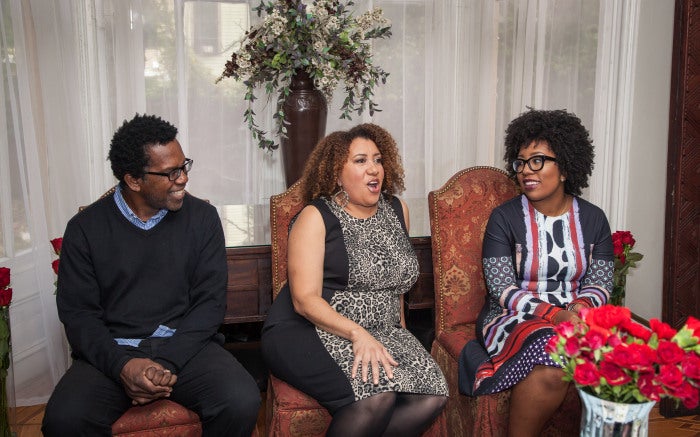 Referencing key findings from a study of the racial wealth-gap released last year by the Institute for Policy Studies (IPS) and the Corporation For Economic Development (CFED), Holland highlights trends in household wealth from 1983 to 2013—a 30-year period.
Due to wage disparity, Black women in particular, often do not possess enough disposable income to risk putting their hard-earned money into strategic investments such as real estate, stocks, appreciating valuables, and businesses.
As a result, Black women often do not have a legacy to pass on to their children.
"When people say Black people are somehow inferior, or are doing something wrong as to why they don't have wealth, that is completely wrong," Duke University economics professor, William Darity, told MadameNoire.
Wealth in America is mainly acquired through inheritance above all else.
"I've always been one to go overboard with Christmas gifts for my family and closest friends--I can't help it; I love the holidays and lovin' on those I love," said Greenwood.
"I typically like presenting experiences," the former editor of Essence Magazine who once gave 12 members of her family an all-expense, week-long Caribbean cruise that took her 12 months to pay off.
"Last year, the theme of my gift for the women in my family was "Black Girl Magic." My sister, sisters-in-law, daughter and closest childhood friend all got black fashion ensembles that matched their unique flair, along with tickets to join me for lunch and a day at the most-excellent National Museum of African American History and Culture in Washington, D.C.," said Greenwood.
"You can't tell me Oprah has something on me when it comes to gift-giving!"
However, during this season of giving thanks and celebrating life, Greenwood has grown concerned and "worried."
Planning to present Glynn with the opportunity to be groomed to take over Akwaaba Bed & Breakfast Inns, the family business Greenwood has painstakingly built over the last 22 years, Greenwood said she fears "she'll [Glynn] see my gift like the flannel pajamas she should appreciate, because they're practical, but plans to return for something she really wants."
"I've made no secret about my desire to pass the business on to Glynn," said Greenwood, whose enterprise consists of four properties in Brooklyn, Washington, D.C., Cape May, NJ and Bethany, Pennsylvania.
"My husband, Glenn [Pogue], and I opened our first Akwaaba in Brooklyn, NY, back in 1995 ," said Greenwood.
"I never dreamed of having a television show, but I am very excited that viewers get to see a functional Black family running a successful business."
After becoming enamored with the idea of inn-keeping when she discovered "it taps into my personal passions of decorating, entertaining and creating unforgettable experiences," Greenwood said it "wasn't hard" to convince Pogue to "buy into the idea."
"I explained that Brooklyn, if it were a city unto itself, would be the fourth largest in the country, and at that time, there were no major hotel chains in the borough."
The Washington, D.C. native set her sights on a dilapidated old mansion down the street from her Brooklyn brownstone where she and Pogue could live on the top floor and have four guestrooms on the second floor.
"We would live essentially rent-free with the income from the guests covering our mortgage and utility bills. We purchased and restored the mansion, spoiled our guests, and kept working our day jobs--he, a broadcast engineer, me, a magazine editor," Greenwood said.
"All went well until we opened a second location on the Jersey Shore, where I ran things in the summers while he covered Brooklyn," said Greenwood, the inaugural John H. Johnson Endowed Chair of Entrepreneurship housed in Howard University's Cathy Hughes School of Communications.
As the United States rapidly becomes both a more diverse and unequal nation, policymakers face the urgent challenge of confronting growing wealth gaps by race and ethnicity, according to Demos, a public policy organization.
Greenwood wants to ensure she passes on her "gift of legacy" to Glynn despite the daunting wealth gap statistics.
"Glynn was three when we started taking guests into our home. She learned quickly how to use her inside voice at all times and developed a sixth sense about people, determining whether they were kid people she could charm by reciting one of the poems she impressively memorized, or whether it best she retreat to her room and write wildly imaginative stories in one of her many diaries."
"As she got older, I'd bribe her to set the breakfast table or help me make a bed. And now she's filling in as a part-time innkeeper, checking in guests, making them breakfast, making them happy," Greenwood explained.
An avid traveler and accomplished writer, Glynn's work has appeared in Essence, National Geographic Traveler, Travel Noire, Jezebel and Guernica. A recipient of Howard University Dean's, Black Entertainment Television (BET), and Ofield Dukes Public Relations Scholarships, Glynn is a graduate of Howard University and The New School, where she earned a Master's degree in creative writing this year.
"I'm the biggest fan of Glynn's writing and support her in this effort 110%," said Greenwood. "I just believe it's possible for her to be a writer and an innkeeper."
"More importantly, I believe it's paramount she continue the family legacy," Greenwood continued.
"I've seen, first-hand, a parent's pride in passing along a business that provides a better life for one's child, and then for the child's child. Many of my summer guests at our Poconos, Pennsylvania, location are Jewish parents visiting their kids at one of the many nearby camps."
"They've done very well for themselves in business, and they're running businesses that their parents, and sometimes their grandparents, started."
"And, let's face it, if Glynn's last name was Trump, this would be a non-negotiable."
As an African-American entrepreneur, Greenwood believes "it's critical we take this page from the books of others."
"How else do we begin to really achieve generational wealth?"
"So few Black-owned businesses, outside of funeral homes and the occasional insurance company or soul food restaurant, get passed down and built-up from one generation to the next," Greenwood said.
"My goal is to encourage the next generation of innovators and business game changers," said Greenwood.
"I sincerely hope Glynn accepts my gift of legacy with open arms."
"At the very least, maybe she'll slip into it and see how well it fits. Flannel pajamas, after all, are warm and comfy."
Related
Popular in the Community