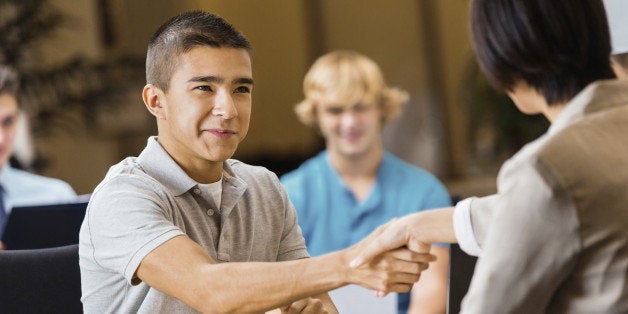 What if we shifted our approach to school discipline to focus less on punishment and more on creating the positive relationships that all students need to thrive in school? What if we dedicated ourselves to valuing and supporting not only the student who is doing well, but also the resistant student; the student with an attitude; the student who talks back; the student who is healing; the student who is frustrated? Those students showed up to school too and they want to succeed. What if we provided that student, and every student, with a high quality education, and treated them with respect and dignity every day?
These are fundamental questions we should be asking this week during the sixth annual Dignity in Schools Campaign (DSC) Week of Action, aptly themed: Invest in Public Education Not Prison Cultivation. DSC members are challenging conventional thinking around a core human and civil rights issue that impacts many students: zero tolerance school discipline practices that have resulted in the over-use of school suspensions, expulsions, transfers to alternative schools, and school-based arrests and citations. Too many of our children, particularly poor students, students of color, LGBTQ and gender non-conforming students, and students with disabilities - are excluded from a quality education, pushed out of school and funneled into a school-to-prison pipeline that undermines their life chances.
Students know there is a better way. That's why youth leaders with the Children's Defense Fund-California and the Every Student Matters Campaign are using this week of action to raise awareness about the power of positive, respectful relationships that help them feel valued and stay on a successful track. Sarai McKenzie, a youth leader with CDF-CA and senior at Jordan-Plus in Long Beach, California, describes her school as "very calm and laid back. The principal knows all the students' names. It makes a big difference. It makes students feel more important."
Sarai and her classmates are encouraging us to #ConnectWithRespect by fostering positive relationships among all children, youth and adults who share a school campus. Many schools have adopted effective programs such as School-Wide Positive Behavior Interventions and Supports (SWPBIS), a classroom management framework based on preventing behavior issues by building upon students' strengths, communicating clear expectations, and consistently modeling respectful behavior. Restorative practice is another promising, community-building approach that aims to flip the question from "what is wrong with you" to "what happened to you" when a behavioral issue arises.
"It is important to keep respectful relationships because we don't know what that other person is going through," Sarai says. She explains that some students who have had traumatic experiences, such as abuse, may be triggered at school by something somebody says or does, which may ultimately cause them to act out. Sarai cites respectful relationships as an effective classroom management tool. "A respectful relationship is approaching students with a sense of kindness."
Rethinking school discipline is critical if we want school systems to serve and protect all students. Earlier this year, a report by the Center for Civil Rights Remedies (CCRR) showed that out-of-school suspensions have become a common occurrence in schools across the United States. In secondary schools (grades 7-12), one in every ten students was suspended at least once in the 2011-12 school year. That sharply increases to about one in four Black students in the same age range. According to the Bureau of Justice Statistics, one in three Black boys born in 2003 will go to prison at some point in his lifetime.
These statistics are closely interconnected. Since the 1970s, our country has wholly embraced the notion of punishment and exclusion in education and justice systems. From 1972 to 2012, out-of-school suspension rates increased 300 percent and incarceration rates increased by 400 percent. The culture of zero tolerance and disparate treatment based on race and ethnicity has transcended the courtroom to the classroom.
Research conducted in Texas found that almost half of the students who were repeatedly suspended during grades 7 to 12 had contact with the juvenile justice system, compared to only two percent of students with no suspensions. The pipeline between school and prison is all too clear.
The good news is that suspension rates are beginning to level off in many places. Schools and districts across the country are rethinking discipline and taking action to end the school-to-prison pipeline. In California, we have witnessed momentum to promote policies and practices focused on common sense, prevention, and positive approaches that keep students in school, rather than a misguided focus on using suspension as a first resort.
Fostering a positive learning environment requires investing time and resources. One important investment is a meaningful process for students, parents, educators, school staff, and others in the school community to shape and make decisions about school discipline based on the specific needs of their community. Schools and districts should also rethink investments in police and security guards that often make schools feel like prisons, and pivot toward more investments in support staff such as counselors and mental health professionals. Not only will this assist the students, many of whom are dealing with trauma, it will ultimately benefit the classroom teachers.
Sarai gives her counselor, Ms. Perez, a lot of credit. "She's helped me with college and to find what path I want to take after high school. And we've talked about personal problems. She tells me that if I ever want to talk about other things she is there."
While schools may have different needs, resources and perspectives that impact how they build positive and respectful relationships within the learning environment, this final advice from Sarai is universal: "Keep us informed about what's going on. Treat us as equals, as human beings. Have trust in us." Well said Sarai; now let's work together with decision makers to #RethinkDiscipline and end the school-to-prison pipeline.
REAL LIFE. REAL NEWS. REAL VOICES.
Help us tell more of the stories that matter from voices that too often remain unheard.