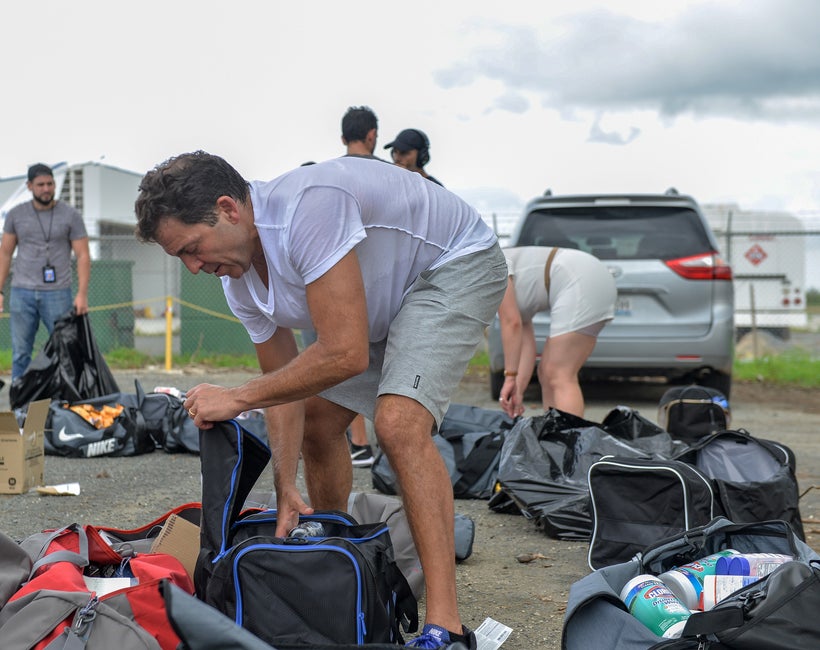 There are 375,000 children under the age of 15 living in Puerto Rico. Three weeks after the devastation of Hurricane Maria, the suffering seems unending for these kids.As of October 12, 2017, 83 percent of households were still without power on the island, according to the U.S. Department of Energy.
Getting electricity back for the 1.4 million people who are living without it has been a painfully slow process. In fact, it took a full week to raise the amount of people with electricity from 9.2 percent to 17 percent. Small businesses can't take customer credit cards or use computers, so they are forced to rely solely on cash and paper.
Most families have no way of communicating with the outside world. Only 22 percent of cell service antennas are currently operational, according to the Federal Communications Commission's October 11 report. Fifteen of the island's 78 counties have absolutely no cell towers in working condition.
Businesses on the island are struggling to reopen. Twenty percent of gas stations remain closed, 40 percent of bank branches are closed, and 15 percent of supermarkets are closed.
For children living in areas without these crucial services, without electricity, and without access to cell service, life in Puerto Rico is impossibly difficult. We must bring back life-sustaining services to these kids as quickly as possible. All public schools are without electricity and most don't have water. Over 100 schools are currently being used as emergency shelters for people whose homes were destroyed by the hurricane.
Schools provide a connection point in communities devastated by the storms. Reopening them is vital to the recovery of the island and to the health and well-being of the children who call Puerto Rico home.
Rebuilding Puerto Rico's infrastructure and restoring access to clean water, electricity, and cellular service is a priority for the Friends of Puerto Rico. It is estimated that Puerto Rico will need 95 billion dollars to rebuild infrastructure, which means we need all of the help we can get.
Friends of Puerto Rico invests 100 percent of donations received for the Hurricane Maria Recovery Fund to rebuild Puerto Rico through 13 Boys & Girls Club centers on the island and the northwest of Puerto Rico
Through our organizing and fundraising efforts, we have been able to ship much-needed generators to Aguada, Maricao and the Boys and Girls Club in Residencial Las Margaritas and provide meals to 300 children through the opening of the first rehabilitation center.
Our mission comes to life thanks to the support of Friends of Puerto Rico. Thanks to the generosity of friends like Mr. Ethan Leder, CEO of Precision Medicine Group who sponsored two medical relief missions to the northwest of Puerto Rico and help thousands of families in five of the most under served towns. Mr. Leder understood the need of the 3.7 million US citizens living in Puerto Rico, he went above and beyond the call of duty to mobilize resources that will help many families in need of dialysis, insulin and urgent medical care.
When you donate to the Friends of Puerto Rico at www.friendsofpuertorico.org, you are providing direct assistance to the 375,000 children living amidst widespread devastation. Surviving this crisis hasn't been easy, but with the help of Friends like you, your charitable donations will allow for the relief and rebuilding the lives of families and children in Puerto Rico to be possible. Let's #BuildPuertoRico together.
Calling all HuffPost superfans!
Sign up for membership to become a founding member and help shape HuffPost's next chapter
This post was published on the now-closed HuffPost Contributor platform. Contributors control their own work and posted freely to our site. If you need to flag this entry as abusive,
send us an email
.