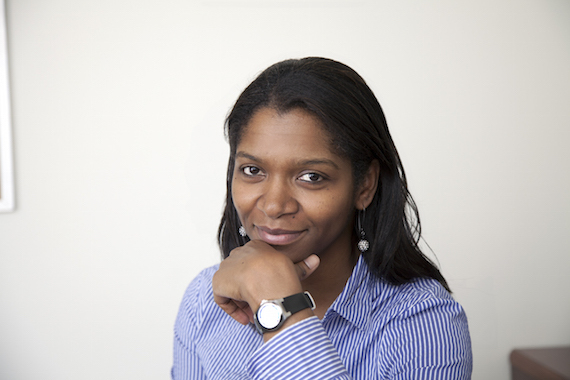 Keri Arokium, photo courtesy of Julie Hassett-Sutton/Frantic Studio via Global Kids
I learned about Global Kids in 9th grade in 1991. It was a difficult time for me. I had just arrived from Guyana and was adjusting to New York City. I didn't fit in with the kids in my school. I was looked at as the teacher's pet, which was considered a negative. At the Global Kids presentation, they mentioned that they had workshops and activities and partnerships with organizations like the U.N. It seemed like an opportunity for me to learn new things and to learn about global issues and to make friends with like-minded kids of my age. For me, Global Kids proved to be a kind of an escape. It was like an oasis in the desert.
I was a shy kid and very reserved but at Global Kids, public speaking was something that we had to do. If you had something to say, you had better speak up. There were processes where we built our self-confidence, mostly through working in small groups during workshops. I was able to be a little more confident each time I had to do it. Global Kids provided a platform to improve our public speaking, to improve our communications skills. We were taught how to be activists and to stand up for what you believe in.
Occasionally we would go on retreats that were an opportunity for bonding and also a way to get away from the madness in the city. This was during a time when the vision for Global Kids was still being molded. On one retreat we designed the Global Kids logo. We worked together to develop it. Global Kids gave us so much power to do these kinds of things and made us feel like we made a difference. We were contributing towards building something great. We really bought into that vision. We were living it.
I studied international economics at Fordham University. Global Kids exposed me to the issues that I was interested in career-wise. Because I came from Guyana, I was very keen on understanding more about poverty in poorer countries.
After Fordham I went to South Africa. I started out working as a development economist, consulting with local and provincial governments, developing strategic plans, economic development plans, doing research at the university. Last year, I went to the University of Geneva to do an advanced certificate in project design, strategic planning and design, for humanitarian action and emergency relief (Certificates of Advanced Studies in Humanitarian Action).
When I think about my days in Global Kids at a time the group was still taking form, I think, "Go, Carole [Artigiani, Global Kids' Founder]." Her vision really took shape and unfolded in each of our lives.
Popular in the Community